Be the Mad Scientist at Your Own inner Party
Mid-day , Mumbai | Updated: March 09, 2013 10:36 IST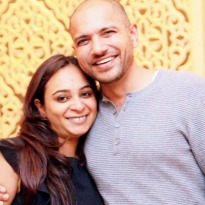 Eat Drink Design is not your regular home catering service; these guys offer dishes using molecular gastronomy, apart from several global cuisines.

A good host is judged by an extravagant food spread at the dinner table. But imagine serving a sphere-shaped Thai curry or cakes that you can drink.

Exclusive catering service Eat Drink Design (EDD) does just that by deconstructing dishes from different cuisines with the help of molecular gastronomy, a sub category of food science that serves and deconstructs food to its basic ingredients while maintaining the original flavours.

(Picture/ Pooja Raheja and Neeraj Sharda of Eat Drink Design)



Red Snow Cake by Eat Drink Design

Food lovers in the city can experiment with molecular gastronomy at a few restaurants now, but if you plan to throw a party with a spin, this can be a great idea to make your party memorable.
"Food is not just about eating but also how you visually present it. That's where the design element comes in EDD," says Andheri citizen Pooja Raheja, who started this service with her husband Neeraj Sharda.

A deconstructed Tiramisu by Eat Drink Design

Raheja tells us that deconstructing the food is also a visual treat. For example, with Thai curry which is a favourite at several house parties, they serve spherical versions of the curry on a rice cracker, "It is definitely not what your guests would expect, but when you eat it, it tastes the same, as the sphere gives a burst of curry flavour in your mouth with the cracker," reasons Raheja.

They also offer a full service pastry kitchen; again, if you wish to skip the regular, they can serve you a cheesecake poured in a strawberry cone, or from the alcohol menu, champagne with orange caviar in it, which burst when you drink hence making the cocktail in your mouth. For those who scream for ice cream, they offer live ice cream tables, so one can see it being made fresh in front of you.

EDD offers their services even for a minimum of two people (prices start at `1,000). And it's not just the food, but also the theme of your party that is taken care of, "If you have a black-and-white themed party, everything from the cutlery to the food on the menu will follow the theme. The same applies for different occasions such as a baby shower or a mehendi ceremony," says Raheja.

With a minimum of 24-hours notice, they offer to also whip up customised food hampers for gifting that would include homemade pasta, dips, jams, cookies and more. "If you want to gift a hamper to a couple we have the aphrodisiac hamper, or ones for expecting mothers with healthy food meant for them. Or if you are just feeling low, order a 'pick-me-up' for yourself that will include food items to help make you feel happy," adds Raheja.

Call 9167620909