This restaurant offers Braille menu for visually impaired
IANS | Updated: May 23, 2014 11:33 IST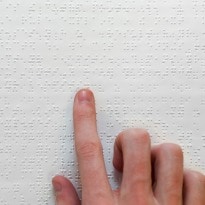 Here's a unique and socially conscious move by Chinese restaurant Chungwa. The eatery has introduced a copy of its menu in Braille in an attempt to provide independence of choice to its visually challenged customers.

The menu has been launched as part of Mirchi Cares, a CSR (corporate social responsibility) initiative by FM station Radio Mirchi. As part of it, a special copy of the menu in Braille has been launched at Chungwa, located at the Greater Kailash 2 market in south Delhi.

This is an attempt to provide comfort and independence to the sightless and to ensure that they can order from the menu without any assistance.

"Food is something that should bring the entire family together. Taking a leaf from this, we decided to support Radio Mirchi in this initiative. We do not think the lack of a menu should deter visually impaired people from venturing into a restaurant," Gaurav Chhatwal, owner of Chungwa, said in a statement.

The mastermind behind this Braille menu initiative is entrepreneur Baldev Gulati, a sightless person himself.

"We spoke to some visually impaired people and found out that the lack of self sufficiency was a major deterrent against eating out, and that was why, in spite of having the money they preferred ordering food at home," said C. Pallavi Rao Narvekar, group head, CSR, Radio Mirchi.

"This is our maiden project in this turf and we plan to extend the same to other mid range restaurants and food chains in Delhi to make it accessible for the blind as well as the print disabled," said Narvekar.