Story Progress
Back to home
Bacon and Herb Scones Recipe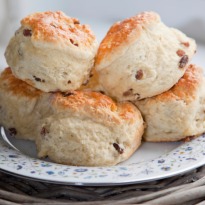 Bites of cheese, bacon, herbs, curd and condiments, baked just right.

Ingredients of Bacon and Herb Scones
250 gms flour
2 1/2 tsp baking powder
50 gms chilled diced butter
50 gms grated cheese
3 Tbsp grilled bacon - crumbled
1 Tbsp chopped herbs
1 egg
120 ml beaten curd
Freshly ground pepper
Flour for dusting
To Serve:
Butter
1 tsp prepared mustard
1.
Sieve flour and baking powder into a bowl.
2.
Rub in butter until mixture resembles breadcrumbs.
3.
Add cheese, bacon and herbs to a bowl. Bind with beaten egg, curd and pepper.
4.
Knead lightly until smooth.
5.
Pat out into a round. Cut into circles and place on a baking sheet. Dust with a little flour.
6.
Bake at 210 degrees C for 7-10 minutes.
7.
Serve with butter flavoured with mustard.