Story Progress
Back to home
Garlic Bread Recipe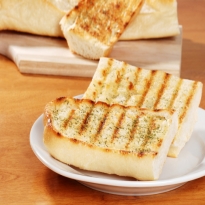 French bread generously coated with garlic-salt-butter mixture and baked hot.

Ingredients of Garlic Bread
1 crusty French bread
100 gm butter
1 tsp garlic paste
Black pepper
1.
Slice the bread on the diagonal, not quite through to the base at 1" intervals.
2.
Combine butter, garlic and pepper. Spread over each slice.
3.
Wrap in a foil and bake for 10 minutes in a very hot oven.
4.
Unwrap and continue baking to crisp surface before removing from oven. Serve hot.