Story Progress
Back to home
Ginger Snaps Recipe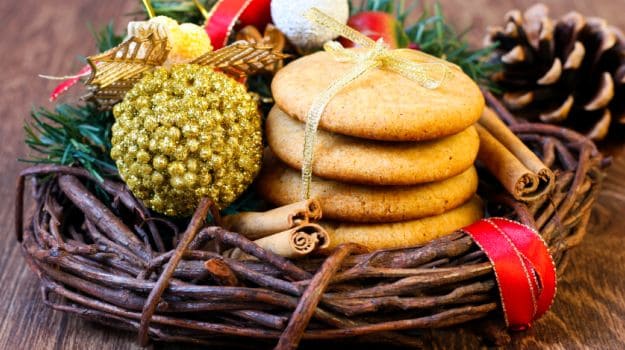 How to make Ginger Snaps
Sweet rolls of honey, ginger powder and rum, baked and filled with whipped cream.

Ingredients of Ginger Snaps
50 gm butter
50 gm castor sugar
2 Tbsp honey
50 gm flour
1/2 tsp ginger powder
1 tsp rum
1/2 lime whipped cream
Sugared fruit :
200 gm quartered strawberries
250 gm halved grapes
1 Tbsp sugar
1 Tbsp rum
1.
Melt butter, sugar and honey. Add remaining ingredients and mix well.
2.
Grease and flour a baking sheet. Drop mixture in tsp 3" apart.
3.
Bake at 170 degrees C for 7-10 minutes till golden in colour.
4.
Remove baking tray from oven, allow it to stand for 1 minute before removing ginger snaps.
5.
Roll around a wooden spoon handle. Allow it to set.
6.
Fill with whipped Cream and serve with sugared fruit.
For the Sugared Fruit:
1.
Combine all ingredients. Chill for 2-3 hours before serving with ginger snaps.