Story Progress
Back to home
Homemade Snickers Bar Recipe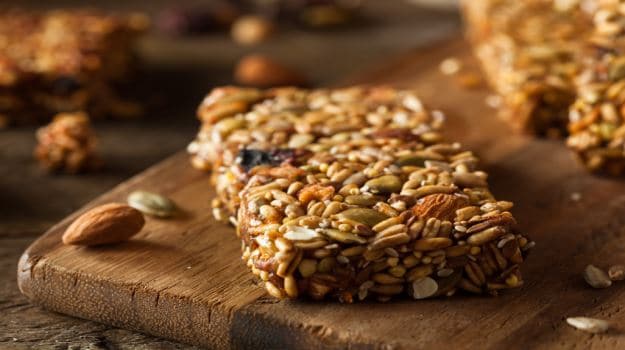 How to Make Homemade Snickers Bar
Homemade Snickers Bar Recipe: This delicious bar can be easy to make at home. It is a great treat for kids.

Ingredients of Homemade Snickers Bar
1 Cups dates
1.5 tbsp peanut butter
Salt, to taste
1 tsp vanilla essence
1 cup oats
1/4 cup roasted peanuts
150 gram dark chocolate, melted
1.
First, we need to make caramel. For this, add dates in a bowl of boiling water and leave it for around 20-25 minutes. Now, drain the water and transfer the dates to a mixer grinder. Add peanut butter, vanilla essence and salt. Blend well to make a smooth caramel sauce.
2.
Transfer to a bowl and keep aside ¼ of the mixture. To prepare the bottom layer of the bar, add oats and the caramel mixture that we had kept aside to the grinder. Grind well till a dough-like structure forms.
3.
Now, take a rectangular baking tin and line it with baking paper. Spread the oats mixture evenly on it. Gently press it using your fingers and top it with the caramel sauce. Garnish some sliced peanuts on top and freeze for around 3 hours.
4.
Once done, slice the prepared bar into even slices. Dip them in a bowl of melted dark chocolate and transfer to a baking paper. Freeze for about an hour before serving. Homemade snickers bar is ready!