Story Progress
Back to home
Kanchkolar Kofta Recipe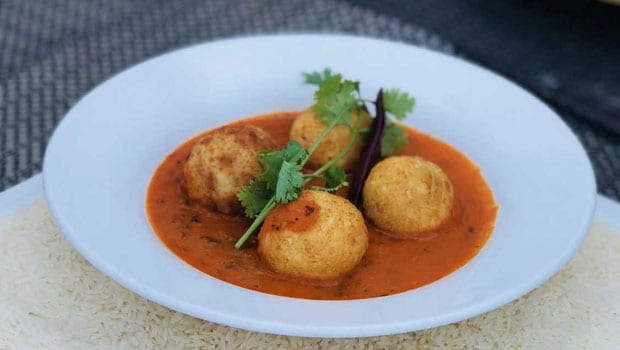 How to make Kanchkolar Kofta
About Kanchkolar Kofta Recipe: A must try Bengali dish. It represents a unique combination of boiled raw banana and crumbled soft cottage cheese as dumplings or "Kofta".

Ingredients of Kanchkolar Kofta
For the Koftas:
4-5 nos raw banana
2 nos potato (boiled)
4 tbsp gram flour
1 tsp cumin powder
1/2 tsp garam Masala
to taste salt
1 cup oil
For the Gravy:
2 Onion
1 tsp garlic cloves
1 tsp ginger
2 nos tomato, chopped
5 tbsp mustard oil
2 nos bay leaf
4 nos cloves
4 nos cardamom
1 tsp sugar
2 tsp lal mirch
1 tsp turmeric powder
to taste salt
4 tbsp coriander seeds
2 Dry red chilli
2 tbsp cumin seeds
1 tbsp fennel seeds
1 tsp fenugreek seeds
2 Black cardamom
1.
Dry roast the dry whole spices.Then dry grind these spices in a mixer to a coarse powder. Set aside in a bowl.
2.
Wash the raw bananas. Pressure cooks them along with potatoes, peel the skin of the bananas and the potatoes. Gently mash them together.
3.
Add cumin powder and 2–3 teaspoon of masala powder prepared.
4.
Add gram flour and combine everything together to make a smooth dough-like paste.
5.
Now divide this mixture into small balls.
6.
Heat oil and deep-fry the koftas.
Prepare the gravy:
1.
Make a paste of onion, ginger, garlic and a teaspoon of mustard oil.
2.
Heat mustard oil in a heavy bottom pan. Add bay leaf and sugar, let the sugar melt and caramelize for about a minute.
3.
Add cloves, crushed cardamom and the onion–ginger paste. Keep on stir frying.
4.
Stir in red chilli powder, turmeric powder, salt and the remaining masala powder.
5.
Add finely chopped tomato and sprinkle some water. Stir for 4-5 minutes.
6.
If oil leaves the sides of the pan, the masala is ready.
7.
Add 3-4 cups of water now. Cover and let it simmer for 8-10 minutes.
8.
Add the fried vegetable koftas and cover the pan with a lid. Let it cook for a minute or two.
9.
Add about 1 teaspoon of ghee and 1/2 teaspoon garam masala, stir and let it rest for a minute or two.
10.
Garnish with chopped coriander leaves and serve kanchkolar kofta curry hot with roti or rice.