Story Progress
Back to home
Mexican Fried Rice Recipe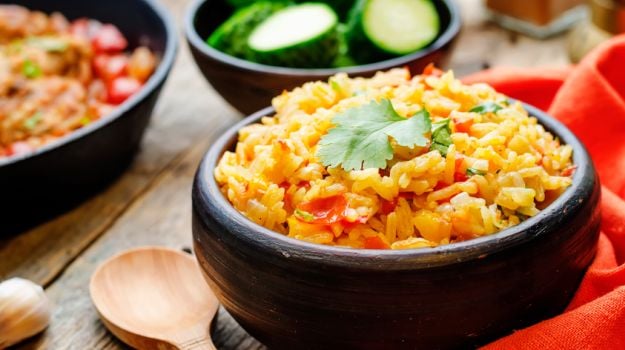 How to Make Mexican Fried Rice
Mexican Fried Rice Recipe: This Mexican-style veg rice contains the goodness of beans and veggies with a tangy edge. Transform leftover rice into this delicious dish or make it from scratch for a wholesome meal. Either way, you are sure to delight in its irresistible flavours.

Ingredients of Mexican Fried Rice
2 Cup cooked rice
½ cups rajma (red kidney beans), soaked
1 green capsicum, finely sliced
2 tomatoes or 2 tablespoon tomato puree/paste
1 tomato, cut into cubes
1 tbsp garlic, roughly chopped
4 whole dried red chillies, soaked
1 onion, roughly chopped
1/2 cup corn, steamed
2 spring onions, finely chopped
1 tsp chilli flakes
2 tbsp oil
Salt to taste
Grated cheese for garnish (optional)
1.
Soak the rajma overnight or for 4-5 hours. Later, boil it with the onion, 1 and a half cup water and 1 teaspoon salt. Once cooked, allow to dry over low flame.
2.
Make a smooth paste by blending 2 tomatoes, garlic and soaked red chillies together. Keep ready.
3.
In a pan or wok, heat oil and add the prepared paste. Stir continuously till it begins to leave the oil from the sides.
4.
Next, add the cooked beans mixture and stir for another 5 minutes.
5.
Add the capsicum, corn, spring onions and chilli flakes. Add the cooked rice and combine well.
6.
Taste to adjust salt. Garnish with cheese and serve hot.