Story Progress
Back to home
Pork Plum Rolls Recipe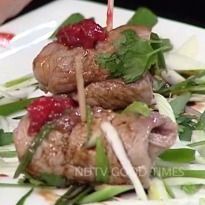 Pork fillets smothered with an aromatic plum sauce, rolled in cling film and steamed. These make for a delicious appetizer.

Ingredients of Pork Plum Rolls
For the pork:
2 Fillet of pork, wrapped in cling film (Flatten it out with the back of a pan)
Scallions / spring onions, chopped diagonally, to garnish
Salt, to taste
Pepper, to taste
Soy sauce, to drizzle
For the plum sauce:
3 plums, pitted and diced
1 tsp olive oil
1 star anise
2 cloves
1 Tbsp Thai ginger
2 Tbsp water
1 Tbsp brown sugar
For the plum sauce:
1.
In a pan add some oil, star anise and cloves.
2.
Add the plums, little water and brown sugar.
3.
Cook till the plums are squished and start forming a sauce like consistency.
For the pork:
1.
Take the fillets and spread the plum sauce on it generously.
2.
Roll the fillet like a sausage in a cling film.
3.
Steam for about 15 minutes or till the pork is cooked.
4.
Take them out and cut it into half. Remove the cling film and secure the roll with a toothpick.
Plating up:
1.
On a platter scatter finely cut scallions.
2.
Place the pork plum rolls.
3.
Sprinkle salt, pepper and some soy sauce.
4.
Top with a small blob of plum sauce.