Story Progress
Back to home
Spaghetti Carbonara Recipe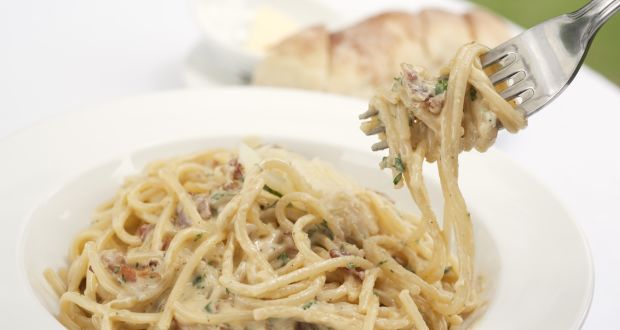 How to make Spaghetti Carbonara
About Spaghetti Carbonara Recipe: Spaghetti Carbonara is one of the most popular Italian pasta dishes out there. Crispy chicken, garlic and onions are tossed with cooked spaghetti and egg.

Ingredients of Spaghetti Carbonara
200 gms Spaghetti
2 Chicken breasts (chopped into small bite-size pieces)
3 tbsp Olive oil
2 Onions, chopped
4 Garlic cloves, chopped
1 Egg (beaten)
1/2 tsp Black peppercorns (crushed)
100 gms Cheddar cheese, grated
1.
Bring a pan of water to boil and add the spaghetti with a drop of oil and a pinch of salt. Cook for 10 minutes.
2.
Meanwhile, place 3 table spoon of olive oil in a large frying pan. Heat the oil on a medium heat and add the onions, garlic and chicken.
3.
Fry for 10 minutes until the chicken is cooked through.
4.
Drain the spaghetti and place in a large bowl. Add the egg to the hot spaghetti along with the black pepper and mix well.
5.
Dip the spaghetti into the chicken pieces and cook for 2 to 3 minutes.
6.
Sprinkle over the cheese and serve with a crisp green salad or the Italian Salad Insalata.