Story Progress
Back to home
Tuna Stuffed Eggs Recipe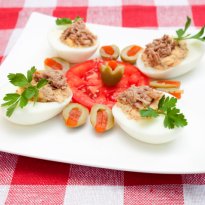 Eggs stuffed with tuna mixture, served with tomato mayo and bread.

Ingredients of Tuna Stuffed Eggs
4 hard boiled eggs - yolks removed
1/2 small tin tuna fish
1 Tbsp chopped celery
1 Tbsp chopped onion
1 Tbsp chopped capsicum
1 Tbsp chopped pineapple
Salt and pepper
1-2 Tbsp thick curd to bind
For the Tomato Mayonnaise:
125 ml mayonnaise
1 Tbsp cream
1 Tbsp thick tomato puree
1/2 tsp garlic paste
1 Tbsp chopped garden herbs
Accompaniments:
Lettuce leaves
Dusting paprika
Brown bread
2.
Add remaining filling ingredients.
4.
Use to fill egg cavities.
For the Tomato Topping:
2.
Serve in a bowl alongside halved eggs.
3.
Accompany with lettuce, a dusting of paprika and brown bread.