Story Progress
Back to home
Zafrani Kaju Katli Recipe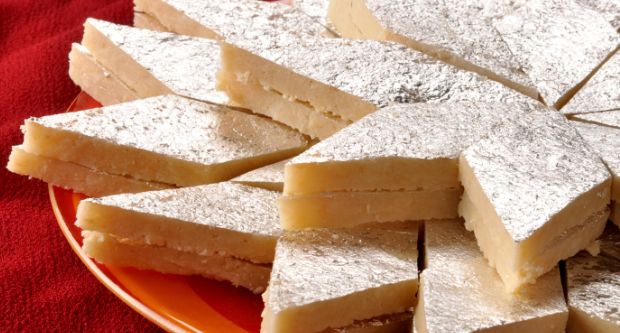 Recreate the sweet sensation of kaju katli right at the comfort of your kitchen. Quick, easy and an absolute favourite of all.

Ingredients of Zafrani Kaju Katli
1 tsp saffron
100 gm cashew nuts, broken
6 Tbsp sugar
1/2 tsp green cardamom powder
2 sheets silver varq
1.
Grind cashew nuts into a fine powder.
2.
Heat sufficient water in a non-stick pan.
3.
Add sugar and saffron, mix and cook till syrup thickens.
4.
Add cardamom powder and mix well.
5.
Add cashew nut powder and mix well, cook for about 3 minutes.
6.
Spread the mixture onto a thali and let it cool to room temperature.
7.
Transfer mixture onto a worktop and knead a little.
8.
Spread the mixture into a burfi tray, garnish with silver varq and let it set.
9.
Cut into squares and serve.