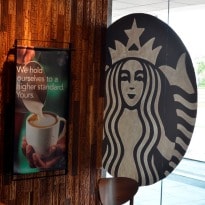 Tata Starbucks Limited, the 50/50 joint venture between Starbucks Coffee Company and Tata Global Beverages Limited, today launched the second Starbucks - A Tata Alliance store in the heart of South Delhi's Select City Walk Mall.Commenting on the store opening, Avani Davda, CEO, Tata Starbucks Limited said, "Our customers in New Delhi have extended a very warm welcome to us and we are thrilled to open our second store in the city. We remain committed to offering a distinct third place to our customers at convenient locations; defining our unique, values-based Starbucks Experience and delivering an unparalleled customer experience through our passionate baristas."

Strategically located at the ground floor, the store is spread over 2000 sq. ft. with a seating capacity of over 70 and promises to serve as a unique third place for customers. The store is designed to reflect the rich Indian heritage and the highest modern aesthetics. Teak moldings handcrafted by local artisans welcome you as you enter. The juxtaposition of old and new continues inside with rich grey tones, regal purples, handmade tiles and weathered wood and teak accents.

The store will be open for customers from 10 am to 11 pm every day starting Thursday March 28th 2013.


A look at the second Starbucks store at Select City Walk Mall, New Delhi. Operations will start from Thursday, March 28th 2013.
Along with the global Starbucks favorites like Blueberry Muffin, Oatmeal cookies, Lemon Jazz cheese cake and croissants, there are other additions like Murg Makhani Pie, Mutton Seekh in Roomali Roti, Chicken and Vegetable Lettuce Sandwich, Reshmi Kabab Roll, Lal Achari Mirch Turnover and Classic Breakfast Chicken Sandwich. The store will also offer a broad beverage portfolio to include a wide range of Starbucks® signature beverages, Tata® | Tazo® tea and Himalayan mineral water, in addition to the Indian Espresso Roast that is sourced locally through the coffee sourcing and roasting agreement with Tata Coffee; a hallmark feature of all Starbucks stores in the India market.
Starbucks entered the Indian market in October 2012 and currently operates five stores in Mumbai, two stores at the New Delhi Indira Gandhi International Airport and two stores in New Delhi. Starbucks® stores are operated by the joint venture, Tata Starbucks Limited, and branded as Starbucks Coffee - "A Tata Alliance".
Read about the Starbucks store in Connaught Place, New Delhi