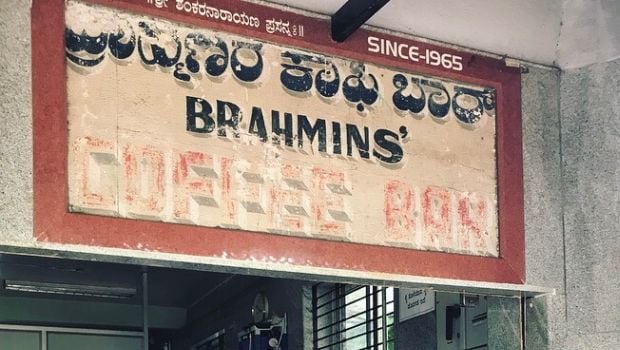 filter coffee in its illustrious 52-year history. I can't stop with one tumbler of coffee and get back in line. A man in a bright red shirt at the cash counter looks pleased - "Isn't this your second tumbler?" I'm amazed he remembers me given the never-ending line at his establishment – he must have served at least 50 customers in the space between my two tumblers of coffee.

(Also read: 10 Best Dishes You Must Eat When in Bengaluru)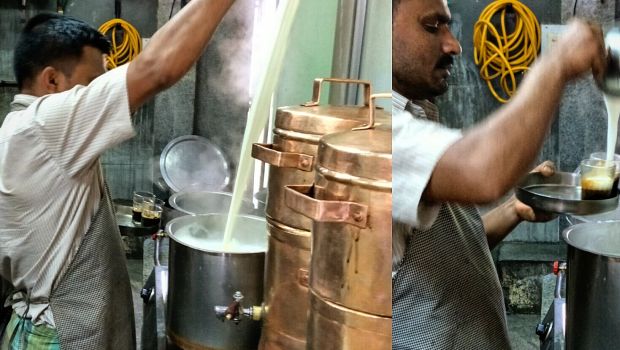 Just another day at the office for Radhakrishna Adiga, the man in the red shirt who runs Brahmin's Coffee Bar. Gentrification is a pet theme for most people who grew up in Bengaluru. This establishment in Shankarapuram is one of those spaces that makes many Bangaloreans re-connect with the city's soul. It's one reason I keep coming back. I spent Friday evening in Kormangala at Flying Squirrel, one of the city's newest roasteries and coffee bars with a hipster vibe. It's heart-warming to know that many customers don't just visit Flying Squirrel for their Instagram moment of fame but because they truly understand good coffee. Most Bangaloreans are willing to go the distance for a good cup or tumbler of coffee. It's not unusual to find customers who've driven long distances to make it to Brahmin's – slightly easier to beat Bengaluru's infamous traffic on a Saturday morning. Brahmin's Coffee Bar's appeal cuts across age groups and social status. I'm joined at one of the 'free standing' counters by a young Techie who swears by their coffee and comes here almost every other day after her gym workout. There are no seats here and the crowd of standing customers always spills over to the pavement around the restaurant. In many ways, this is a precursor to the 2010s style Food Truck. A few minutes later I meet a silver-haired gentleman who serves in a nearby educational institution in a post-retirement assignment. He's been a faithful weekly customer for decades now and he isn't here only for the coffee.

Brahmin's was set up by Adiga's father – Narasimha Rao, in the 1960s. It was the coffee that first brought customers here. The family used to source snacks from nearby bakeries to supplement the coffee but very quickly discovered the winning food formula. The main ingredient in that formula is their legendary chutney. KN Saraswathi (the founder's wife) who is in her 80s is still believed to supervise the preparation of the restaurant's chutney every single day. It's one of the many things that have remained constant at the restaurant. The menu hasn't changed in over four decades – Idli, Vade, Kara Bath and the sweet Kesri Bath. Each one of these items is truly delicious and incredibly consistent. The chutney seems to be the glue that binds the menu; the restaurant does not serve Sambar.

(Also read: Filter Coffee: Is the Traditional Hot Brew Losing its Popularity in South India?​)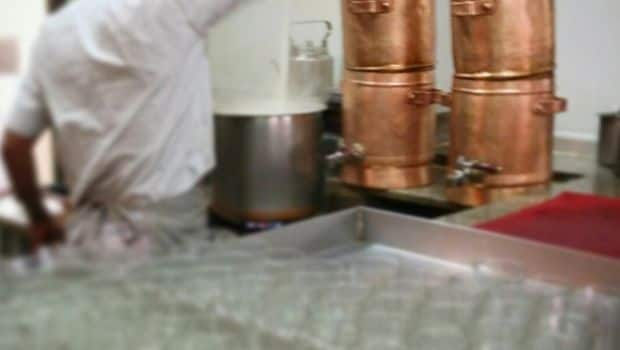 Filmmaker and Bangalore history buff Adarsh NC believes that it was Brahmin's that spawned Bengaluru's countless Darshini 'standing only' diners. The first Darshini restaurant – Uphar Darshini, is not far away from Brahmin's Coffee Bar. It was a paradigm shift in the eating out scene. Until the success of Brahmin's and the other chains thereafter, standing and eating a meal was almost unthinkable in Bengaluru. The city's bakeries were the only 'grab and go' spaces until then. Adarsh attributes part of the success to the establishment's name. In the beginning this restaurant was the closest to eating home cooked food in an area where eating out was still considered taboo. The batter for their idlis and vadas would arrive every day from their home kitchen; many customers in and around Shankarapuram and Basavangudi would take parcels home (with plenty of chutney). According to Adarsh, the restaurant truly took off in the 1980s much after other restaurants like MTR or Vidyarthi Bhavan that were already household names by the 1980s.

Today Brahmin's Coffee Bar is part of that exclusive band of legendary local establishments and many locals believe that this restaurant has been around longer than just fifty-odd years. Diners watch in awe as their coffee master (or barista if you like) 'pulls' the milk almost as high as the ceiling and churns out coffee tumbler after tumbler with assembly line precision. He's not the only silent superstar here. In a designated corner of this pokey establishment is another staff member whose only role is to keep serving chutney during the 10 hours that the restaurant operates. (Brahmin's closes by noon and then reopens from 3 pm to 7 pm everyday). There are some establishments in the city that continue to thrive because of nostalgia. Brahmin's Coffee Bar doesn't just cling on to nostalgia, the restaurant is squeaky clean and as I discovered, Radhakrishna Adiga and his team haven't forgotten the art of engaging with their customers.

About the Author:

Ashwin Rajagopalan is a Chennai-based writer who writes on topics related to food, gadgets, trends and travel experiences. He enjoys communicating across cultures and borders in his weekday work avatar as a content and editorial consultant for a global major and one of India's only cross cultural trainers.

Disclaimer:

CommentsThe opinions expressed within this article are the personal opinions of the author. NDTV is not responsible for the accuracy, completeness, suitability, or validity of any information on this article. All information is provided on an as-is basis. The information, facts or opinions appearing in the article do not reflect the views of NDTV and NDTV does not assume any responsibility or liability for the same.




It's 7:30 am on a Saturday morning, most of Bengaluru might be asleep but it's rush hour at one of the city's most iconic establishments. A tiny space that has probably served millions of tumblers of
About Ashwin RajagopalanI've discovered cultures, destinations and felt at home in some of the world's most remote corners because of the various meals I've tried that have been prepared with passion. Sometimes they are traditional recipes and at most times they've been audacious reinterpretations by creative chefs. I might not cook often but when I do, I imagine I'm in a cookery show set - matching measuring bowls, et all!