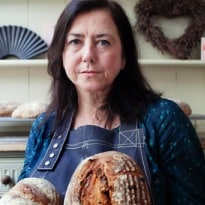 The founder of the ultra-local One Mile Bakery shares a speedy recipe for savoury bread - plus an exclusive reader offer.


It took almost two years to come up with the idea for The One Mile Bakery. While working as a journalist, I'd long dreamed of running my own food business, but wanted it to be something small‑scale, personal, handmade and different. Now I make and sell bread, soup and jam from my home kitchen, on monthly subscriptions, and only within a one-mile radius of my house in Cardiff.

Customers receive something different each week, and it's a surprise what's in the bag on delivery day. Everything is delivered to customers by bike in compostable packaging within a one‑hour time slot, and is made using seasonal, local, homegrown and foraged ingredients and the best organic stoneground flour. I also teach baking classes, passing on what my mum taught me in her tiny kitchen where she baked every morning.

The reality of running this from home is that there is a limit on how much bread and food I can produce each week, but the one‑mile concept turns that into a positive: I'm on first-name terms with my customers, live near them and often bump into them around the mile. I know their likes and dislikes food-wise, and chat away with them on social media. The response has been phenomenal since I launched last May, so much so that I am now working full-time on it, and have exciting plans to expand in 2013.


Cheese and onion loaf
This recipe transforms a very simple white-bread recipe - suitable even for a novice baker - into something more savoury and impressive. You can use any pairing of cheese and onion but Per Las, a creamy, mild, salty Welsh blue cheese, is delicious with caramelised onions.

For the onions
1 large onion, finely sliced
1 tbsp oil
½ tsp salt
½ tsp sugar
1 tbsp balsamic vinegar, water or white wine

For the bread
500g stoneground strong white bread flour, preferably organic
5g dried yeast
320g warm water
10g salt
30g fat (olive, sunflower or rapeseed oil, or melted hard fat such as butter or lard)
100gPer Lasor other mild blue cheese, crumbled

1 Begin by caramelising your onion. Fry it on a low-medium heat in the oil, adding the salt and sugar and stirring through. Cook for 30 minutes, stirring every 5-8 minutes, until browned, soft and sweet.

2 Remove to a plate to cool, and then deglaze the pan with vinegar, water or white wine for a minute, pouring any juices and scraps of onion on to the plate.

3 Put the flour in a large bowl, and make a well in the middle. Put the yeast in the well, and cover with about 25ml of warm water. Leave for 10 minutes for the yeast to prove (you'll see beige sludge forming) then add the rest of the water, salt and fat. Mix until the ingredients come together and then tip on to an unfloured work surface.

4 Knead for 8 minutes, stretching the dough, then add the cheese and onions and knead for 2 minutes to mix. Put back in the bowl and cover with clingfilm. Leave aside for an hour.

5 Line a 25cm x 13cm deep baking tin with butter. Lightly flour your work surface and then tip the dough on to it. Using your fingertips, shape the dough into a rectangle the same length as the tin, pushing about half the air out of the risen dough as you do this. Roll the dough into a sausage shape, then place in the tin. Cover for another hour. Heat the oven to its hottest setting: 230-240C/450‑475F/gas mark 8 or 9.

6 After an hour, use a sharp knife to slash a line in the top of the loaf, spray it with a few splashes of water and place in oven. After 10 minutes turn the oven down to 220C/425F/gas mark 7 and bake for another 20 minutes until the loaf is golden brown and sounds hollow when tapped on the bottom.

• Exclusive reader offer The One Mile Bakery is offering readers a free jar of seasonal, homemade jam when they make a booking in February for a baking class in 2013. Call 07939 211809 or email info@onemilebakery.com to make your booking, quoting "Guardian reader offer"



Picture: Elisabeth with freshly baked loafs in her Cardiff kitchen. Photograph: Gareth Phillips for the Guardian