Sandwich Recipes- They are delicious, they are easy and they are your saviors in the times of deep hunger and low bank of ingredients and will to cook. We are talking about the good old sandwich, you can make it as simple as you want or get creative and spruce it up with the most exotic ingredients in town. A sandwich will never disappoint, and satiate you to the core of your heart. Paul Lynde remarked correctly, 'Sandwiches are wonderful. You don't need a spoon or a plate!' And we cant agree more.
Elaborate or simple, stuffed or layered, grilled or toasted, we love sandwiches! They're easy to make, easy to eat and always filling. Don't know what to do with that sudden snack attack? Create a wholesome sandwich that won't leave you hungry. If you're short on time, look no further. Fix yourself a quick meal on-the-go.


The first record of making a sandwich dates back to the 1st century BC where the famous rabbi, Hillel the Elder is known to have started the Passover custom of sandwiching a mix of chopped nuts, apples, spices, herbs and wine between flat, unleavened bread slices.


Later, during the Middle Ages in Europe, stale slices of bread were used as plates and were called trenches. This probably gave birth to the European-style sandwiches and bread also became a staple across Mediterranean countries. Elsewhere in United States, sandwiches became popular as a solo supper meal.

The sandwich was actually named after John Montagu, 4th Earl of Sandwich, a British statesman. He often ordered his valet to fetch him meat tucked between two pieces of bread. It is believed that he was fond of such a preparation due to the ease with which he could eat it while playing his game of cards.
The Six Rules of Sandwich Making | Tips To Make The Perfect Sandwich
1. Bread forms the basis of the perfect sandwich. Whether you like soft and squishy buns or a crusty baguette, you have options galore. The basic white loaf or the snacky pita pockets, take your pick. But the thumb rule is to choose the right bread. For moist fillings, use dry and dense breads. A nice, thick crust helps in keeping the stuffing in place.


2. You can toast it, serve it grilled, warm up or have it cold. Toasting brings out the sweetness of the bread.


3. Use a spread to give your sandwich a creamy texture. You can choose from BBQ, mayonnaise and other spread or experiment with healthier alternatives like pesto, whole grain mustard, hung curd or homemade salsa.


4. To avoid sogginess – Spread the sauce till the edges to the seal the sandwich. Also, use hydrating ingredients like cucumber or tomatoes separately. Add them in the end, right before serving. Use cheese or meat as a layer between the bread and ingredients with high moisture. You can also butter your bread to protect it from becoming soggy.


5. You can skip the traditional tomatoes and try roasted peppers, sautéed onions or carrots for the crunch. Add some freshness by using spinach or cabbage instead of lettuce.


6. Keep it simple. Do not try to over stuff your sandwich with too many ingredients or sauces. Sprinkle herbs or seasonings to add the finishing touch. Try balancing your flavours. If the ingredients are heavy then use light sauces or maybe vinegar.

(Great tasting vinegars and seasoning to spruce up a boring sandwich)


Sandwiches are good for any time of the day. Looking for some inspiration? Get a little adventurous with our 15 best sandwich recipes.
A garden fresh sandwich with the goodness of broccoli, zucchini and eggplant. Lather with a cheesy plum spread to add some sweetness.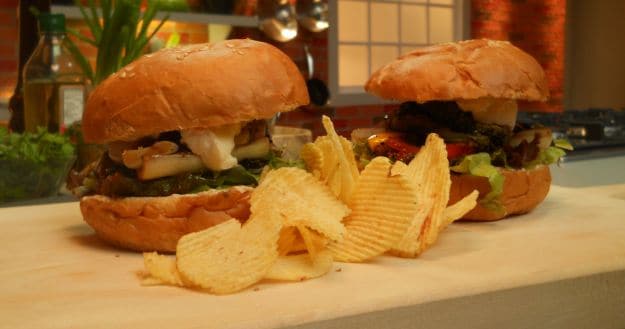 Vegetable Sandwich
A wholesome toasted sandwich with chicken chunks, chilli, onions, bell peppers, honey and a creamy avocado spread.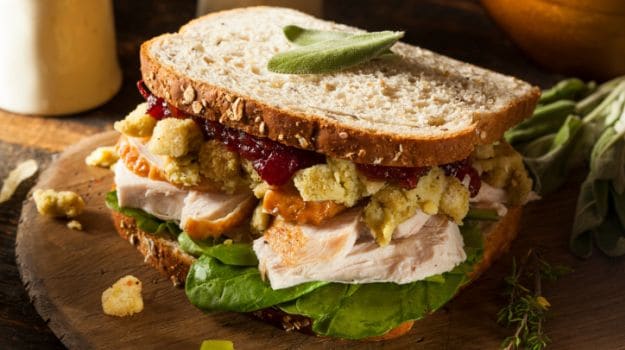 Toasted Chicken Sandwich
The classic BLT has five basic ingredients – bacon, lettuce, tomatoes, mayonnaise and bread. Ritu Dalmia shares her own version with eggs.



Eggy Bread
An open sandwich decked with juicy beetroots and sautéed mushrooms. Throw in some apple slices and cheese chunks to compliment the fresh flavours.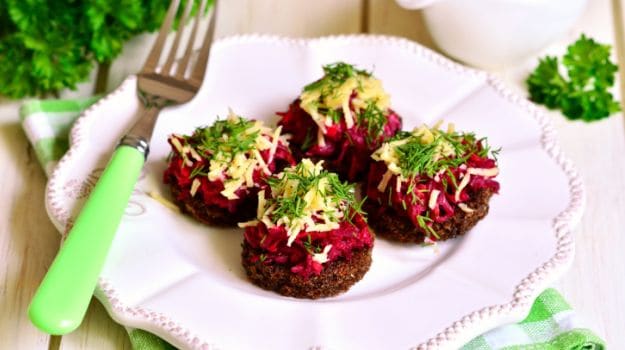 Open Beetroot Sandwich
Get creative with this recipe that uses peas, potatoes, kaffir limes, spices and curry leaves. A fusion of flavours that speak for themselves.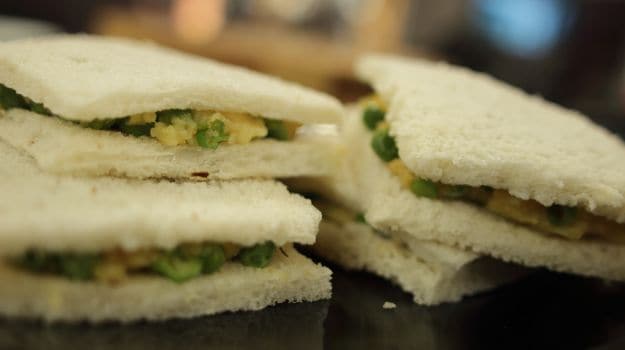 Peas and Potato Sandwich
Leftover chicken from last night? Use it for this breakfast Panini next morning. Add bell peppers, rocket leaves and freshly made tomato-eggplant chutney to give it a new twist.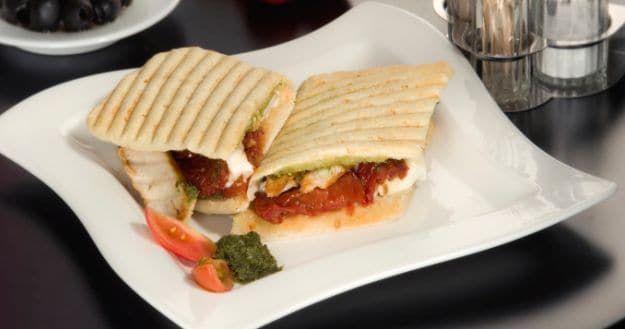 Panini with leftover Chicken
Crumbed cottage cheese with sweet and tangy flavours of tamarind, mint and spices packed between bread slices and toasted till golden. Serve with fresh homemade salsa.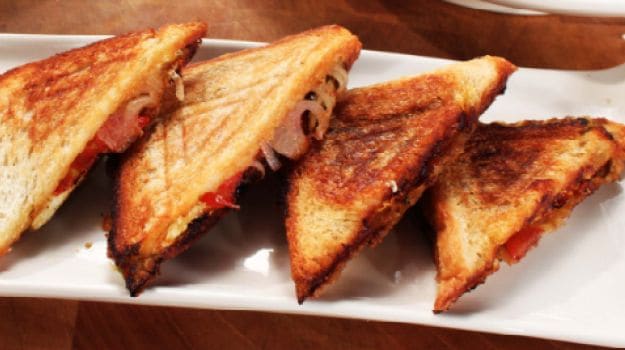 Paneer Toasty with Salsa
The earthy flavor broccoli works well with the creamy texture of blue cheese. Also, the sweet undertone of broccoli compliments the strong flavor of the cheese.


Roasted Broccoli with Blue Cheese Panini
This sandwich is perfect for a solo supper. Tuna, cheese and hung curd is stuffed between bread slices which is then dipped in an egg batter and fried. Served with a side of pineapple mint salad.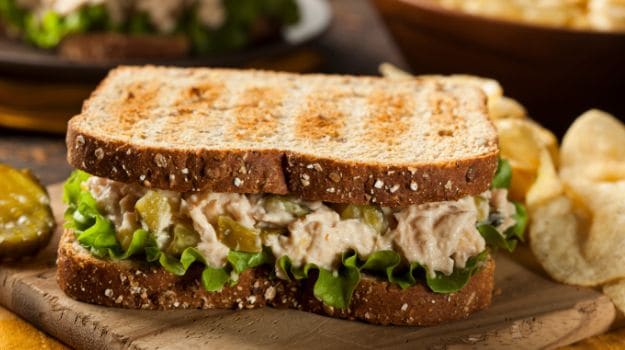 Hot Tuna Sandwich
This popular sandwich originated in the United States. Crusty bread loaded with mutton mince and cheddar cheese. It's quick and comforting.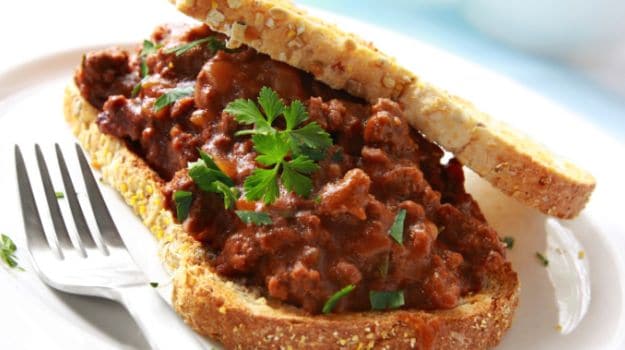 Sloppy Joes
Sweet and tangy flavors of jaggery, orange, lime and ginger made into a relish and sliced between bread slices.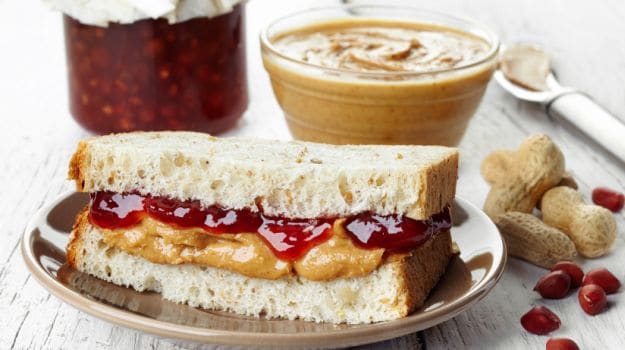 A unique sweet and sour sandwich that would be loved by kids and adults alike.
Bread layered with mint and creamy cheese filling, topped with mayonnaise, herbs and served chilled. This savoury gateau recipe is all what you need as your evening snack.
Easy, quick and delicious! This sandwich recipe is made with just a few ingredients including cheese, breads, black pepper, green chillies and yes that's it.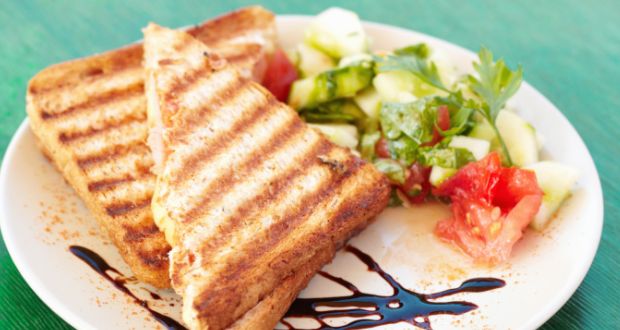 This sandwich recipe is best for the days when you don't want to cook much but still fill your stomach with something hearty.
With a few simple steps, you can easily whip up this protein-rich sandwich. The egg mayo sandwich is super easy to make. You make a filling of boiled eggs, mayonnaise and seasoning and place inside toasted bread.
Have a hearty breakfast or a quick meal with these mouth-watering home made sandwich recipes which are quick and easy.