"It is better to have burnt and lost, than never to have barbecued at all" - William Shakespeare
Barbecue Recipes- Barbecue is probably the world's oldest cooking method. It has come a long way from the traditional pit BBQ that originated in the Caribbean to the great Indian tandoor. Australians have taken to the 'barbie' with great gusto. It is a fun and fiery way to eat hearty and stay snug, perfect on a nippy night or for a breezy brunch. For your next BBQ party, we show you how to do it right.
Tips & Tricks For The Perfect Barbecue Dish
First things first, preheat the barbecue before you start cooking. While the grill is hot, clean it and then oil the bars of the grate when it is time for cooking. This will ensure that your meat doesn't stick to the grill and you'll get those grilling impressions. Also, have a sharp blade at all times for dicing and slicing. A spray bottle with water near the grill is a must, in case of flare-ups.
While cooking meat, avoid piercing it with a fork or prongs as the juices will escape, making the meat drier and less flavorful. Instead, use a spatula or tongs to move and flip your food. The same goes for leaner proteins like fish. If you are using chicken with the skin, rub the outside with a little butter or oil and then lightly season it. It'll give the chicken a nice and crispy texture.
Barbecues are not just about meats, there are plenty of options for vegetarians too. Potatoes, cherrytomatoes, bell peppers, sweet potatoes are great on the grill. Before they hit the BBQ, toss them with a light coating of oil, sprinkle some seasoned salt and wrap in aluminum foil. When using onions and eggplant, you should cut them into thin circles for a crispier outside.
An important thing that you must pay attention to is the marinade. Do not rely solely on the BBQ sauce, experiment with different types of marinade, seasonings and rubs to make your grills stand out like teriyaki sauce or garlic and herb marinade. Add a little wine or beer to your standby sauce. No matter what type of marinade you choose, try to get the meat in the mixture at least 24 hours ahead of time.
Time to stoke your grill and know that it is no sin to get sauce on your chin! We've rounded up our best barbecue recipes.
For all those counting calories, this recipe is just the ticket. Chicken is marinated in a homemade BBQ sauce and grilled.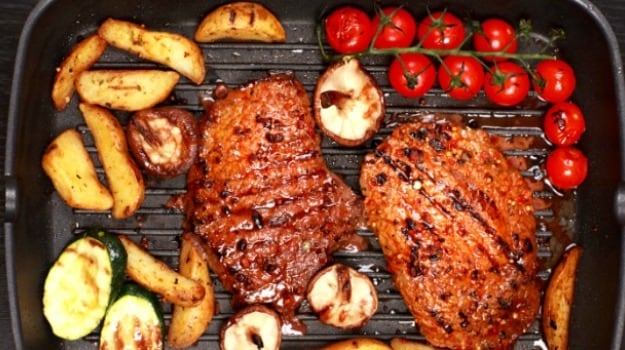 Grilled to perfection, this barbecue chicken recipe is super delicious.
The creamy texture and the tenderness of the chicken, makes this one of the most popular Indian kebab recipes.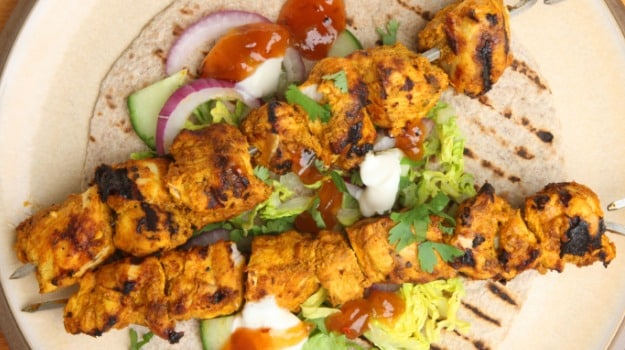 Chicken pieces marinated in spices, curd and lime juice. Baked till crisp and golden.
In this scrumptious recipe, tender pieces of paneer are grilled golden on a tandoor with spices galore. The classic Indian vegetarian snack that you can pair with a chutney of you choice and serve at dinner parties.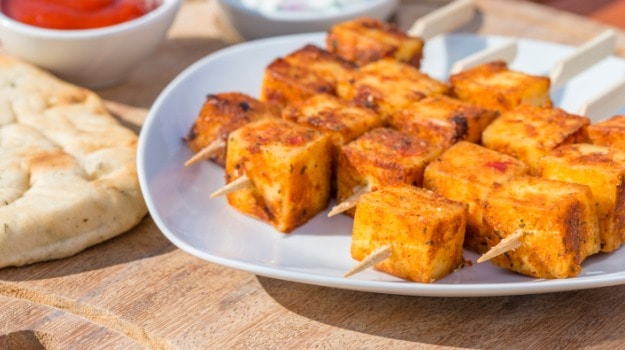 Paneer cubes marinated in a creamy paste of melon seeds, cashews, poppy seeds, cream and butter.
Explore a burst of flavors with this recipe that uses a lovely marinade of yogurt, besan, garam masala, cumin powder and tandoori masala. Giving a juicy and aromatic flavour, you can even have these tikkas as wraps by rolling it in naan along with chutney.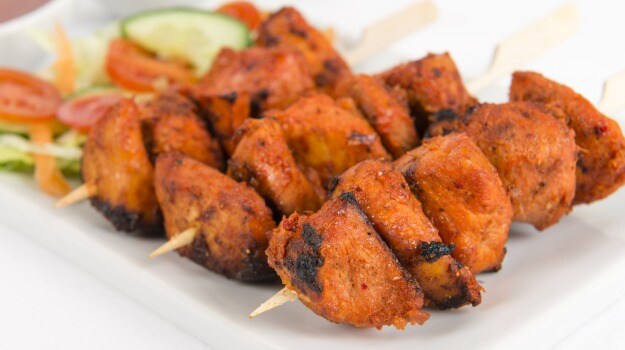 A delicious snack to savour at dinner parties or special occasion as starters.
The word 'shashlik' actually means skewered meat. Also, it is traditionally grilled cooked on a type of grill called mangal.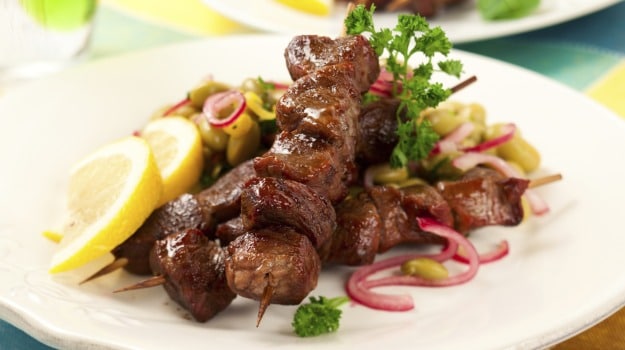 Cubes of mutton marinated with garlic, ginger, yogurt, raw papaya and a medley of exciting spices grilled to perfection.
Surprise all by serving a medley of exciting spices and a mix of vegetables. Paneer, bell pepper, onions and zucchini marinated in a variety of spices, grilled on a tandoor/oven and served with hung curd dip.
Mixed vegetables and cheese skewers.
The juiciest of all kebabs, Lahori raseelay are made with minced chicken. Served with tamarind-plum chutney to balance the flavours.
Souvlaki is a popular Greek fast food that consists of meat and vegetables grilled on a skewer. This vegetarian version with cottage cheese can brighten up by any BBQ party.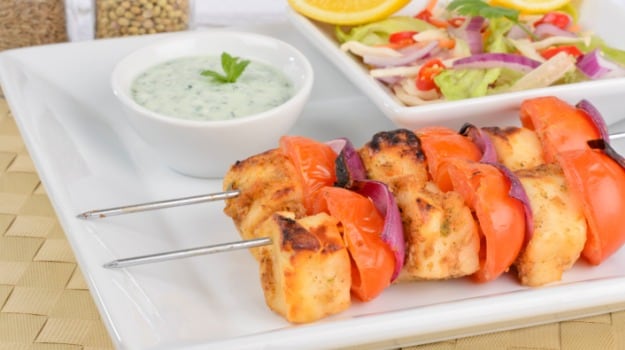 On a skewer, tomatoes, bell peppers, zucchini, mushrooms and cottage cheese and marinated and grilled crisp brown.
Seekh kebabs are the ultimate party snacks. Made with minced meat and spices, you can use them as starters or as a filling in a roll. Served with a zingy apple and onion chutney.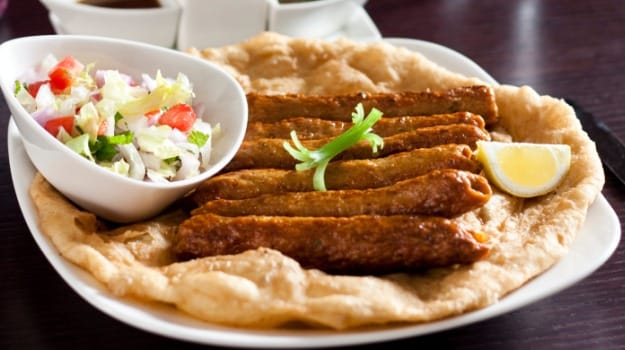 The classic, delicious seekh kebab for starters, served with tangy chutney.
This one's a classic and an absolute crowd pleaser. Chicken marinated in ginger, curd, lime and plenty of spices, grilled and garnished with lemon wedges and onion rings. The juicy and full of spice chicken pieces will fill you up with its delectable taste.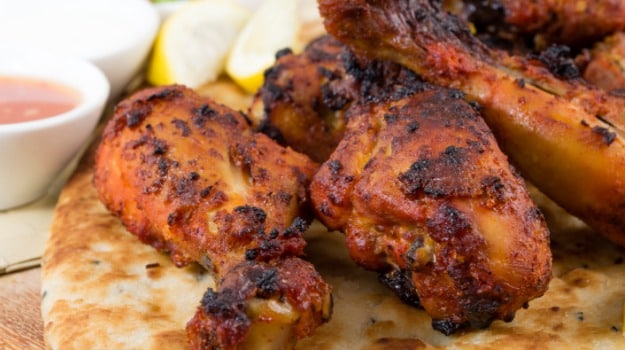 A must have snack at a dinner party with family or friends.
A delicious Indian appetizer, this fish tikka recipe is easy to prepare in just a few ingredients which are easily available in our kitchens. Prepare for a dinner party and you'll not be able to resist coming back to this recipe again.
Succulent boneless fish grilled to perfection and tastes heavenly!
With the winter season around, these barbecue recipes would just be ideal to prepare for a chilly bonfire party with friends and family.