A Specialty Tea Boutique Opens in the Capital
IANS , New Delhi | Updated: October 14, 2013 15:13 IST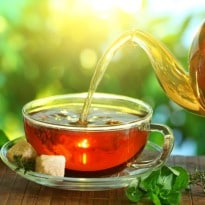 Anandini Himalaya Tea Boutique (AHTB), a specialty tea store which stocks innovative infusions and handmade varieties, has opened its doors in the capital's Shahpur Jat area.

Tea lovers can visit the place, taste and learn about different teas and pick the ones which appeal to their taste buds.

A brainchild of tea sommelier Anamika Singh, AHBT offers handmade, handcrafted tea leaf blends of various flowers and herbs that come from a family-owned estate - Manjhee Valley Tea Estate in Dharamshala.

Anamika introduced new infusions with a mix of natural flowers, herbs and spices to the Indian market with her company Anandini Himalaya Tea. With the boutique, she wanted to go a step further.

"I crafted seven blends of Green Tea and Black Tea with various flowers and herbs from the Himalayas, giving emphasis not to ruin the basic taste of the tea leaf but to add subtle flavors and tastes that would create a bouquet of happiness," Anamika said in a statement.

The handmade teas don't come into contact with any machines. It takes eight to ten women, hand-rolling individual sets of two leaves and a bud for eight hours at a stretch, to produce just three kilos of tea.

Handmade teas are rolled only in the months of March and April and they are priced between Rs. 700 and Rs. 1,200 for 35 gm at the boutique.

All the teas are said to have a strong aroma with no synthetic additions and colours. The boutique has well lit shelves that stand adjacent to white walls. It has flavours like rhododendron, pomegranate, lavender and rose on display.