Akshaya Tritiya, alternatively known as Akha Teej or Akti, is one of the auspicious days in the Hindu calendar. Every year, the festival is celebrated during Shukla Paksha Tritiya of the month Vaishakha - third lunar day of the bright half month of Vaishakha. The day celebrates the birth anniversary of Lord Parshurama, the sixth incarnation of Lord Vishnu who is worshiped on this day along with Lord Ganesha and Goddess Laxmi. Akshya Tritiya also coincides with a day of major significance for the Jain community. The day commemorates Tirthankara Rushabhanatha's year-long fast which he broke on this day by having sugar cane juice.
Akshya means something that cannot be destructed; therefore the day holds special significance for starting a new venture or investing in something fruitful. Most Hindu communities buy gold on today - one of the earliest and most traditional ways of investment. Many people carry out charitable activities to bring prosperity and good luck to the family. The day is considered extremely auspicious to initiate any project or venture that is expected to bring long-term prosperity and returns to the family.
Hindu Mythology states that the day marks the commencement of Treta Yuga. The entire day is considered free from all supernatural ill effects therefore it doesn't really need any Muhurta to perform any puja or to carry out any investment.
Most households prepare traditional Indian sweets like burfi, kaju katli or kheer and offer these to Lord Vishnu. The same is then distributed as prasada among family and friends. People also offer food and sweets to the poor.
Tritiya Tithi: 28th April 2017, 10:29am to 29th April 2017, 06:55am
Muhurat Timings: 28th April 2017, 10.29am to 12.18pm
If you plan to prepare a sweet treat at home today, we recommend you to keep this classic recipes handy:(Also Read: 10 Best Indian Dessert Recipes)
Zafrani Kaju Katli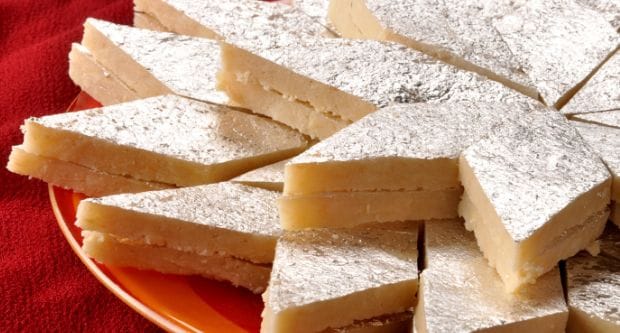 Ingredients
1 tsp saffron
100 gm cashew nuts, broken
6 Tbsp sugar
1/2 tsp green cardamom powder
2 sheets silver varq
Method
Grind cashew nuts into a fine powder.
Heat sufficient water in a non-stick pan.
Add sugar and saffron, mix and cook till syrup thickens.
Add cardamom powder and mix well.
Add cashew nut powder and mix well, cook for about 3 minutes.
Spread the mixture onto a thali and let it cool to room temperature.
Transfer mixture onto a worktop and knead a little.
Spread the mixture into a burfi tray, garnish with silver varq and let it set.
Cut into squares and serve.