Winters are here! Seasonal vegetables are fast taking over our kitchen pantries and one such winter favourite has to be the crunchy, juicy and
highly nutritious - carrot
. The Indian subcontinent is especially lucky to have carrots in abundance. The climatic condition of the country allow the
cultivation of carrots for a longer span of time
and also, gives us the original variety of red and juicy carrots, which the west lacks. Bangalore based nutritionist Dr. Anju Sood says, "The orange carrots are of the hybrid variety. They are genetically engineered. While the red ones are the non-hybrid original variety, cultivated in higher numbers in the Asiatic region. According to the book, Healing Foods, by DK Publishing, carrots are a rich source of beta carotene from which the body makes vitamin A. They are also packed with good quality fibre that helps feeling of fullness and aids digestion and bowel regularity. It also helps lower bad cholesterol levels. In addition to this, carrots can also do wonders for our eyes due to its rich content of lycopene and lutein content. You can toss it in your salads, blend them in your smoothies or have them as part of your soups and subzis, the highly nutritive profile of carrots is bound to show its good effects. However,
one of the best way to make most of carrots nutrition is said to be carrot juice.
Traditionally too, a glass of carrot juice has been deemed to be the magic potion for many health woes.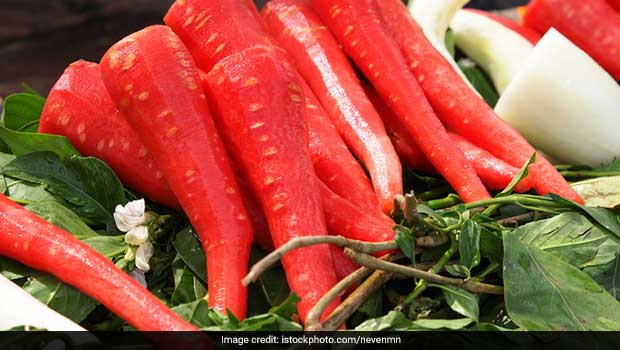 The
desi gajars
have started to find its place in the vegetable carts already, the orange ones have been there for quite long. Wondering which ones are the best source of nutrition? Here's the verdict.
Dr. Anju Sood says, " Carrots are extremely healthy because they are high on antioxidants and vitamins like A, E and K. The difference between red and orange carrot is that red is sweeter, from the sweetness point of view red carrots would give you better taste than orange carrot. However if you happen to be diabetic, you may want to have the juice of orange carrots. Red carrots are loaded with compound called lycopene, wich gives it its red colour and is a very powerful antioxidant, good for heart, eyes and cancer fighting too. Orange carrots too are loaded with Vitamin A, C, E and K which are also powerful antioxidants.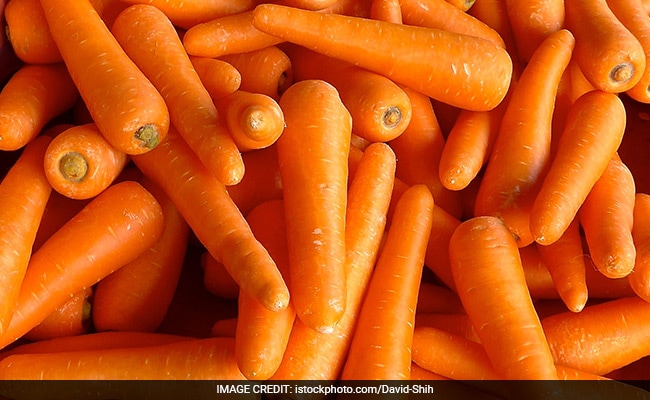 Macrobiotic nutritionist and Health Practitioner, Shilpa Arora also agrees and says " Both varieties are extremely beneficial for health. Red ones are rich in lycopene an antioxidant that builds immunity and fight cancer cells. Anthocyanin found in red carrots is a potent phytonutrient for cell function. The English or orange carrots are rich in lutein that fights oxidative damage, them being packed in A, E and K vitamins also does wonders for skin and especially in anti-ageing. Variety in vegetables is the key to good health, hence juicing both is a good idea. In addition to this, eat a rainbow of veggies for strength and disease prevention."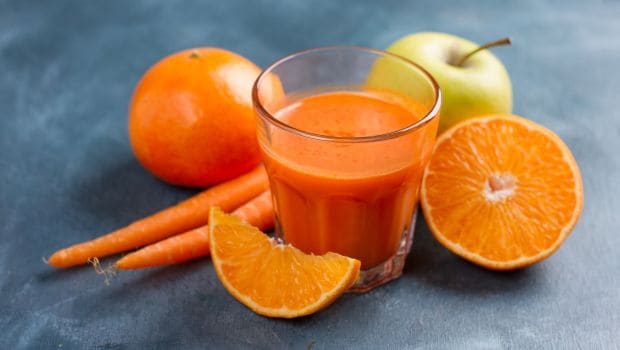 Carrot juice is a vitamin A booster. It contains pigment known as beta-carotene, which is converted into vitamin A when consumed by the body. This, then helps in maintaining good eyesight apart from other health benefiting properties. It is loaded with antioxidants, helps fight high cholesterol, builds immunity and bolster heart health. It also plays a key role in lending a bright glow to your dull skin.
So what are you waiting for? Get your bundle of carrots and loading up on this wonder drink already.
About Sushmita SenguptaSharing a strong penchant for food, Sushmita loves all things good, cheesy and greasy. Her other favourite pastime activities other than discussing food includes, reading, watching movies and binge-watching TV shows.