The weekend's finally here and we are set to cook up a storm in the kitchen (or at least try to). We know there are plenty of you who've kept a menu of your local Chinese eatery by your side, just in case you goof up in the kitchen one more time. Guess what, we have just the right recipe that may keep you from ordering in (yet again!). Honey chilli potato is one of the most loved Indo-Chinese dishes of all times. Thinly sliced potatoes tossed in a pool of hot spices, soy sauce, and vegetables, the appetiser can be found in every Chinese eatery, no matter how big or small. While the recipe of honey chilly potato is fairly easy, if you had the chance to see the making of it at any restaurant, you may have figured that it does not take too long to prepare either. Yet, each time you try to make it at home, either the potatoes are too soggy or there's something wrong with sauce.


This recipe of honey chilly potato is an ideal addition to every party menu. If you are having guests over this weekend or are planning to go to a pot-luck, this vegetarian starter could be the show-stealer of the spread. It is crunchy, crispy and oh-so-flavourful.


(Also Read: 5 Best Fried Potato Recipes | Indian Potato Recipes)
But before we proceed to the recipe, here are some handy tips.
1. While you can decide the thickness of the potatoes as per your liking, it is recommended that you don't slice them too thin or keep them too thick. If you cut them too thick, it may make the potatoes taste bland from within.


2. For crispy chilly potatoes, you need to dip the potatoes in a mix of cornflour, red chilli powder and salt before frying. It is the cornflour that gives the crispy exterior to the snack upon frying.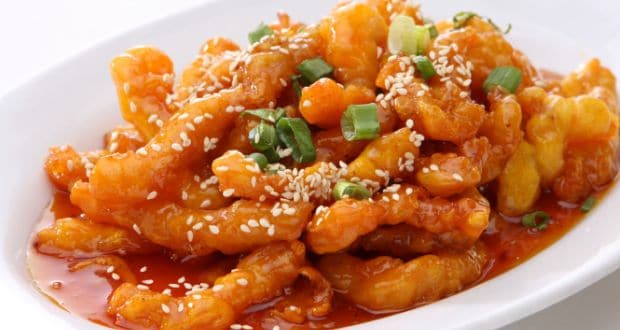 For crispy chilly potatoes, you need to dip the potatoes in a mix of cornflour
3. To make the sauce, heat oil, add garlic, ginger, whole red chillies, chilli flakes and tomato sauce and stir well. Next, add chilli sauce, vinegar, honey and salt. Mix all the ingredients very well. If you do not like the appetiser to be sweet, you can skip honey altogether and enjoy your chilly potatoes.


4. Do not fry potatoes on high flame otherwise they will burn from outside and remain uncooked from inside.


Here's the recipe of honey chilly potato. Try the recipe at home and let us know how you like it.

About Sushmita SenguptaSharing a strong penchant for food, Sushmita loves all things good, cheesy and greasy. Her other favourite pastime activities other than discussing food includes, reading, watching movies and binge-watching TV shows.