Food inflation pinches Britons: Survey
IANS , London | Updated: September 23, 2013 13:42 IST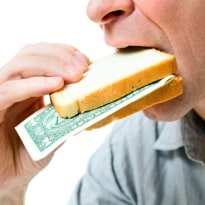 A new survey has found that most Britons are concerned about the increasing cost of food, as price rise puts pressure on already squeezed consumers.

The consumer group Which? released the survey report Sunday saying that about eight in 10 shoppers, or 78 percent, were concerned about the increasing cost of food.

The survey suggests 77 percent of the people said their income has stayed the same or decreased in the same period.

Food prices have risen by 12 percent over the last five years.

The survey of 2,028 people revealed that six in 10 people were concerned about how to manage their future spending; four in 10 said the cost of food was a source of stress; and three in 10 said they were struggling to feed the family because of price rise.

Stagnating incomes and rocketing food prices were causing stress and worry to most of the Britons, said Richard Lloyd, Which? executive director.

"Supermarkets need to make it much easier for consumers to spot the best deal by ensuring simple pricing and special offers good value for money. Politicians need to put consumers at the heart of their economic policies to tackle the rising cost of living, fuel growth and prosperity," he said.

According to the survey, the average weekly household grocery bill is 60 pounds; and it is 80 pounds for a family of four. Two-thirds of people say this has increased in 12 months, blaming rising food prices.

Shoppers are most wary of increase in the price of staples, such as meat, fresh vegetables and bread, showed the survey.