Gastronomic Journey with Michelin Chef Baptiste and Four Seasons Wines at ITC Maurya
Agencies | Updated: December 12, 2012 10:59 IST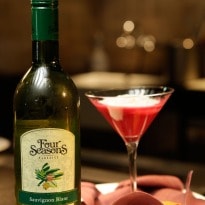 Four Seasons Wines took connoisseurs of world cuisine on a delightful culinary journey at West View in an exclusive partnership with the finest hotels in India, the ITC Maurya with Michelin Chef Baptiste to mark this festive season. Four Seasons Wines and ITC Hotels in their endeavor to take the concept of food and wine pairing to an international level, recently flew down French Michelin chef Baptiste from Paris to pair his signature Michelin style dishes with Indian wines for the first time.

Chef Baptiste paired the Four Seasons wines with the food as per a well - crafted five course vegetarian and non-vegetarian fare. There was a fine balance between the weight of fresh eggplant and of the dry style of the Four Seasons Chenin Blanc during the first course. In the second course, the lightness of Perch with spinach complimented the Four Seasons Sauvignon Blanc. The acidity in Sauvignon Blanc also cut through the rich creamy risotto while tickling the palette with the earthiness of the truffle.

The courses that followed featured the award winning and barrel aged Four Seasons Barrique Reserve interacting with the protein in the lamb, giving it a supple and complex aftertaste. The grand finale was the refreshing acidity of sparking Bouvet Rose. Fruity aromas of red berries on the nose were perfect with the sweetness and richness in the dessert. Voted as one of the top 6 young chefs in France by the famed Gault Millau guide, Baptiste took over the helm of the executive chef role from his father, Daniel at the family-owned La Tour at a young age of 29. Baptiste has worked with Guy Savoy, three-star Michelin Chef of his namesake restaurant, Pourcel brothers and Alain Passard, one of the best chefs in Paris from three-star Michelin restaurant, L'Aperge. Baptiste has taken the food scene in Sancerre (Eastern side of the Loire Valley) by storm with his cutting edge style and use of fresh ingredients. "Our cuisine is very surprising, fresh and sincere," said Baptiste on his maiden visit to India.

Anil Chadha, General Manager, ITC Maurya said, "It has been ITC Maurya's endeavor to bring to its guests the best experiences from the world of cuisine. ITC Maurya initiated the 'Celebrity Chef Series' at West View - The Grill Room that enabled guests to enjoy celebrated signature dishes of globally renowned chefs. We are sure Michelin Star Chef Baptiste will evoke a similar response from the people of Delhi."