Crowded with dingy by-lanes, a lot of people flocking from shop to shop for their groceries and a number of street food vendors vying for your attention, this is what a typical '
galli'
in the Central Market of Lajpat Nagar looks like. One of them is particularly famous for a number of street food joints that offer unique Afghani food known as the Vinobha Puri Galli. As soon as you enter the chaotic alley, you will find many Afghan eateries promising to offer the most authentic Afghan food. Somewhere in the middle of the alley, you will spot two stalls with a board that has 'Afghan Burger' written in English and Urdu. The tempting aroma rising out of these stalls will attract you and make you want to grab a bite like it did to me.
As you may have guessed, I stopped by the stall and asked the man for his name. He was a bit startled and couldn't answer as probably he didn't speak much of Hindi or English. But he made an attempt and blurted out, "Mera naam Hussaini." Before I could question him further, he pointed out to his friend, Hamid, who was selling Afghani Rotis in the neighboring stall, suggesting that he will be able to answer all my queries. I asked Hamid about the Afghan burger and he told me, "Afghan Burger is a tandoori flatbread made with wheat flour and filled with layers of cabbage, tomato, cucumber, shredded chicken or even sausages, boiled eggs, loads of fried potatoes or Aghani chips (more like French fries) and topped with red chutney. The chutney that we use is made with a blend of tomatoes, garlic, vinegar, red chili and capsicum; it adds a whole lot of tang." All the delicious fillings are tucked neatly into the roti and are made into a huge wrap. Once it is wrapped, some chaat masala and a pinch of salt is added over the wrap. The Afghan burger costs just rupees 50 and is way too heavy for one person to finish it.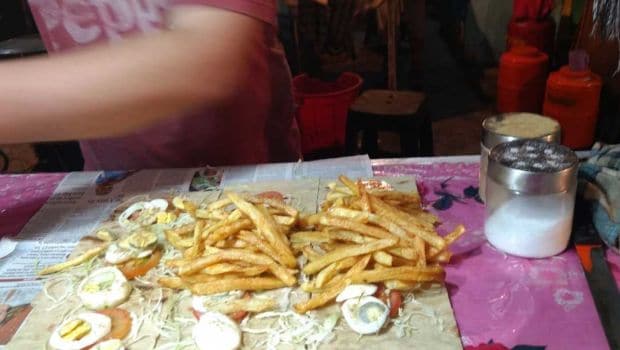 As I took my first bite, I could tell that each and every ingredient was a delight and the red chutney only added to the exceptional taste and flavour. I couldn't eat the whole burger and had to give up half way. Hamid tells me that this is quite a popular snack in Afghanistan. Although he didn't know where these burgers originated from, but he said he has been eating them since childhood.
An Afghan burger makes for a complete meal for young college students and even professionals and it is slowly become a favourite street food to kill hunger pangs. You may not find many joints selling this unique burger that looks like a wrap but if you want to try it, then Lajpat Nagar is definitely the hub for Afghani food.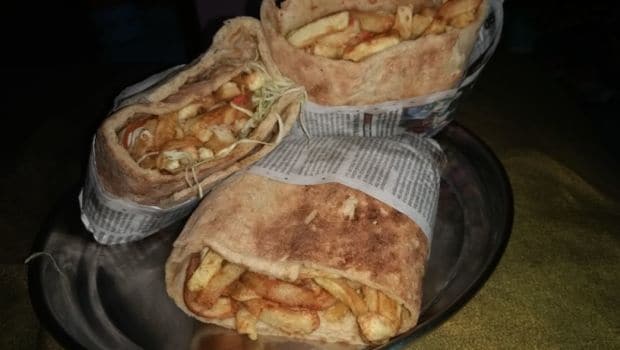 Where: Spot two stalls near Afghan Darbar Restaurant in Lajpat Nagar 1, New Delhi
Cost: INR 50
Time: 12:00 pm to 9:00 pm (may vary on festivals)