Kerala: Nearly 2.6 Lakh Ducks Culled, No Human Found Infected
PTI | Updated: December 02, 2014 13:44 IST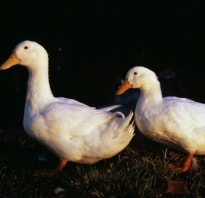 Nearly 2.60 lakh ducks have been culled since November 26 after the outbreak of H5NI virus in three affected districts of Kerala. However, there are no reports of any person getting infected by the virus so far, said Minister for Animal Husbandry K P Mohanan.

Making a statement in the House under rule 300, he said preventive measures taken by government included checks carried out on more than three lakh people in the affected districts of Alappuzha, Kottayam and Pathanamthitta. As an emergency measure, adequate medicines have been stocked in Alappuzha Medical College and other government hospitals. Infrastructure in all government hospitals and concerned medical institutions have been bolstered up, he added.

The Minister said an amount of Rs 84.20 lakh has been distributed to farmers who have suffered losses due to bird culling. The culling operation in the affected districts is being done as per the protocol laid down by the World Health Organisation.

The outbreak of the infection has claimed over thousands of ducks in water-logged Kuttanad in Alappuzha and adjoining areas. It has caused huge losses to poultry breeders, most of them being medium and marginal farmers.