Now, Flavoured Beer Hits Indian Market
IANS , New Delhi | Updated: August 17, 2012 13:25 IST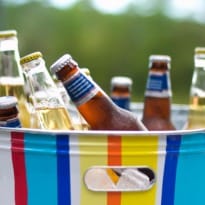 After vodka, a flavoured beer has hit the market with its manufacturer saying it is the first to be brewed with spices to pair it with Indian gourmet cuisine.

With the launch of Indus Pride, "we aim to bring the authentic Indian flavor and character to the world of beer. Indus Pride captures a truly Indian taste profile and represents the Indian specialty beer segment," said Derek Jones, marketing director of SABMiller India.

"We see a huge opportunity in India as the beer consumption is on a rise with the legal drinking age consumers more open to experimentation today. With the changing lifestyle and rise in disposable income of consumers, more and more people are looking for innovative and interesting products in every segment including beers," he said.

"Indus Pride is a beer brewed in India for the people of India and the rest of the world. We are confident of an encouraging response from the consumers," Jones added.
With the "finest hops complemented with authentic spices to form a burst of Indian flavor", Indus Pride will initially be available in four variants: Citrusy Coriander, Citrusy Cardamom, Spicy Fennel and Fiery Cinnamon.

"Indus Pride taps into the sensorial experiences of the consumers and is targeted to be the perfect pairing with Indian gourmet cuisine," a company statement said.