Madhya Pradesh, the heart of this country is one of the most beautiful states in India. With a rich culinary heritage, the capital city of Bhopal does not disappoint at all and has many contrasting flavours and experiences to offer. The city has a Mughal influence due to its rich history and offers so many delicacies. The most famous of them being Poha Jalebi. Breakfast in Bhopal is incomplete without it. Poha Jalebi is the staple breakfast of Malwa region, especially loved by Bhopali's and you can enjoy a delectable plate of it almost anywhere in the city of lakes.
You might have eaten poha as a light snack and savoured hot sweet jalebis but its about time you take a quick trip to the poha capital of india and get your hands on its honest to goodness "poha-sev- jalebi". The city has a wide range of cuisines ranging from shahi tukda to Hakeem's shami kebab but nothing beats the heavenly combination of poha and jalebi.
Poha is lightly fried flakes of flattened rice that is cooked with onions, potatoes, curry leaves, turmeric and coriander apart from the spices you add as per your taste. In Madhya Pradesh, poha is served with the state's famous sev. Jalebi, also known as zulbia in these parts, is made out of maida, deep fried and then soaked in sugar syrup. Combine the two and you have the key to a Bhopali's heart.
The reason Bhopali's love poha jalebi so much is because it's a very light yet fulfilling sumptuous breakfast. It is also easy on the pockets and a plate of poha jalebi won't cost you more than 20 rupees, sometimes even 10.
You can find poha jalebi shops literally everywhere in Bhopal and that too 24x7. From bus stops to railway stations to traffic signals, you will always find a bunch of bhopalis gathering together and savouring the dish. There is a distinct quality about the Poha served in Bhopal, from that eaten in other regions, and that is the tangy flavour. It is topped with sev and sometimes tomato and pomegranate too. This is then served with piping hot jalebis. An amazing combination, to say the least!
Here are some authentic places where you can try the best poha jalebi in the city of nawabs.
1. Anand Namkeen
This food joint, located at the heart of the city has amazing delicacies and they add their own style to everything they prepare. You will get a lot of people savouring poha jalebis, especially during morning hours. There are three four shops around it and they all serve finger-licking good poha jalebi you can get your hands on.Address : Zone 2, M.P Nagar
Cost for two : INR 60

2. Kalyan Singh Swaad Bhandaar
Located on the east side of jama masjid, off Itwara road this place provides thick moist poha with crispy jalebis accompanied with sulaimani chai making it the perfect start to your morning. The poha offered here is a little moist on the inside but sev topped on it gives it a crunchy taste and you can never have enough of it.Address: Itwara road, old bhopal
Cost for two: INR 40
3. Manohar Dairy
If you're in Bhopal, it's a must to visit Manohar dairy. A landmark in itself, it started in 1970 at Hamidia road and has watched the city grow ever since. It's always crowded here. Fresh, hot, moist, light and spicy bhopali poha garnished with sev and pomegranate served with oh so yummy jalebi at Manohar dairy is bound to take you to heaven.
Address: zone 1, MP Nagar and Hamidia road
Cost for two: INR 100
4. Nadra bus stand
One of the busiest places in town, the best poha of the city can be found here. And its hard to name one shop because there are many poha jalebi shops every 100 ft. The vibe of old Bhopal combined with the taste of poha jalebi, this place is very close to a Bhopali's heart.Address: Old Bhopal
Cost for two: INR 30
5. Vyanjan sweets
Located in Habibganj area in new Bhopal, this is your go to place if you like to be in a calm environment, even outdoors. This is the breakfast hub for many college going students and you get tangy poha with a little lemon and sev along with the tastiest jalebis you can ever have. Address: Shakti Nagar Market, Habibganj
Cost for two: INR 40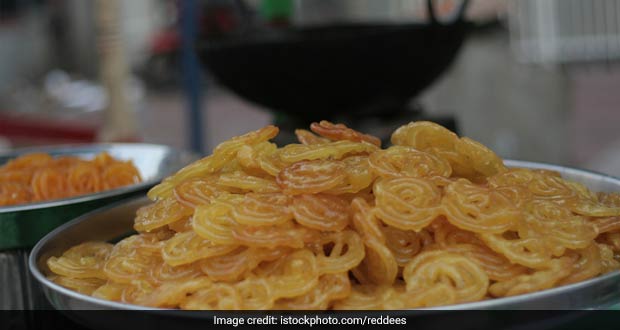 This authentic delicacy of poha jalebi is sure to tickle your taste buds and will leave you wanting for more.
It's about time you pack your bags and take a little trip to the poha capital of india. We wouldn't want you to miss out on this Bhopal favourite.