Broccolli pesto. Photograph: Lauren Bamford for the Guardian
Broccoli, whether sourced from the frosty garden bed or the chilly winter marketplace, makes for an incredible green alternative to out-of-season basil.
For the past month we've been waking up to frosted mornings in the bluish light of deep winter. We've been looking forward to spring but instead the days are only getting colder. An icy wind whips through the streets, tugging at scarves, reaching its chilled fingers beneath coat collars.
In the garden, the frosts give the greens and brassicas a sparkling layer of ice. The frosts mean the brassicas will taste sweeter. The garden is beautiful in the weak winter light: the green-black cavelo nero, the Russian kale, the cabbages with their squeaky leaves and the broccoli with its frosted flowering head.
In parts of Australia broccoli can be grown all year round, but right now is when it's at its most prolific and delicious. The flowering head of the broccoli is most commonly eaten, but don't throw away the stalk. Peel it, slice the inside finely and use it as you would the head. At the market, select heads of broccoli with compact, tightly closed florets. Take a look at where the stalk is cut and make sure it's firm but not thick and woody. Avoid any with yellowing florets.
Broccoli pesto is incredibly simple and provides a delicious green alternative when basil is out of season. . Stirred through pasta it makes a comforting lunch on a day barely warmed by the winter's sun.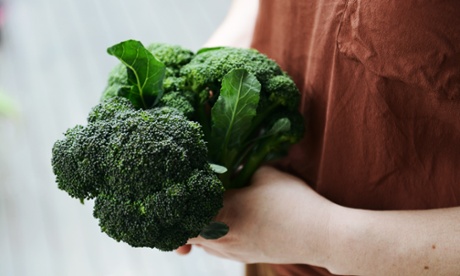 Pasta with broccoli pesto
2 medium heads of broccoli, chopped roughly into florets
1 clove of garlic
2 tsp sea salt
1 tbsp lemon juice
3 tbsp extra virgin olive oil
50g of pine nuts, lightly toasted
finely grated zest of 1 large lemon
100g parmesan cheese, very finely grated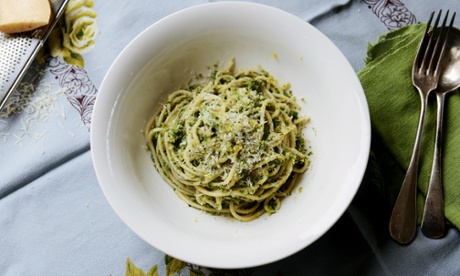 Bring a large pan of water to the boil and prepare a large bowl with ice water.
When the water is boiling, blanch the broccoli until vibrant green " about one minute " and strain. Place the broccoli in the ice water bath to stop the cooking process (so the broccoli doesn't turn brown). Set aside.
Place the garlic, salt, lemon juice and oil in a food processor and pulse until the garlic is finely minced and the mixture has formed a thick paste. Strain the broccoli well and add to the processor. Pulse until it resembles fine bread crumbs. Add the nuts last and pulse until just combined.
Empty the mixture from the processor into a bowl and stir through the grated parmesan and lemon rind. The broccoli pesto is now ready to add to your favourite al dente pasta. Add some extra parmesan and lemon zest when serving.