Make cooking fun by daring to explore myriad flavours and reinventing old recipes to arrive at something new and spectacular. Pesto, the popular
Italian
sauce, is one such example that knows no bound in terms of creativity. Gone are the days when the recipe strictly called for basil leaves and pine nuts, the two main ingredients that are credited for giving pesto its appetising colour and flavour. Modern cooks are exploring all sorts of nuts and veggies to arrive at lip-smacking pesto variations to give a spin to their regular dishes.
Making pesto at home is probably the easiest task; however, sourcing the ingredients tends to be a challenge, particularly in India. Not so long ago, pine nuts were tough to find at the supermarkets. Moreover, because of its steep pricing (INR 800-950 per 100 grams), most people refrained from making pesto at home and instead picked imported pesto sauces for lower prices.
Probably this is what sprouted the urge to explore other nuts while making pesto, and start a whole new range of pesto sauces. Like they say, there's nothing like eating fresh, making your own jar of pesto also ensures that you savour natural flavours as per your liking.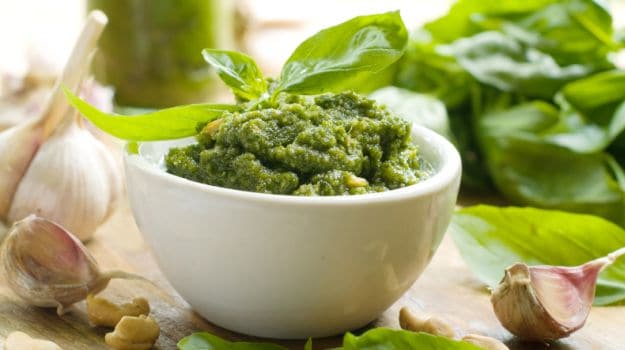 How to Spruce Up Your Pesto
"For unconventional pesto, you can make it a lot more fun by interchanging pine nuts with almonds and walnuts (prepare for a little discolouration when using walnuts). Also use arugula or rocket instead of basil, which work great as a spread or a dip. If you prefer no greens, you can even try Sundried Tomatoes and Corn to make pesto," says Chef Irfan Pabaney, Director and Head Chef, The Sassy Spoon.
Chef Alok Verma, Executive Sous Chef, The Imperial, New Delhi says, "We usually think of pesto as being a blend of basil, olive oil and pine nuts, but 'pesto' actually just refers to the classic process in which the dip/ sauce is made with a mortar and pestle. To emphasise the nutty flavour, you may try using peanuts, or adding a bit of peanut butter in place of the olive oil. Anything can be a base for a pesto if it is made this way - mint, sage, cilantro, etc. Pine nuts can be replaced with cashews, brazil nuts and almonds. The resulting pesto will come out surprisingly good, and a nice change from the classic. Enjoy it with pasta, noodles, or as a dip for bread or chips."
Food Blogger Amrita Kaur of Life ki Recipes says, "I have been selling different kinds of unconventional pesto such as Rosemary-Pistachio, Kale-Pumpkin Seed and Arugula-Almond. My favourite is the Arugula for its peppery flavour. Currently, I have also been experimenting and came up with Moringa Pesto, which is an Indian Superfood. For seasonal special, I made a fresh Green Almond Pesto back in May-June when they were in season. I have also taken a non-green route in the past and have worked on Beetroot Pesto and Fresh Turmeric Pesto."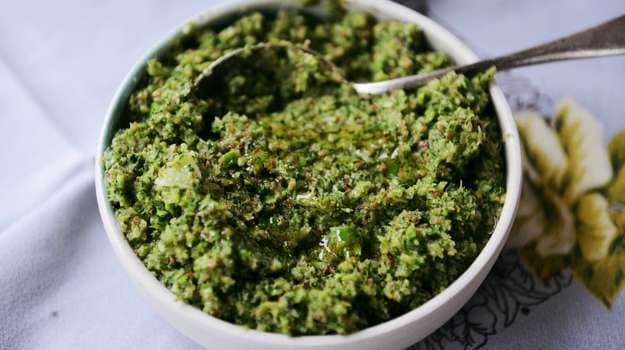 Go Nuts for Pesto
With so many varieties of nuts available, lend different flavours to your pesto each time you make it. You can pick almonds, cashew nuts, pistachios and peanuts, which are most easily available. For some more experimentation, how about Brazil nuts, hazelnuts, Macadamia nuts and the like? An important point to remember is the quantity of nuts you use in your recipe. Nuts tend to have an overpowering flavour, particularly peanuts. Hence ensure that you use just a little handful first, and then adjust the quantity as per your taste.
You need to follow the same process of making pesto, but tweak the quantity of nuts as you go along the recipe depending on your taste.
Herbs and Veggies to Play Around With
Ditch basil and play around with a wide range of greens like kale, spinach, rocket (arugula), broccoli, mint, coriander, among others. A point to note is that not all herbs match up to the pungency of basil, hence tweak the quantities of other ingredients to work up the flavour. Some combinations that work well include Kale and Almond, Spinach and Walnut, Rocket and Cashew, and Peanut and Coriander. Or ditch the greens too, and play around with veggies like beets, carrots, corn, broccoli, zucchini, etc.
Pesto Recipes to Try at Home
Here are some lip-smacking pesto recipes for you to try at home -
1. Rocket Cashew Pesto
Recipe by Chef Vicky Ratnani
A sharp and nutty sauce of cashews and rocket leaves that is bound to add an interesting edge to your dishes. For the recipe, click here.
2. Sweet Corn Pesto
Recipe by Chef Irfan Pabaney
120gm sweet corn, boiled
1 Tbsp olive oil
1/4 cup Parmesan, grated
3-4 cloves garlic
10gm pine nuts
Salt and pepper to taste
Method:
Grind the above starting with the corn, garlic and pine nuts. Add the parmesan and slowly add the olive oil. Add salt and pepper to taste.
This can be used as a stuffing for fresh pasta, or even tossed directly with spaghetti or penne. My advise is to be adventurous and use it in many different ways.
3. Basil, Mint and Peanut Pesto
Recipe by Chef Alok Verma
150gm fresh basil leaves
50gm mint leaves
1/2 cup extra virgin olive oil
75gm roasted peanuts
3-4 garlic cloves, smashed
Juice of 1/2 lemon
55gm Parmesan, grated
Salt to taste
Method:
Add basil, mint, peanut and garlic to a food processor.
Gradually add the olive oil through the feed tube and process until pesto is well-blended.
Transfer to bowl and grated parmesan cheese and mix well to combine.
Season with salt and lemon juice.
Cover tightly and chill. Bring to room temperature before using.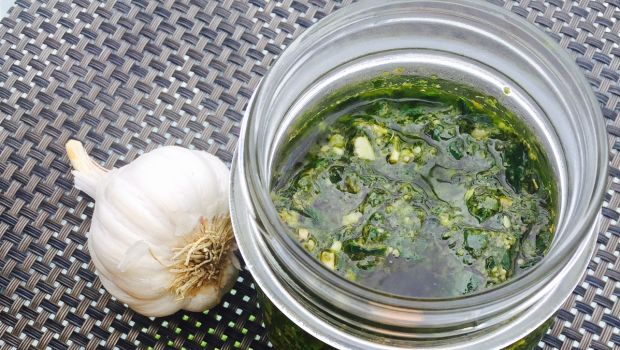 4. Spinach and Walnut Pesto
Recipe by Plavaneeta Borah
Palak, an easily available ingredient in the Indian kitchen, gets an Italian makeover with this easy pesto recipe.
1 big bunch of fresh spinach leaves
3-4 garlic cloves
2/3 cup olive oil
1/4 cup Parmesan
1/4 cup walnuts
Salt to taste
Juice of a lemon wedge
Method:
Place all the ingredients in a blender, except oil. Pour a drizzle of oil and blitz for a few seconds.
Add some more oil, and blitz again. Continue doing so, little by little, till the pesto develops its colour and flavour.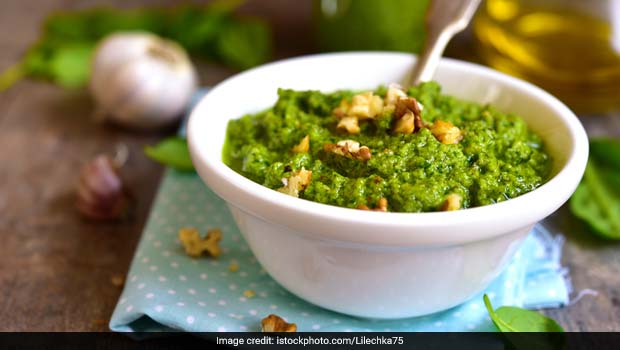 5. Moringa Pesto
Recipe by Amrita Kaur, Life ki Recipes
1/2 cup pumpkin seeds
1 cup moringa leaves
1/4 cup basil leaves
3/4 cup olive oil
Juice and zest of a lemon
2 garlic cloves
Salt to taste
Method:
To make the pesto, blend moringa leaves, basil leaves, pumpkin seeds, oil, lemon juice and zest, garlic cloves and salt together.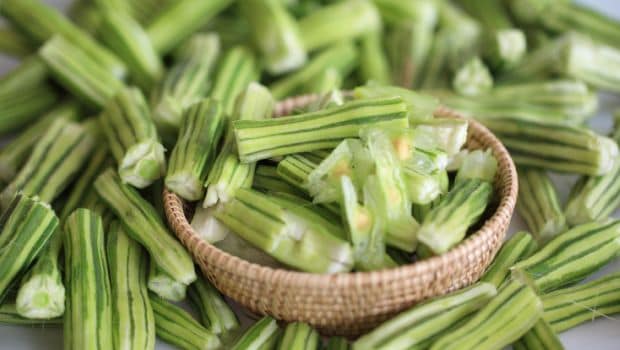 6. Fresh Turmeric Pesto
Recipe by Amrita Kaur, Life ki Recipes
1 inch fresh turmeric
1 cup basil leaves
10-12 blanched/soaked almonds
Juice and zest of a lemon
Salt to taste
1-2 garlic cloves
3/4 cup olive oil
Method:
To make pesto, blend turmeric, basil leaves, almonds, lemon juice and zest, salt, garlic and olive oil together until smooth. Fresh turmeric has a very strong flavour, so use carefully