It looks like a just another Sydney cafe, but beneath the bread boards and beyond the quinoa is the latest McDonald's incarnation - a testing lab
Would you like fries with your pulled pork and Asian slaw salad?
McDonald's has opened a hipster cafe called The Corner in the inner-city Sydney suburb of Camperdown. Described by the fast-food titan as a "lab," it will serve as a test run for new menu items which may then start being sold in other stores. It is the only one of its kind in Australia.
While the staff are dressed in chambray shirts and dark jeans - a far cry from the usual McDonald's uniform of high pants in surgical green, it still looks like a McDonald's which is trying not to be a McDonald's. The hipster touches include tiled walls and a herb garden - and the food is served on those awfully impractical wooden sandwich boards. What will come next? Green juice in Mason jars?
The only McDonald's branding evident is a tiny "McCafe" logo in small font on the takeaway bags. The logo is minuscule on the sign outside, which in black lettering on a white background proclaims The Corner.
Cold drip coffee (though they were out when I swung by on a Tuesday morning), quinoa salads and one of the biggest ingredients of 2014, pulled pork, are on the menu.
It could be the only cafe in Sydney's inner west not to offer macchiatos - possibly to get around any Mac-squared name - and there's the porridge with poached pear to give you and your university-educated friends the extra frisson of some alliteration with your grains-based breakfast.
The coffee is actually very, very good. I had the cold espresso with milk in it and it was strong, with not a hint of a burnt bean in the aftertaste. I also picked up a pre-packaged tomato, bocconcini and pesto salad which was fine though the pesto did taste like those sold by a supermarket chain.
I was in there in the morning before the lunch menu kicked in at 11am so brought back the breakfast menu items and tiny $4 takeaway salads for my esteemed colleagues to review.
Michael Safi: bacon and egg roll on brioche bun, $6
There's nothing like heading down to that little cafe on the corner for breakfast and a morning coffee. You know the one - where the barista knows your name, and the multibillion-dollar food conglomerate owner is obscured behind a haze of quinoa and chambray-shirt clad workers.
On one hand, the last thing Australia's thriving cafe industry needs is McDonald's muscling into the market. On the other, my egg and bacon roll with spinach and chutney on a brioche bun was pretty tasty. The fried egg was perfectly runny and the bacon crispy and lean. They could have lathered on more chutney, and the spinach was missing in action, but on the whole, no complaints.
What was interesting was the residual McDonald's-ness the meal couldn't shake. Lay it alongside 10 other burgers, in some kind of delicious criminal burger line-up, and you would easily pick it as the McDonald's product. It's something about the perfectly symmetrical sugary bun with an inside too white to be produced by nature.
Perhaps the most pleasant surprise was that the roll felt composed of actual, real-life food. That dirty feeling you get after scoffing a McDonald's burger? Non-existent.
Nancy Groves: four-cheese toastie, $6
Even for someone who eats McDonald's more often than I should, the four-cheese toastie was a disappointment. I couldn't identify one variety, let alone four - the sourdough bread was an improvement on a sugary burger bun, I guess, but I don't go to McDonald's for a health kick. Even in a brown paper bag.
Give me their basic, tastier and (at $2.45) cheaper cheeseburger any day. Macca's classic fare already does just fine catering for the munchies, midnight snacks and hangovers in hipster neighbourhoods. It doesn't need to wear the clothes, too.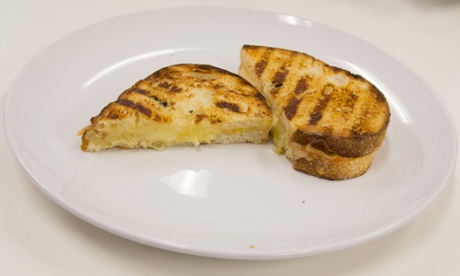 Adam Brereton: chorizo and egg roll on a brioche bun, $6
After initial failed forays into healthy "meals" - salads and other nonsense - McDonald's realised that what the punters want is the fantasy of health and quality, mediated through fancy lettuce and dusty sourdough buns, not the sour apples-in-bags terror of the real.
Maccas breakfast didn't follow this logic as the chain went through its own transformation. Unlike the purpose of the "real choices" healthy daytime range - to announce ever more loudly our slobbering appetite for the "false choices" of regular McDonald's products - breakfast time is when we are allowed to wallow gleefully in our sausage and egg-inflected depravity.
Now McDonald's has opened The Corner, which is a kind of cafe/restaurant arrangement with table service and chips served in wire baskets. I had a chorizo breakfast burger thing. It had two big round slices of "chorizo" and an egg, on a slimy brioche bun.
It wasn't bad, but I found myself longing for the genuine article: a rubbery sausage pattie and a circular slab of egg on a gritty English muffin. Brioche buns are definitively not for breakfast; you can't feel guilty about a brioche bun, only angry.
In its attempts to be "realer" than the McDonald's breakfast range - one of the greatest inventions of western civilisation - The Corner may well compromise the greasy truth of McDonald's itself.
Nick Evershed: egg and bacon roll on brioche bun, $6
It's much fancier than what you'd normally get at Maccas. Chutney instead of sauce. Brioche instead of the normal white roll. Some baby spinach wedged in as a token nod to health.
But it can't shake its intrinsic McDonald's-ness. Take the bun, for example. While it's different to the normal burger buns, it's still very McDonald's. Sweet, soft and a bit too moist. The bacon has the same generally undercooked feel that you get in the egg and bacon McMuffins. Even the wrapper itself is McDonald's in style, albeit with different branding.
Overall it was pretty tasty, but it's really just the textures that fall down compared with something you'd get from your local cafe. I'd take crispy bacon on a good, solid crusty roll over this fancy stealth-McDonald's fare any day.
Brigid Delaney: chorizo and egg roll, $6; pre-packaged brown rice and quinoa with fresh vegetables salad, $4
The bun was brioche - but tasted more like a hamburger bun. It was very soft and sugary, with the barbecue-flavoured sauce soaking through the bun - giving it a damp texture.
The McDonald's taste was tempered by fresh rocket and tasty, well-cooked chorizo. It was good - but nothing more special than you would find in a sandwich shop or deli.
I can't remember the last time I had McDonald's for breakfast and lunch, but the new healthy menu means you can indulge in double dining without the guilt. I had small salad which contains some of 2014's most zeitgeist-y ingredients (quinoa, coconut). There were several large, fresh spinach leaves in the small tub and a good serving of the grains, with grated carrots.
The salad had a refreshing coconut crunch - and tasted legitimately healthy. I'm Loving It.
The breakfast brioche from The Corner. Photograph: Nick Evershed for the Guardian.