Navratri is an auspicious time in our country where a lot of us are fasting and some stay away from onion, garlic and meats and adopt a simpler lifestyle. During the nine significant days of Navratri, we worship goddess Durga
who is believed to have nine different incarnations.People who are fasting avoid non-vegetarian food,
eggs
, common salt, grain and other things during these nine days. But the good news is that, if you are fasting, you don't have to give up on your favorites. While fasting your meals should be relished as much as you do on other days. Most people forget that desserts can be a special part of these festivities. Even when they are fasting! It's just about being innovative and experimenting a bit. You may only relate to certain
mithais
that can be eaten during these fast but why not try something new this time around?That's the beauty of food, even if you have
dietary
restrictions, there's still a lot to offer. Now, you don't have to wait for nine days to get your hands on a delicious dessert and please your sweet tooth. Here are two brilliant dessert recipes that use only
fasting
ingredients and can be easily made at home. Get going!(Also read:
5 Best Dessert Recipes You Can Try This Festive Season)
1. Kesar Pista Kulfi
One of our favourite Indian desserts perfect for this weather. Deck this
Kulfi
with nuts and the sweet aroma of nuts.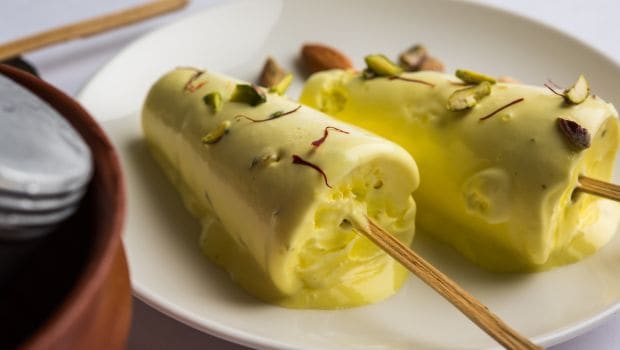 Ingredients:
1 litre milk
100 grams
khoya
10-15 strands of saffron soaked in 2 tsp water
50 grams crushed pistachios
75 grams sugar
Method:
1. Boil 1 liter milk on low flame and let it thicken a bit like
rabri.
2. Add sugar and
khoya
and mix well.3. Add saffron n pistachios and remove from flame.4. Pour in a rectangular container and sprinkle some more pistachios on top and let it freeze well for 6 to 8 hours.Note: We can also alter this recipe and make a rose and pistachio ice cream. Instead of saffron just add rose essence. You can choose to set it in small
kulfi
moulds with a stick inserted. Make sure to dip it in warm water, when you want to unmould.
2. Banana and Strawberry Ice-Cream
Give your ice-cream a fruity twist with the goodness of
bananas
and strawberries. The lovely flavours can perk you up instantly.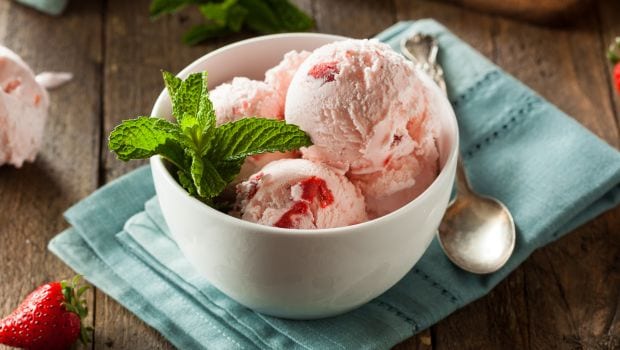 Ingredients:
1 kg curd- hang it and let the excess water flow out
3 bananas
75 grams powdered sugar
200 grams fresh
strawberries
500 ml fresh cream
Method:
1. Churn all the ingredients above, it will look like a thick
smoothies
. 2. Pour it into desired container and sprinkle fresh strawberry and banana chunks. 3. Let it freeze well and enjoy like an ice-cream 4. You can alter these flavors by using
guava
and chili and even throw in some
nuts
of your choice. These recipes are good for all family members and will also give you an additional activity to spend some time with your kids in the kitchen.
About the Author:
With her extremely capable, inventive and passionate stint in leading hotel chains, Chef Neha Lakhani, Founder, Patisserie Royale, brings fresh and innovative culinary skills to the art of baking inspired by classic training and world travels. Neha is known for her distinctive flair for the dramatic and glamorous, and has been awarded for her flair for innovations. Drawing inspiration from her mother's cooking; recipes collected on her jaunts abroad, and a resolve to bring together global influences, Chef Neha is an innovator and baker par excellence. Neha crafts a wide range of chocolates, truffles, alcohol truffles, chocolate show pieces and delectable cakes. That is when she is not teaching Le Cordon Bleu at GD Goenka School of Hospitality or globe-trotting judging pastry competitions and cook-offs.
Disclaimer:
The opinions expressed within this article are the personal opinions of the author. NDTV is not responsible for the accuracy, completeness, suitability, or validity of any information on this article. All information is provided on an as-is basis. The information, facts or opinions appearing in the article do not reflect the views of NDTV and NDTV does not assume any responsibility or liability for the same.