Trailing Kebabs in Dust Bowls of Asian History
IANS , New Delhi | Updated: April 19, 2013 11:29 IST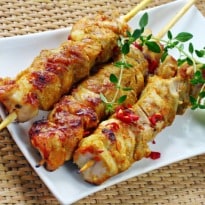 Sometimes, one does not know when one is about to embark on a long journey to unknown lands in search of hidden secrets and treasures. This happened with me a few years ago. It was in 2010 and I was teaching at the Le Cordon Bleu in Paris when a Bosnian student mentioned the Bosnian kebab called Cevapi in class.

A kebab made with three meats (pork, beef and lamb) with subtle spices and grilled to perfection. This prompted me to think about the different types of kebabs in the world we were oblivious to. Hence, started my long kebab trail. In my travels, I have hunted for the most unusual recipes and their histories and traditions to find the hidden treasures of kebabs.

Kebabs are said to have originated and been popularised in Turkey. Soldiers grilled or smoked chunks of freshly hunted animals skewed on swords on open field fires. So, my trail began from Turkey leading me to many countries in Central Asia, the Middle East, Southeast Asia and even Germany, Russia and Hawaii.

The Turkish trail led me to Istanbul.

I was prompted to visit an old fish market in Istanbul. Behind the market was a row of restaurants on both the sides of a cobbled street. It was there that I befriended a restaurateur who owned a restaurant in that street called Kalamar. I experimented with a fish kebab called kebab ozunborun (rock salmon kebab) and a fresh river fish salt kebab.

It was an amazing experience. We took the whole fish, cleaned it, marinated it with salt and spices and then covered it with a mound of sea salt. The fish was grilled for at least two hours on low heat in the oven. I was ecstatic when I had the first bite. I had never eaten something that was so soft and tender it nearly dissolved in my mouth without chewing -- reminding me of the toothless Nawab of Kakori for whom the Galouti kebabs were invented in India.
I was advised to visit the Beyti restaurant while in Istanbul, which is the birthplace of the famous Beyti kebabs. I was intrigued as well as excited to visit this particular restaurant in search for the recipe invented by its founder Guler Beyti.

It reminded me of my restaurant where the tandoori chicken was invented by my grandfather Kundan Lal Gujral.

Beyti kebab closely resembles our seekh kebab, lightly flavoured with cumin powder, coriander with hint of black pepper marinated with olive oil. Once the kebab is grilled on charcoal, it's served wrapped in pita bread and drizzled with tomato sauce. It is served with yoghurt and an olive oil dip.

The cuisine in the Ottoman empire can be divided between that of the Ottoman court itself, where the cuisine was highly sophisticated as a result of fusion of many the culinary traditions found in the empire, and the regional cuisines of the peasantry, influenced by the produce of their respective areas.

Turkish cuisine varies across the country. Some areas use fewer spices, while others prefer rice; however, most like seafood. In the areas around the Black Sea, people consume fish extensively, especially the Black Sea anchovy (hamsi), and they also eat plenty of maize dishes because of influences from Balkan and Slavic cuisines. Southeast Turkey is famous for its kebabs and mezzes - small portions of cooked or cold snack.

Along the trail, I built my own archive of Turkish kebabs.
Some of which are as follows:

- Adana Kebab: Kebab made with minced meat mixed with chili and spices on a flat wide metal skewer (shish). The kebab is associated with the Adana region and is popular all over Turkey.

- Ali Pasa Kebab (Ali pasha kebab): Cubed lamb, tomato, onion and parsley wrapped in phyllo sheets.

- Ali Nazik Kebab: Ground meat kabab sauteed in a pan with garlic, yogurt and aubergine.

- Bahcivan Kebabi (Gardener's kebab): Boneless lamb shoulder mixed with chopped onions and tomato paste.

- Beyzok Kebab: Tomato and onion flavoured lamb, wrapped in aubergine slices and garnished with lamb brain.

- Beyti Kebab: Ground lamb or beef, seasoned and grilled on a skewer over charcoal. Often served wrapped in lavas and topped with tomato sauce and yogurt. The kebab's origin can be traced to the famous Beyti Kebab House in Istanbul.

- Bostan Kebab: Lamb and aubergine casserole.

- Bugu Kebabi (Steamed kebab): Cooked on low heat till the meat releases its moisture and reabsorbs it.

- Cag Kebab: Cubes of lamb are first cooked on a cag (a horizontal rotating spit) and then on a skewer, a speciality of the Erzurum region.

- Liver Paper Kebab: A lamb liver kebab mixed with meat and marinated with thyme, parsley and dill.

- Testi Kebab (Clay pot kebab): Meat (without fat) and vegetable casserole with aubergine, carrots, shallots, beans, tomatoes and green pepper and butter .

- Cop Sis (Small skewered kebab): A speciality of Seluk and Germencik regions, it is made of boneless meat pounded with tomatoes and garlic marinated in black pepper, thyme and oil and grilled on wooden skewers.

- Hukan Kebabi (Sultan's kebab): Sliced lamb mixed with aubergine puree, basil, thyme and bay leaf.

- Iskender Kebab: resembling the doner kebab, it is served with yogurt, tomato sauce and butter. It originated in Bursa and was invented by Iskender Efendi in 1867. He was inspired by the cag kebab and turned it from horizontal to vertical rotation.

- Islim Kebab (Steamed kebab): Yet Another version of the aubergine kebab.

- Kagit Kababi: Lamb cooked in a paper wrapping.

(Writer and star chef Monish Gujral manages the Moti Mahal chain of eateries.)