Smouldering red charcoal, succulent grilled kebabs and the whole locus filled with the enticing aroma of exotic spices is enough to enthral and stop every passer-by at this immensely popular kebab corner in Old Delhi, named, Abdul Ghani Qureshi Kebab Corner. It is named after Haji Abdul Ghani Qureshi, who also happens to be the owner of the shop; he is 81 years-old and has been serving kebabs for 72 years now. The kebab outlet is presently managed by his five children, namely: Ajmal (55), Amjad (45), Arshad (42), Ershad (35) and Salman (27). They are famously known as 'The Qureshi Brothers', who are carrying forward their forefather's rich legacy of making kebabs in Old Delhi.

This business of selling kebabs was initiated by Abdul Ghani's grandfather; his name was 'Chote' and was fondly called 'Chote Kebabi'. He used to sell kebabs near Jama Masjid. He trained his son, Abdul's father, in the skill of making kebabs, who then came to be famously known as 'Abdullah Kebabi'. Abdul received his training from his father while working with him and in the year 1970, he opened his own kebab corner on Urdu Road, near Jama Masjid.

Abdul Ghani tells us, "Renowned lane, Gali Kababian in Old Delhi is named after our family. During partition, in 1947, everyone fled to Pakistan, but our family was the only family from the nearby area who didn't migrate. Our grandfather was the first person who started making kebabs in this lane and from that time onwards, this lane is known as Gali Kababian".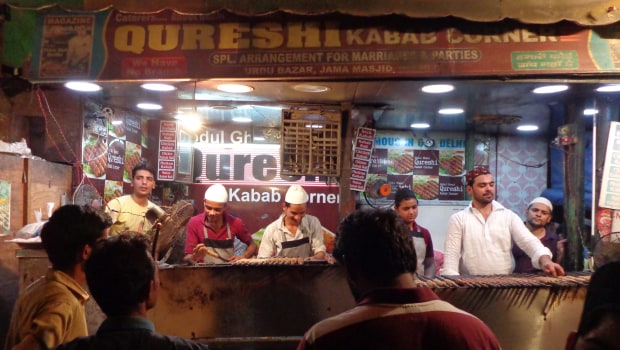 The Qureshi Kebab Corner, Jama Masjid

. Photo Credit: Pallav Pandey

The Making of the Kebabs
Their secret recipe is what makes their kebabs hot selling. The batter that they prepare is a mixture of exotic spices and herbs that lends in to the lip-smacking flavour. They have always tried to sell kebabs which are high in quality but low in price. Initially they used to sell per seekh from 25 paise to Re. 1, but now they sell it for INR 20-40.

"Initially, we would see only few customers coming to our shop and that too people from the nearby areas, but now people come from all over to enjoy our kebabs. During Ramzan especially, we witness a humungous crowd. By the grace of Allah, we give our customers such tasty kebabs that they come again and again. Customers know that after obtaining the token, they'll have to wait for their turn for about half an hour, but still they come here and are ready to wait for this long," Mohammad Amjad Qureshi shares with us.

The Qureshi brothers believe in doing everything on their own; be it crushing of spices, mixing of ingredients together in order to make a batter, prepping (slicing and chopping), cooking or barbequing, serving and packing. "I have seen both my father and grandfather doing everything on their own, and this is what I have followed and now my children are following", says Abdul Ghani. Each day, the initial lot of kebabs that are made in their shop are first tasted by them and then next batches are prepared for the customers.

(Also Read: Galouti Kebab: The Melt-in-the Mouth Delicacy Originally Made for a Toothless King)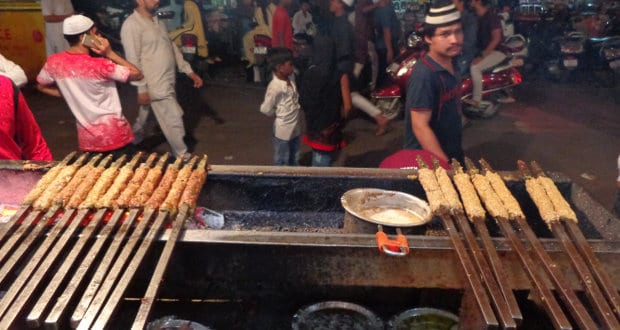 Photo Credit: Pallav Pandey

Struggle to Success

The Qureshi family credits their hard work to their success. There was a time when they had no work to do, and used to sit idle the whole day in their shop, selling almost nothing. Mohammad Amjad tells us, "We used to look at each other's faces back then and get so worried for not being able to sell kebabs. We would pray for people to come and buy the kebabs so we could earn something to run our house and manage daily expenses."

They would sit with just two to three kilograms of keema and pray that someone should come and buy their food. Abdul Ghani says, "But we believe that we have been very fortunate that we got to face such a hard time, as it gave us the strength and made us capable of working even harder."

They have served some eminent personalities like Indira Gandhi, Madhavrao Scindia, Rajeev Gandhi and Imam of Saudi Arabia and have garnered immense praise for their kebabs. "Syed Abdullah Bukhari, the Shahi Imam of the Jama Masjid used to sit with me in my shop to have kebabs and would praise me. From the very beginning we believed in the fact that if the quality is top notch, then customers will surely visit your shop. We used to get catering contracts to serve at the Taj Hotel, Press Club, Army Club, Rashtrapati Bhawan, etc. I have been in news a lot of times," shares Abdul Ghanis.

"Our kebabs are world famous; many people call me to different countries for their private parties and events, like I recently went to Japan. I have been to three to four countries for private events," adds Amjad.

(Also Read: Kakori Kebabs: A Tale Of An Offended Nawab, Mangoes And a Delicious Variety of Kebab)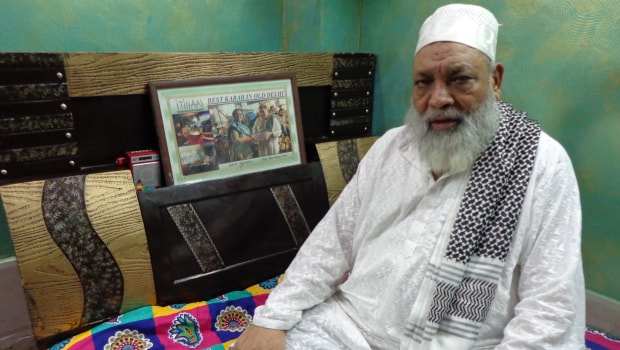 Abdul Ghana Qureshi talk about his hardships. Photo Credit: Pallav Pandey

The Healthy Tweak

The Qureshi brothers have brought about certain changes in the recipe to offer healthy kebabs to their customers. Amjad says, "We have reduced the quantity of spices in the kebabs in order to make them less spicy. We only use fine quality meat and we do not add fat to it. We also provide our customers with melting butter, if they require; we pour the melting butter over their meal."



They have also made changes in their kitchen. Earlier, they never employed any outsiders for help. They would do everything manually, like crushing of spices and mixing of ingredients to make the batter. "We used mortar and pestle (okhli) in those times. Today we have a facility of using mixer grinder for crushing and mixing activities."

(Also Read: Ramadan Special 2017: Delhi's Top 11 Kebab Joints That You Must Visit)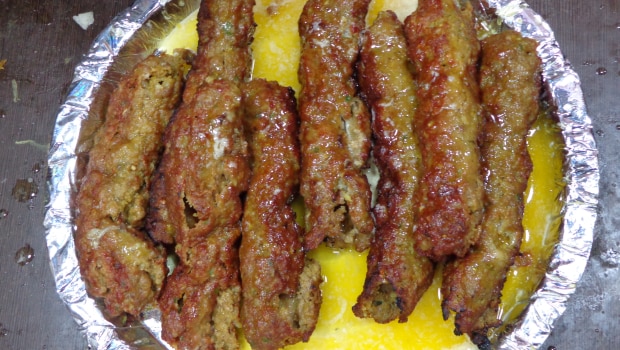 The tasty Kebabs

. Photo Credit: Pallav Pandey

In this era of commercialization, where even small food joint owners are trying to expand their businesses by opening multiple outlets and are competing with each other rigorously, the Qureshi family have a different viewpoint. "We don't plan to open any restaurant in the near future as we hardly get any spare time from our shop, so how will we be able to manage things if we ever open a new outlet or a restaurant? Yes, people do open outlets and expand their businesses, and it isn't that hard for us to do either but then we won't be able to work with the same dedication. Maybe our next generation would like to open an outlet or a restaurant someday down the line."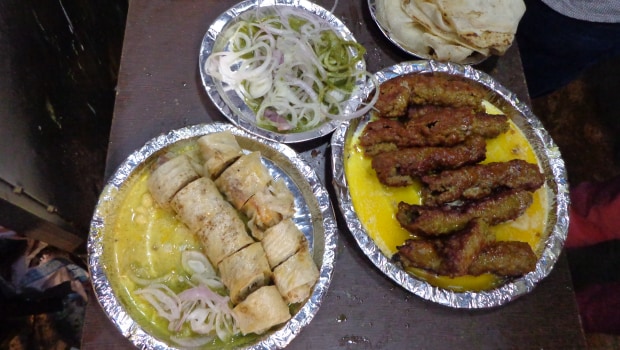 Varities of kebab

. Photo Credit: Pallav Pandey

Today, we are in the year 2017 and a huge time has been passed since the time Abdul Ghani's grandfather established the business of selling kebabs, but the standards of their kebabs have only improved with time. Each generation has contributed a significant part of their lives in protecting their forefather's legacy and taking it forward. Today, even the fifth generation of the Qureshi family has started serving in the Qureshi Kebab Corner; 17 years-old Adnan Qureshi is the latest entrant.

CommentsAddress: Opposite Gate 1, Jama Masjid, New Delhi
Timings: 10 AM to Midnight
Phone: +91 9810574253/+91 8527214457