The latest to join hands with the world of viral content is
Bon Appétit's
creative take on romaine lettuce and yogurt dip! Twitter was sparked with reactions when the food-mag tweeted a pic of lettuce dunked in dip and captioned it as "Hand Salad". "Because lettuce and dip just doesn't sound like nearly as much fun," the magazine said later.The recipe was a part of their feature on how to quickly work up a
dinner party
menu in under $40. Calling
yogurt
dip sitting beside romaine leaves as salad put off food critics, while many were tickled in their funny bone by the unusual name of the 'dish'.
It's called a "hand salad" but let's not focus on that https://t.co/fRTxgR79cYpic.twitter.com/XWY0mbAqF4

— Bon Appétit (@bonappetit) March 27, 2017

Here's a round up of some of the most hilarious and out-of-the-world tweet responses to the whole episode!

me eating hand bread
but lets not focus on that @bonappetitpic.twitter.com/EESl55R8s9

— darth™ (@darth) March 27, 2017
.@bonappetit just whipped up a quick bowl of cereal pic.twitter.com/0U3UGe5ThL

— Juggalocialism (@UweBollocks) March 27, 2017
@bonappetit "How Millennials are ruining salads"

— Miss Heartcore (@missheartcore) March 27, 2017
@bonappetit is this right? pic.twitter.com/7FhtoBdLO4

— Keith Bradley (@tkbrdly) March 27, 2017
@katlionesss@bonappetit
Thought process behind it:
*pulls out lettuce to make salad*
"Eh, I guess I'll just dip it in sauce."

— jonathan stephens (@jeevenz115) March 27, 2017

While there were many others who found the 'hand salad' concept rather quirky!
@bonappetit this is cute! you could even stuff and roll them with other ingredients

— Brandi Anderson (@Bartsi_) March 28, 2017
@jeevenz115@bonappetit literally I've done that before glad someone else has also thought of it!

— KΔTRiИE. (@katlionesss) March 27, 2017
@bonappetit great idea!

— Jacqueline (@Jacqh419) March 27, 2017

In the meanwhile, the international food magazine has not let down their defiance stance. The original article was updated with the following additions:

The website's homepage rather looked happy celebrating the 'Hand Salad' in all its glory!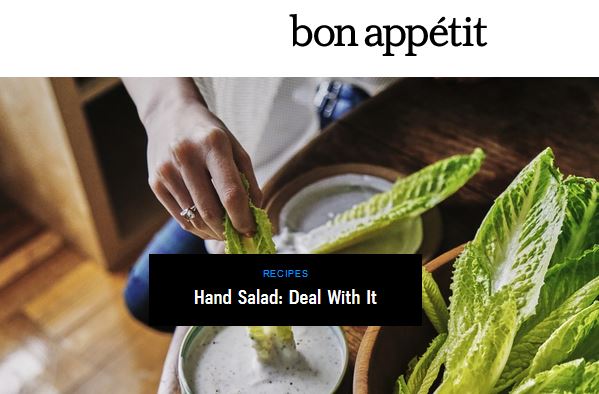 Amused much? So are we! Share your thoughts with us in the comment box.Images via Bon Appétit