'Easter delivers only a very modest retail punch' in America. Photograph: Martin Lee/Rex Features
The US – where one of the main industries is the packaging of senseless holidays – has never quite embraced secular Easter festivities.
In the UK, Easter is one of the biggest events of the year. It is a public holiday, one that traditionally marked Jesus dying then rising again, but now is really about two different things: Easter eggs and alcohol.
Like rising from the dead, they make for a fun combo. For the little British child, it is a time to senselessly binge on chocolate. For the relatives who line up to hand over that chocolate, it is an opportunity to do the same on beer and sherry. It's a happy time. It's also, traditionally, a time for the high street store to put some eggs and maybe a stuffed toy rabbit in their window and watch the profits roll in.
It is confusing, then, that the US – where one of the main industries is the invention and packaging of senseless holidays – has never really embraced Easter. Ask for an Easter egg in an American deli and you'll get one of two things: a hard-boiled egg, or a blank look. There's nothing wrong with either, but it seems like a missed opportunity.
In the UK Easter is a public, or bank holiday. Most British people have Friday and Monday off while the kids are off school, meaning four days of unalloyed boozing and eating. It makes for a huge boost to British business (aside from the money lost from having so many people not working for two days). The taverns are full. The off-licenses have sold out of their ale and mead, the grocery stores are out of their giant chocolate eggs and sausage rolls. Seaside towns are awash with Brits reclining in deckchairs, white handkerchiefs perched on their heads.
It's not just an opportunity for confectioners and breweries. Easter cards are a valuable boon to the gift card industry, as retailers make a fortune from all the celebrations. Happy Easter, Merry Easter, Have a Good Easter. Get Well Soon, Sorry You Are Ill, Speedy Recovery. Thinking Of You, In Deepest Sympathy, Sorry For Your Loss.
The US could make a killing. This is a country that created Grandparents' Day. And National Doctors' Day. And National Boss's Day. It's a country responsible for modern-day Halloween. But what do we get here? An egg race at the White House. We could do that any time.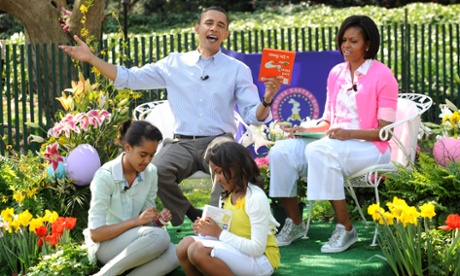 So what is up with America? "Easter delivers only a very modest retail punch," said Michael Silverstein, senior partner at The Boston Consulting Group and author of the books Trading Up and Treasure Hunt.
"Retailers have attempted to make Easter a bigger holiday. But they have not hit the magic formula that makes big holidays. Maybe because at its root, Easter is a relatively solemn holiday right after Good Friday.
"It is a holiday about worship and prayer. In the US, there are parades and processions but it is not about gifts and parties."
Perhaps it is something to do with how seriously people perceive Easter. The 2008 American religious identification survey found that 76% of people in the US identified themselves as Christian, compared with 59% in the UK. It's possible there are more devout Christians who are less inclined to turn it into a celebration of chocolate and gin.
Or maybe it is just down to the fact that Easter is not a public holiday in the US. Americans don't have free time for companies to exploit in the same way British people do.
But Americans should know that they are missing out. Missing out big time. Missing out on Easter eggs, on drinking, on obligatory trips to the seaside in 50F weather.
Missing out on the child throwing up on your new burnt orange carpet. On the adult throwing up on your lime green couch. On the shouting, on the tears, on the promises that it won't happen again.
And then, best of all, missing out on the same thing being repeated the next day, and the next year, forever.