Eman Ahmed Abd El Aty is an Egyptian who is considered to be the heaviest living woman. She is also the second heaviest woman in history after Carol Ann Yager of Michigan of America who weighed around 540 kilograms. Eman's initial weight was recorded at 502kg, she has recently been in news for her staggering
weight loss
before she could undergo a bariatric surgery. 36 year old Eman lost nearly half of her weight (242kg) in two months in order to prepare for her surgery. Eman visited Mumbai to meet Dr. Muffazal Lakdawala who undertook her bariatric surgery on 7th March, 2017.
Eman has been admitted at the Saifee Hospital in Mumbai. After the completion of her surgery and staying under observation, Eman has now been moved from a specially constructed 1000sq ft room into a suite-class room. It is reported that the room was built specially to accommodate her. Eman now weighs 252kg, almost half of what she weighed just a couple of months back. Eman was moved to her new room on Friday with the help of a crane.(Eman Ahmed Loses 242 Kgs in 2 Months: 5 Unknown Causes of Obesity)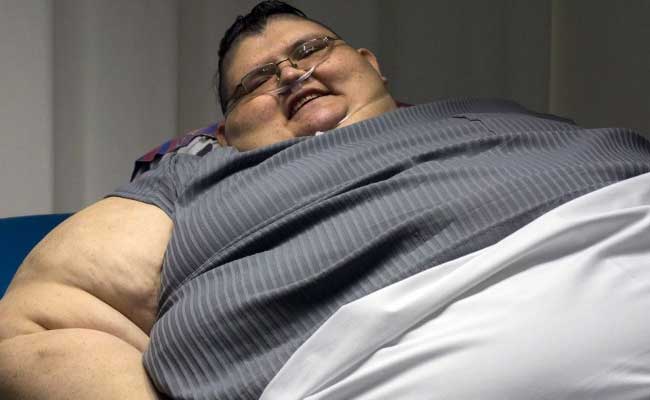 Juan Pedro: World's heaviest man; pic via AFPEman's male counterpart Juan Pedro of Mexico, the heaviest man in the world, is also all set to undergo a bariatric surgery next month. He has been preparing for the surgery for three months now and has to lose a whopping 175 kilos before he could appear for the surgery. Juan, at the heaviest, weighed 595 kilos. 32 year old Juan has lost close to 30% of his initial weight and is expected to lose another 50% post his surgery.