The liver is a vital organ in the body. It is responsible for carrying out various functions, particularly fat metabolism, regulating cholesterol and blood sugar, and secreting bile to aid in the process of digestion. For the liver to be at the best of health, it is essential for us to follow a healthy diet and lead an active lifestyle. But the times we live in today, diet and exercise most often take a backseat as we give into stress, unhealthy lifestyle habits, so on and so forth. As such, liver diseases are becoming one of the top health concerns in the world today, killing millions in a year. It is therefore crucial that we pay attention to our diet, and include nutrients that will boost liver health, such as omega 3 fatty acids.
According to a study done by Oregon State University (OSU), a type of omega 3 fatty acids can help prevent liver damage, particularly among people who are obese or have a poor diet. There are of course various drugs available in the market that claim to aid in liver health, but there's nothing like achieving effective results through one's diet. Millions of people in the developed world try yet fail to sustain weight loss or eat an optimal diet.
Supplements of docosahexaenoic acid (DHA), one of the most critically important of the omega 3 fatty acids, were shown to stop the progression of nonalcoholic steatohepatitis (NASH) into more serious and life-threatening health problems such as cirrhosis or liver cancer, reported Xinhua news agency. Characterised by liver inflammation, oxidative stress and fibrosis, NASH is a substantial risk factor for cirrhosis and liver cancer. It is predicted to be the leading cause of liver transplants by 2020, and the US Food and Drug Administration (FDA) currently has no approved medical treatments for it.Also read: (World Liver Day: Fatty Liver Disease, Causes and How to Prevent it)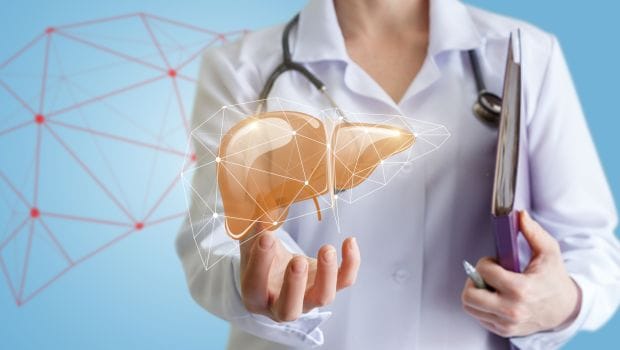 Health experts pinpoint the cause factor to be one's diet. The ill effects of the "Western diet" are known to all. Since it is loaded with fat, sugar and cholesterol, nearly 80 million adults and 13 million children in the United States are obese, and about 30 percent of the nation's population is estimated to have some form of chronic fatty liver disease.
"Considering there are no FDA-approved ways to stop NASH progression, other than weight loss therapy, this supplement may be of significant help," said Donald Jump, a professor in the OSU College of Public Health and Human Sciences, and principal investigator with the Linus Pauling Institute. "In the time frame that we studied, DHA supplementation was not able to achieve full remission of NASH, but it did stop it from getting worse," he added.
When humans with NASH are examined, they have very low levels of omega 3 fatty acids. When those levels are raised, the disease progression stops. Omega 3 fatty acids regulate important biological pathways, including fatty acid synthesis, oxidation, and breakdown of triglycerides, or fats in the blood. DHA appears to be one of the most significant of the omega 3 fatty acids, and plays a role in repairing liver damage.The highest levels of DHA are found in oily fish such as salmon, mackerel, tuna and sardines, and to a much lesser extent in some foods such as poultry, liver, egg yolks, and some types of algae.
It is increasingly being included in some prenatal vitamin and mineral formulas because of studies showing its critical importance to a developing foetus.Inputs from IANS