Indian Scientists Discover How Hibiscus May Help Diabetics
NDTV Cooks | Updated: September 09, 2014 13:07 IST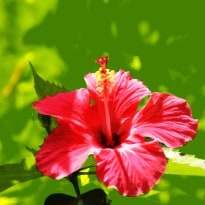 Scientists from Assam's Tezpur University and West Bengal's Visva-Bharati University have unlocked the potential of natural chemicals derived from a particular species of Hibiscus that can help generate a better therapeutic agent for diabetes.

According to International Diabetes Federation, diabetes affects more than 62 million Indians. Moreover, the World Health Organization claims that it will be the seventh leading cause of death by 2030. Dubbed as a silent killer by experts worldwide, diabetes mellitus (Type 2 diabetes), or simply diabetes, is one of the four major non-communicable diseases in India, the other three being cardiovascular disease, cancer and chronic obstructive pulmonary disease.

Diabetes exists in two forms. Type 1 diabetes occurs when the body destroys the insulin-producing cells of the pancreas. Insulin is a hormone responsible for breaking down glucose in the body for its utilization. In case of Type 2 diabetes, the body stops responding to insulin or produces less of it.

Researchers found that a phytochemical (plant-derived compound) from the leaves of Sthalpadma or land-lotus (scientifically known as Hibiscus mutabilis and commonly called Confederate rose) restored insulin sensitivity of cells and thereby helped in lowering blood sugar levels in diabetic rats.

"We found that ferulic acid (FRL), belonging to the polyphenols, extracted from leaves of the plant, has the potential to be a better therapeutic agent for diabetes," said Samir Bhattacharya, Emeritus Professor, School of Life Sciences (Zoology Department) at Visva-Bharati in Shanti Niketan.
The findings were published in the Journal Biochemical and Biophysical Research Communications which states that ferulic acid (FRL) helped in the improvement of glucose (sugar) levels in diabetic rats within 15 days when administered orally.

Hibiscus is a flowering plant found across India and is known for its cottony colour-changing blossoms and medicinal properties. In Ayurveda, the leaves and flowers of the shrubby Hibiscus mutabilis are used to treat swellings, skin infections, hair loss and hair greying.

According to Beauty Expert, Suparna Trikha, "The hibiscus flower is known as the prayer flower in Bengal and offered to Durga. It is great for hair loss and its leaves and flowers have thereuptic properties. It has been used in ayurvedic preparations for years. We use it in our Basil Hair tonic that helps promote hair growth and prevents scalp infections and alopecia."

For the study, samples of hibiscus leaves were collected from the scenic northeast region. Alak Kumar Buragohain, a Professor at Department of Molecular Biology and Biotechnology in Tezpur University, explains that a type of polyphenol found in the plant removes blockages and enables insulin to perform its normal function of clearing glucose (blood sugar) from the bloodstream.

"In diabetes, insulin sensitivity is retarded. The isolated compound can restore sensitivity and, therefore, cells can sense the presence of insulin," says Buragohain, Vice Chancellor at Dibrugarh University in Assam.

A previous study led by Samir Bhattacharya showed that a protein secreted by the liver into the bloodstream (Fetuin-A) hampers insulin activity. "Probably, there isn't any known inhibitor of Fetuin-A, the protein associated with insulin insensitivity. By blocking Fetuin-A, ferulic acid restores sensitivity of cells towards insulin and lowers blood sugar level," said Bhattacharya.

According to Buragohain, the next step would be to purify the chemicals and assess their toxicity in the body.

With inputs from IANS