Most Delicious Meals in Mumbai
Sunday MiD DAY Team , Mumbai | Updated: August 07, 2012 17:00 IST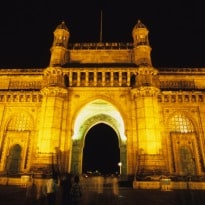 The Mediterranean platter at Ovenfresh

At: Other than housing the headquarters of a political party, Dadar's Shivaji Park also has a sprinkling of landmark eateries. But one place that has been serving a great mix of vegetarian continental, Mediterranean, Mexican and Indian dishes for years, is Oven Fresh.

Not only did the staff recommend the Mediterranean Sampler, they also gave us a detailed description about what goes into it. The Sampler was a neatly lined tray of Kibbeh; a Mediterranean variety of vegetable cutlets, Manakeesh, which is an Arabic version of the pizza, Spanakopita, Dolmas and two dips with Kalamata olives.

The Kibbeh was marvellously crisp and while the Zatar-spiced Manakeesh had an unusual taste that may not suit everyone's palate, the Spanakopita or Spinach and Cheese Stuffed Filo Pastry was so light, we'd give it higher points over any pizza we've tasted.

For: Rs 210
Address: Kiran Building, Ranade Road, Shivaji Park, Dadar (W)
Call: 67600000 (no home delivery)

Voltaire Mousse at Debailleul

At: This Belgian patisserie has gleaming glass counters and its white walls, its cold marble floor and bright lights squeal, 'clean'. Debailleul, named after its founder, chef Marc Debailleul, is upmarket, swanky, and by extension even a little intimidating.

Having said that, the staff is warm and helpful. Our single-minded focus had us soldier through the Voltaire. Truth be told, we didn't require much 'soldiering'.
What can we say, we are easy that way! Dark chocolate mousse, crème brule and crispy rice biscuit go into this pastry. The crispy rice biscuit is less obtrusive than one might imagine in a creamy mousse. The mousse? Let's just say that our relentless quest for 'authentic' mousse ends here.

For: Rs 500
Address: Emca Sadan. Ground Floor, Prabhadevi (take the first left after crossing Siddhivinayak temple, if the temple is on your left)
CALL: 961948739

Teriyaki Prawns at The Golden Twig

At: The dismal Kurry Leaf in the suburb, has now metamorphosed into a Chinese butterfly called The Golden Twig. The decor makes you feel like you have walked into an Oriental spa (like the ones that offer a Thai massage), since the Buddhism-inspired wall hangings and tame interiors don't exactly scream architectural wonder.

The Teriyaki Prawns arrived doused in an overdose of various spices. They were sensational, marinated and cooked without the shell on the prawns, and nicely pan-fried after being marinated in teriyaki-based sweet and sour sauce. The result was a piquant, tangy taste of shrimp that wins this restaurant an extra star.

For: Rs 200
Address: Ruby Palace, opposite Filmalaya Studio, Amboli, Andheri (W)
CALL: 65826313

Basnu Singhada Kabab at Neel

At: Formerly Tote on Turf at Mahalaxmi, now called Neel, the ambience is largely unchanged, except for a canopy that has been put up in the outdoor area. Even if the monsoon-related modification is just transient and has little to do with the new Nawabi cuisine introduced here, one appreciates the romantic aura conjured up by the gentle percussion of raindrops and the soft luminescence that pours out of a tealight chandelier strung up at the centre of the space.

That the Kakori Kabab melted in the mouth came as no big surprise, but when a vegetarian Basnu Singhada Kabab delivered equally on taste and texture, so much so, that blindfolded we may have had a hard time figuring out if this was a vegetarian dish at all, we simply had to have a word with the chef. Originally from Lucknow, Chef Mukhtar Qureshi has previously been associated with numerous top-notch Indian restaurants.

For: Rs 385
Address: Opposite gates 5 and 6, Mahalaxmi Racecourse
Call: 61577777

Fruit Dots at Celebrations

At: With its cosy and simple interiors, Celebrations presents a welcome combination, with cakes stored inside temperature and humidity controlled showcases.

Splitting a cupcake in two, owner Mehernosh Khajotia, who mastered the art of baking in Switzerland and has been baking professionally since he was 16, insists we try one of his "fruit dots". With smooth citrus cream encased within its soft, luscious sponge, the Orange Cupcake really is a marvellous creation. Apple Cinnamon, Lemon and Blueberry are some of the other flavours available.

For: Rs 40
Address: Near Godrej Nature's Basket, shop No. 27, Tirupati Apartments, opposite Mahalaxmi temple, Mahalaxmi

Black Pepper and Chilli Marinated Chicken at Cafe Casa Mia

At: Overlooking white picket fences, its olive-hued walls were decorated with images of kitchen utensils and ingredients while and wood-panelled tables dotted the eatery. And if you want just your thoughts for company, there is a secluded corner with a bookshelf as well.

The Black Pepper and Chilli Marinated Chicken consisted of delicious portions of tender chicken with a perfect blend of spices, lying on a bed of roasted potatoes, carrot, beans and coriander sauce. It was light on the stomach, and flavoursome.

For: Rs 320
Address: Third floor, R City Mall, LBS Marg, Ghatkopar (W)
Call: 65241555

Morrocan Lamb at Pronto

At: Pronto's new branch at Churchgate was already abuzz with home delivery orders and customers.

Communication was a hurdle, but the food didn't disappoint. Prepared in aromatic tomato gravy and dotted with chopped black olives, the Moroccan Lamb (Rs 145) was surprisingly delicious.

For: Rs 140
Address: Eros Building, Churchgate;
CALL: 22886012

Embroidered shoe-shaped bouquet with Lindor chocolate at Candylicious

At: It may not have chocolate waterfalls, candy trees or Oompaloompas, but that doesn't make Bandra's newest sweet-spot any less inviting than Willy Wonka's chocolate factory (or at least, the one we imagined). With a bright pink exterior that stands out thanks to the uninspiring grey and black surroundings it's ensconced in, Candylicious is well worth the ride to Perry Cross Road.

For Rs 1,550, a fancy-looking embroidered shoe will walk you to chocolate heaven with its offerings of Lindor flowers, done up in a tasteful bouquet worthy of the Queen of England.

For: Rs 1,450
Address: Shop no 72 A, opposite Perry Cross Road Mosque, Bandra (W)
Call: 67427358

Paneer Lasooni at Candle Grill

At: Curry lovers will find solace at Oshiwara's Candle Grill. The place serves authentic desi cuisine and succulent seafood.

The Paneer Lasooni is an unconventional twist to the traditional paneer curry with delectable garlic flavouring, served crisp and tender. Cooked in a yogurt-based gravy, this one will definitely inspire culinary fans.

For: Rs 150
Address: 4/5, Vaibhav Palace, opposite Mega Mall, Oshiwara Link Road, Andheri (W);
CALL: 26396100

Sambar rice at Thambi

At: A two-minute walk from Matunga Central Railway Station towards Ruia College led us to a bright green board with Thambi on it.

The Sambhar Rice was authentic (take this from a South Indian who has been fed on this staple since she was two). Accompanied by Applam (deep-fried papad), it was yummy. Happy and satisfied, we left the place hoping that despite the popular South Indians haunts in Matunga, customers give Thambi a thumbs up.

For: Rs 35
Address: Balkrishna Niwas, LN Road, near Matunga Station (CR)
CALL: 32267877