When I was a kid in the UK, I would love going out for
fish
and chips with my mother. Then we moved to
Kolkata
, the land of fish. The fish here was very different of course and I am not just talking of the preparation. The fish of choice for
Bengalis
is the fresh water fish or
mishti joler maachh.
Many of these tend to be pretty bony and can intimidate those not used to them. This was a problem for me too when I first encountered them. My mother would painstakingly use her fingers to take out the bones from the fish before serving it to me. This is called
kaanta bachha
and is common in Bengali households.Children grow out of this eventually. Learning to pick the bones out of one's
fish
is a sort of Bengali rites. Accidents occur after that too. Most Bengali houses have
remedies
for this, which range from swallowing a fistful of rice if a bone has got stuck in your throat (my mom's solution) to homeopathic medicines, which are said to dissolve fish bones stuck in the throat.I remained wary of the
kaanta
or bones in fish even after I grew up. I stuck to
boro maachh
- pieces cut from Rohu, Kaatla or Bhetki, where the original fish weighed more than three kilos at least. The peti or stomach piece of the
boro maach
has fewer bones even if
high on fat
. I hate it when restaurants serve fish cut from Rohu or Kaatla weighing a kilo and feel cheated when this happens. Pomfret fry was another favourite of mine in Kolkata as the bones in it were easy to navigate. I avoided smaller fish.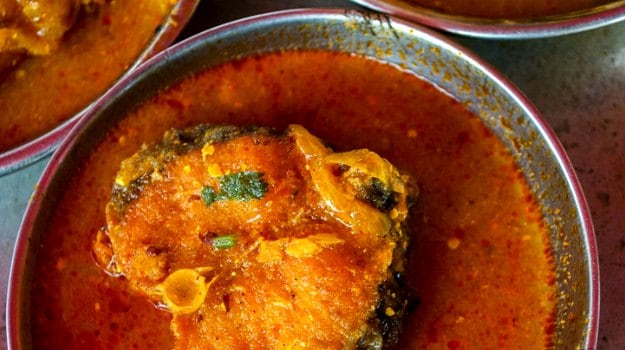 When I moved to Mumbai, I came across fish preparations in Bengali restaurants which were
boneless
or had less bones than what I was used to. I also came across a plethora of seafood dishes in Mumbai featuring locally available fish such as Rawas (Indian salmon), Surmai (kingfish) and the king of them all,
Pomfret
, which are not that bony. Over the yeas, I developed a taste for them too.You can go to your local market, like I do, and bring back the fish and cook with these. Many fish sellers are happy to fillet it for you and remove the bones. In case you are stuck for inspiration then here are dishes in
restaurants in Mumbai
which you can try if, like me, you are intimidated by bony fish. These are options for fish dishes with fewer if no bones. I have listed some of my favourite places for these. I would love to know about your picks.
1. Surmai Malvani Curry - Hotel Sindhudurg, Shivaji Park
Surmai or king fish is a popular fish in Malvani restaurants. It is served fried or in delectable curries. In some restaurants they use pieces from smaller Surmai which are cheaper but can be a bit bony. In Sindhudurg they serve large slices of Surmai in their coastal
Maharashtrian
curry. Such slices have only one large bone in the middle and are easier to enjoy. I have recently had a nice version of a Surmai Malvani Curry in the
Mangalorean
owned Jai Hind restaurant. The flavourful curry is best paired with rice.The excellent quality of fish in the small family run Malvani joints of Mumbai stems from the fact that the owners would themselves go to the markets
every morning
to choose the fish. In the case of Sindhudurg, it was the owner, Mr Pabhakar Desai, who went to Sassoon Docks every morning until his age made it unsafe for him as the floors are slippery. He now has employed a Koli lady to go and buy the fish every morning.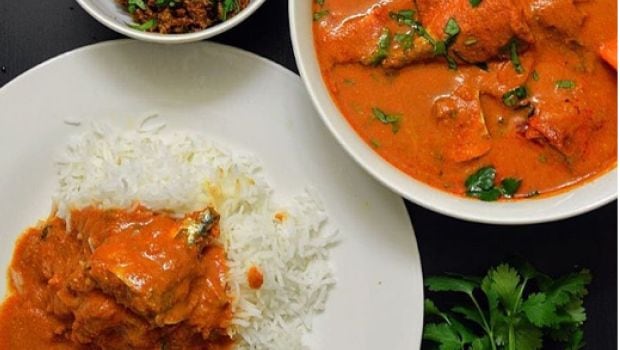 Photo Credit: Instagram/craving_soul07
2. Surmai Gassi - Apoorva, Fort
Some of the most iconic
seafood
restaurants in Mumbai such as Trishna, Mahesh and Gajalee are owned by Mangaloreans as is Apoorva. Their flagship curry is called the
gassi
. I am quite fond of the
gassi
at Apoorva, which has a nice balance of tanginess and chilli heat to it. The Surmai piece in the Surmai Gassi here is pretty large too making it easy to eat without one having to worry about the bones. Gassi is the generic name of the curry of course and you even get
prawn
, chicken and vegetarian gassis apart from fish
gassis
.
Photo Credit: Facebook/Finely Chopped by Kalyan Karmakar
3. Rawas Fish Tikka - Khane Khas, Bandra
Rawas or Indian salmon is another 'user friendly' fish that you get in Mumbai. The fillets made from Rawas are boneless. Some modern restaurants in Mumbai have started putting them on their menu for western preparations rather than the more expensive imported
salmon
and this is a welcome trend. The trick though is to ensure that the meat doesn't become too dry while cooking.Rawas was used as the "boneless" fish option in Chinese and Punjabi restaurants in the city for years just as Bhetki was used in Kolkata in a world before Basa. Khane Khas in
Bandra
is where we go to for our fill of Rawas Fish Tikkas. Mr. Hardeep Chadha of Khane Khas says that they have always used Rawas in their kitchen except in
monsoons
when they use Bhetki from Kolkata as fishing is suspended then in the local seas.When in Amritsar, I had the
Amritsari
fish in places such as Makhan Fish, Beera Chicken Centre and Surjit Dhaba which use the local Sole and Singara fish whose fillets are boneless.
Photo Credit: Facebook/Yatin Gadgil
4. Chilli Garlic Snapper- Ling's Pavilion, Colaba
Talking of Chinese restaurants, my favourite Ling's Pavilion does some great fish dishes too. Ask for the steamed pomfret here, especially if you are in a big group. They cook the fish whole on the bone, which ensures full flavour and then bring it to the table and debone and serve it to you. The fish is juicy, flavourul and easy to eat
.
Baba Ling, who runs the restaurant with his brother Nini Ling, takes a lot of pride in going to the fish market and to the same fish sellers over the years for their fish and credit the good quality of fish on offer to that
Photo Credit: Facebook/Finely Chopped by Kalyan Karmakar
5. Patra ni Machhi - Jimmy Boy, Horniman Circle
Parsis' love for fish is the stuff legends are made of. Their favourite fish is the Pomfret, and their most iconic fish dish is the Patra ni Machhi where the pomfret is steamed in
banana
leaves after it is marinated in a grated coriander,
coconut
and
green chilli
-based marinade. A lesser known dish which has its share of loyalists is the Saas ni Machhi. Both of these are very sought after Parsi wedding feast dishes.
Here's a trick I learnt from being married to a Parsi. Ask for the tail piece of a pomfret. It has more flesh and less bones than the head piece. We Bengalis prefer the head piece though so no tears are shed when my wife and I share a pomfret at home!
Photo Credit: Facebook/The Oyster
6. Pomfret Polichathu - Taste of Kerala, Fort
Polichathhu is a popular fish preparation from Aleppey in Kerala, which involves a banana leave too just as the Patra ni Machhi does. The fish of choice is Karimeen or pearl spot fish. The spicing is different from that of the
green chutney
of the Patra ni Machhi. Here the fish is lightly sautéed in a ginger,
garlic
, onion and tomato-based brownish paste and then wrapped in a banana leaf and roasted. Karimeen is hard to obtain in Mumbai. Taste of Kerala at Mumbai's Fort does a lovely version with Pomfret and Surmai instead. I have tried the Pomfret version there and found the fish juicy and full of flavour and easy to separate from the bones and eat.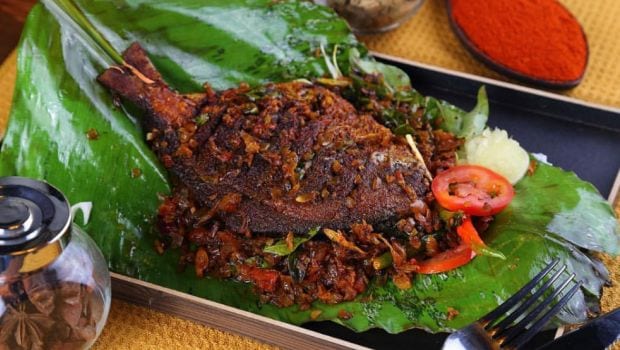 Photo Credit: Facebook/Kerala Cafe
7. Bhetki Paturi - Bhojohori Manna Oshiwara
Here's a third fish dish involving banana leaves! This time a Bengali version. Bhetki fish is used here and its fillets don't have any bones. The fish is wrapped in banana leaves after being marinated in a dry mustard, green chilli, occasional posto (poppy seed) and
mustard oil
-based paste. The end colour (yellow) and sharp taste is different from that of the Patra ni Machhi or the Polichathu. The
patoori
is best paired with rice unlike the Patra ni Machhi that is had with
rotli
, the
ghee
soaked Parsi version of the roti. Bhojohori Manna has branches in Powai and Chembur too. The proper way of spelling Bhetki or Indian barracuda is 'beckty'.
Photo Credits: Facebook/Delicious life vie délicieuse
8. Pedawan (Rawas Masala) - Matsya, Goregaon
The Saraswat community hails from the border of Goa and Maharashtra and love their seafood. Matsya at Goregaon, which was opened a year and a half back, is one of Mumbai's first exclusive Saraswat restaurants. They have many unique disheds and the Pedawan is one of them. Here the fish is coated in a red
masala
and steamed in turmeric leaves. Triphala is used to spice it too and it gives it a very sharp taste. When they unwrap the fish, you can get the aromas of fresh turmeric which is heady. You can try this with Rawas or Indian Salmon. It is part of the starters lists and meant to be had by itself. If you find it spicy, pair it with a
neer dosa
.
Unlike in the Punjabi Fish Tikkas, the Rawas is cooked on the bone. This imparts more flavour. There is one single bone so eating it not tough. The staff here is earnest and helpful and know every dish on the menu and can answer your questions in Hindi or in Marathi.
9. Boneless Hilsa - Oh! Calcutta Tardeo, Khar
The prized
Hilsa
was always a problem for me specially the scary gaada (back) piece, which is a minefield of bones compared to the peti (stomach). My mother's solution was to deep fry these pieces as the bones were easier to extract then. We first had a boneless Ilish at Bhojohori Manna at Kolkata's Hindustan Road and my wife and I loved it. Mr. Rajeev Neogi of Bhojohori Manna points out that this process of making boneless Ilish originated in the clubs of
Kolkata
as a way to help the British enjoy the Hilsa - a point made in Samanth Subramanian's excellent book,
Following Fish
. The wave of Bengali restaurants in Kolkata that followed introduced this in their menus. I have also had lovely boneless Ilish dishes in the high end Aheli at Peerless Inn in Kolkata, The Eden Pavilion at ITC Sonar and at the Oberoi Grand.In Mumbai we have enjoyed it at Oh! Calcutta and you will get it in Bhojohori Manna occasionally too as it is a seasonal fish. It also works out to be pretty expensive but is a dish worth saving up for.
Photo Credit: Facebook/Delicious life vie délicieuse
10. Pan Seared Himalayan Trout - Bastian, Bandra
I was very impressed by the Pan Seared Himalayan Trout, which was cooked in a brown butter sauce and
wine
at the recently opened Bastian restaurant. The fish is served without bones and the flavours and juiciness in it is incredible. Chef Kelvin Cheung brings in his international cooking expertise to do wonderful things with this fish from the hills of India.I also love the pan seared John Dory at Bandra's Salt Water Café and have ordered it repeatedly over the years. This is served boneless too. Unlike the
trout
at Bastian, the John Dory is imported of course.
Photo Credit: Facebook/Finely Chopped by Kalyan Karmakar
Which are your favourite fish dishes which don't involve overcoming an obstacle course of bones to eat? Where do you go for these? I would love to hear from you and follow your leads.
About the Author:
Kalyan loves to eat and he loves to talk about all that he eats. His wife urged him to start writing about it, otherwise she would have to hear it all. He blogs as 'finelychopped' and is the author of The Travelling Belly published by Hachette Publications.
Disclaimer:
The opinions expressed within this article are the personal opinions of the author. NDTV is not responsible for the accuracy, completeness, suitability, or validity of any information on this article. All information is provided on an as-is basis. The information, facts or opinions appearing in the article do not reflect the views of NDTV and NDTV does not assume any responsibility or liability for the same.