The best part of most festivals is the grand feasting that follows. Easter, also known as the moveable feast (because it has no set date), is considered to be one of the most important festivals of the Christians. It falls anywhere between 22nd March to 25th April every year, based on the full moon after the vernal equinox. The significance of Easter is the resurrection of Jesus Christ and therefore the people celebrate by preparing a variety of treats and enjoying them with near and dear ones. From slow-roasted meats to sinful egg-shaped chocolate treats, it is a happy Sunday.
To ring in the festive cheer this year, several restaurants across the country are going all out to put up spectacular feasts for their diners. We have put together a list to help you pick your favourite and make the most of the holiday weekend. So go on, enjoy!
Le Pain Quotidien
Mumbai – Colaba, Bandra and BKC
What better way to celebrate Easter than sit around a communal table and enjoying a feast with friends and family? Head over to LPQ, Mumbai's much-loved brunch destination, and make the most of it. The special Easter brunch menu will include an assortment of breakfast pastries, tartine platter, breakfast specials like Eggs Benedict, Eggs Forestiere, Raspberry Pancake with cream cheese and Belgian Waffles, to name a few. For mains, savour slow-cooked meat dishes such as Coq au Vin (classic French-style braised chicken), Baby Lamb in Bread Crust and Pork Belly served with raisin pilaf and roast chilli orange sauce. Keeping the spirits high, there will be unlimited home-made sangria, domestic wines, sparkling wine and cocktails. And for a sweet ending, pick from Mini Carrot Cake, Mini Chocolate and Raspberry Tart, and more!
The brunch is priced at INR 1, 450 (without alcohol and taxes) and INR 1,750 (with alcohol but excluding taxes). Tel: +91 22 66150202 (Colaba).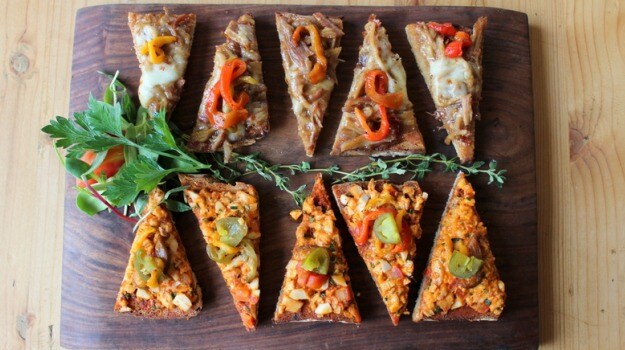 TresNew DelhiThe capital's much-loved restaurant is celebrating Easter with a special brunch menu showcasing passionately cooked dishes. Enjoy the charming ambience and feast on smashing preparations such as Oozing Porcini Mushroom Croquettes served with burnt garlic dressing, The Easter Breakfast Sandwich with maple glazed ham, Eggs Benedict, Duo of Pork, Chicken and Wild Mushroom Baked Savoury Crepes, among others. For the sweet lovers, don't miss the Spiced Carrot Cake with cream cheese frosting, and the Lemon and Ricotta Pancakes with fresh strawberry compote and whipped cream.
17, Main Market, Lodhi Colony. Tel: +91 11 24625520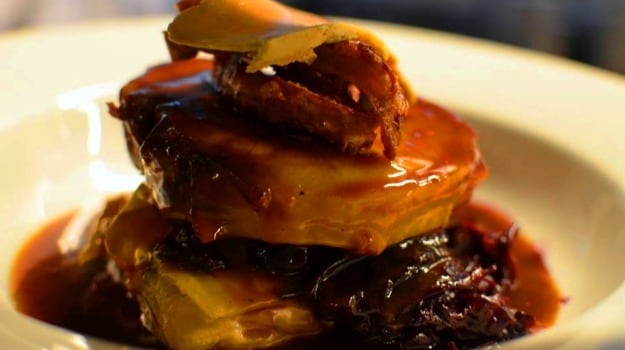 Olive at the QutubNew DelhiFor their 'holy feast', Olive has planned an elaborate range of dishes to make this Easter a fulfilling weekend. Look out for their egg station with tempting preparations such as Truffled Egg Cocotte, Smoked Cheese or Seafood Omelette, Eggs Benedict and Scotch Eggs. Then there's the Boulangerie and Condiment stall, Cheese bar with Savoury Jam, Salumeria with Gourmet Pickles, Lettuce Bar, Burger Shop, pizzas and pastas! For more traditional treats, try Chilled Apple Vichyssioise, Chicken and Mushroom Consommé, and Glazed Ham Leg with apple and red cabbage slaw. While the live band performance keeps you entertained, the little ones can go all out with egg painting and other fun activities.The brunch is priced at INR 2,395 (excluding alcohol and taxes). Tel: +91 11 29574444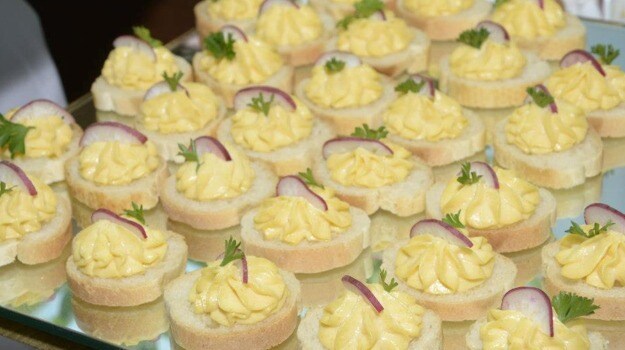 CitrusBengaluruKnown as one of Bengaluru's prettiest properties, the all-day dining restaurant at The Leela is all set to shower you with great food this Easter. They have planned a scrumptious Brunch menu where apart for the festive treats and spectacular meat roasts, there will also be signatures such as Baby Lamb Ouzi, Steak Kidney and Mushroom Pie with late season winter truffle, Peking Duck Bao, etc. Enjoy the dishes with their exclusive range of wines and cocktails, and don't miss the dessert counter!The brunch is priced at INR 3,500 (excluding taxes). Tel: +91 80 30571190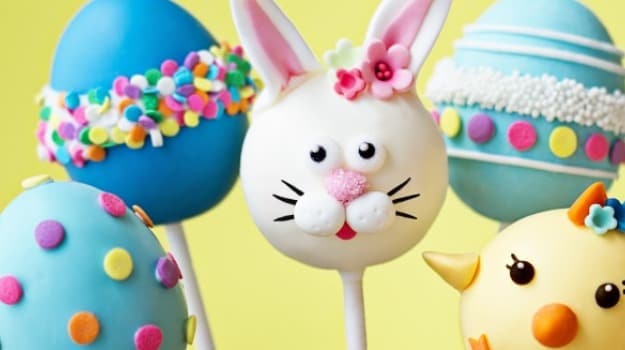 Indigo Deli
Mumbai – Colaba, Bandra, Palladium, Lokhandwala, Malad; and New Delhi
Ringing in the Easter celebrations, Indigo Deli will be putting up a special Easter menu showcasing springtime fresh produce with tempting dishes such as Citrus Gazpacho, Emmental Soufflé with toasted hazelnut cream, Spice-rubbed Rack of Pork, Slow-braised Pork Belly with amaranth, Almond and Raisin Stuffed Chicken Roulade, among others. Keep a look out for the sinful range of Easter treats like Carrot Cake with Salted Philly, Warm Pecan Pie with Burnt Caramel Sauce, Hot Cross Buns, Walnut and Cinnamon Rolls and Chocolate and Marzipan Easter Eggs.
Ground Floor, Pheroze Building, Apollo Bunder, Colaba, Mumbai. Tel: +91 22 66551010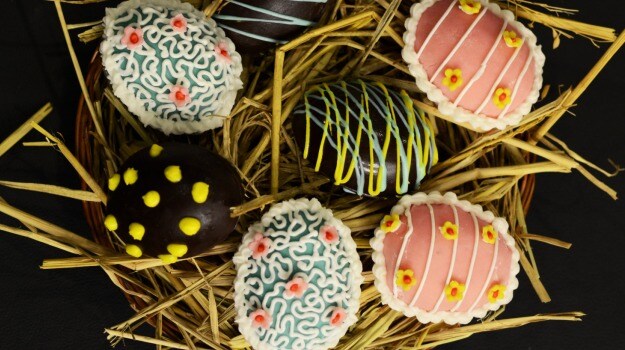 Seven Kitchens
Mumbai
Go all out this Easter and enjoy a lavish brunch at the sprawling, multi-cuisine restaurant at the Palladium Hotel. Chef Rahul Kaushik will be putting together a wide selection of traditional Easter dishes to be savoured with free flowing champagnes, sparkling wines and spectacular cocktails. Start your feasting from the counters serving gourmet cheese, cold cuts and salads, then move on to the meaty extravagances – Leg of Lamb, Tenderloin Wellington and the like. From the egg station, pick Eggs Benedict, Eggs Florentine or Eggs with Smoked Salmon. If you still haven't had enough, there's the pasta and pizza counters, delectable seafood, an extensive range of desserts and more! Tap in to the live band performance and enjoy your Sunday while the kids stay busy with the numerous activities planned for them.
The non-alcoholic brunch is priced at INR 2,500 (all inclusive), the Sparkling brunch is INR 3,200 (all inclusive) and the Champagne brunch is INR 4,400 (all inclusive). Tel: +91 22 61628422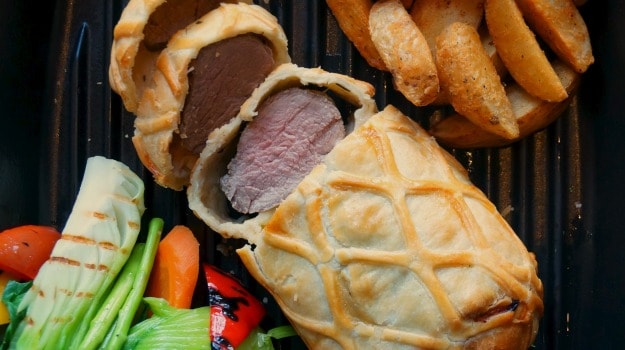 Lodi – The Garden Restaurant
New Delhi
Enjoy a laid-back Sunday amidst lush greenery and open air ambience at this pretty restaurant. Chef Elam Rana and his team will be showcasing traditional Easter dishes made with fresh, seasonal produce. The menu will include Lemon Dill Chicken Stuffed with Eggs, Chilled Farm Fresh Sweet Peas and Mint Soup, Honey Glazed Pork Chops with braised red cabbage and cranberry sauce, Garlic and Herb Roasted Chicken with maple glazed carrots, Leek and Potato Pie, Almond and Coconut Cake among others. Team these dishes with exclusive wines and indulge!
Lodhi Road, Opposite Mausam Bhawan. Tel: +91 9818743232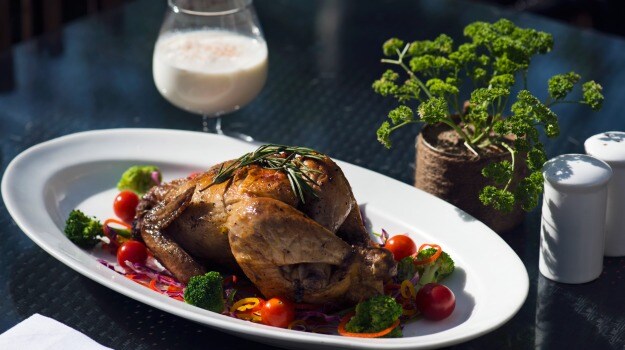 ThreesixtydegreesNew DelhiFor a royal feast this Easter, head over to The Oberoi to get pampered. Their elaborate Easter brunch will probably fill you up for the entire month! Apart from their regular Sunday brunch menu, they will have an extensive range with Easter specials. The meat lovers should definitely look out for the roast counter that will be serving up treats like Cumin Chilli Roast Leg of Lamb, Creole Spiced Snapper, Honey Glazed Leg of Ham, Beef Wellington, and Rosemary and Garlic Roast Chicken. From the dessert counter, pick from simnel cake, carrot cake, hot cross buns, orange madeleine, cupcakes with lemon glaze, apple and cinnamon jalousie, peach champagne charlotte and more!The Easter brunch is priced at INR 3,400 (excluding taxes and champagne) and INR 4,000 (with champagne but excluding taxes). Tel: +91 11 24363030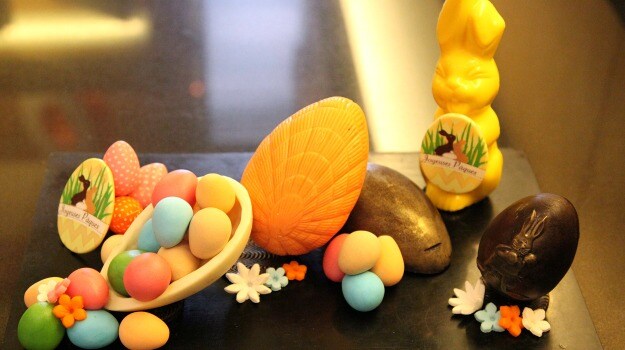 HighUltra LoungeBengaluruCelebrate Easter with friends and family at this chic lounge with breath-taking panoramic views of the garden city. Chef Zhang Hao and his team will be putting together an extensive range of dishes loving prepared with their best produce and spiked with Asian flavours. Must-tries include Glazed Pork Ribs and Roasted Chicken served with onion pepper gravy. What's more? Mixologist Guru Prashanth will be shaking up innovative summer coolers to keep the spirits high.The brunch is priced at INR 1,999 (excluding taxes). Tel: +91 80 45674567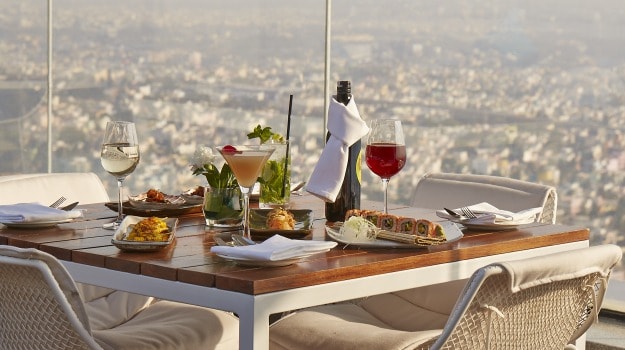 Crowne PlazaBengaluruKeeping up with the traditions of Easter, Crowne Plaza has planned an elaborate brunch and a range of fun activities for the little ones. Pick from their Easter specialties such as hot cross buns, glazed ham, and chocolate eggs, and enjoy their specials – home-smoked fish preparations, Fennel Carpaccio with herbs and carrots, Parma Ham with melon, Cream of Pumpkin with truffle oil drizzle, and Roasted Turkey, among others.The brunch is priced at INR 1,700 (excluding taxes). Tel: +91 80 30030303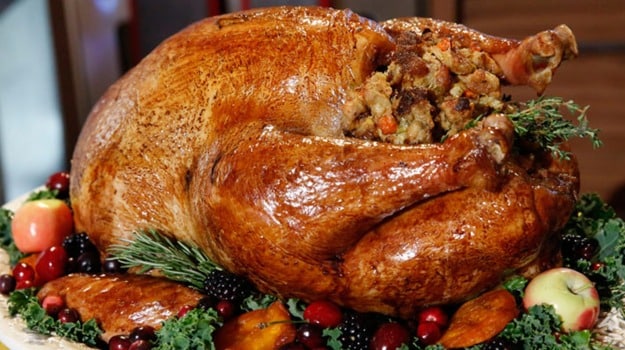 The Flying ElephantChennaiFor a lavish brunch, head to the sprawling, multi-level restaurant at Park Hyatt Chennai and you will be more than satisfied. Chef Grzegorz Odolak and his team will be showcasing a special menu for Easter with creations such as Easter Terrine, Stuffed Quail with couscous and dates, pretty chocolate eggs, and more!
The non-alcoholic brunch is priced at INR 2, 095 (excluding taxes), the alcoholic brunch is INR 3,095 (excluding taxes) and the Champagne brunch is INR 5,000 (excluding taxes). Tel: +91 44 71771234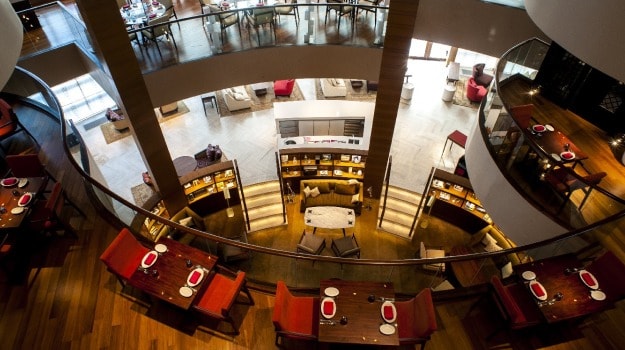 The Verandah
Chennai
Make this Easter memorable by celebrating this special occasion with family and friends at this pretty, poolside restaurant. Enjoy Vicars Mill Smoked Salmon with fresh dill, lemon mayonnaise and rocket salad; Glamorgan Sausages with sweet tomato pickle and herb salad; Roast Pork with apple sauce; Traditional Boeuf Bourgignonne with shallots, smoked bacon and red wine; and round off with exotic desserts like Hot Cross Buns, Bread and Butter Pudding with Vanilla Seed Custard, Traditional Apple Pie and traditional Easter Eggs. With free-flowing wines, live music and fun activities, this Sunday looks promising!
The non-alcoholic brunch is priced at INR 1,500 (excluding taxes) and the alcoholic brunch is INR 1,750 (excluding taxes). Vivanta by Taj – Connemara; Tel: +91 44 66000000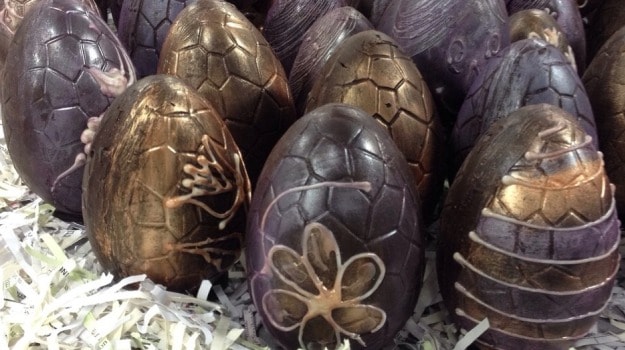 La Cucina
Kolkata
Add to the festive cheer and celebrate Easter in a grand way at La Cucina. The award winning restaurant will be showcasing a special menu called Easter Pranzo with tempting dishes such as Shrimp Bacon Deviled Eggs; Fire and Spice Ham; Asparagus with Olive Gremolata; Slow-roasted Leg of Lamb; Asparagus, Red Onion and Blue Cheese Tarts; Potato and Leek Cakes with blue cheese sauce, and Baked Egg filled with vegetable ragout and salmoriglio dressing to name a few. Don't miss the egg-shaped bakery outlet with decadent goodies!
The non-alcoholic brunch is priced at INR 2,100 (excluding taxes) and the alcoholic brunch is INR 2,400 (excluding taxes). Hyatt Regency Kolkata; Tel: +91 33 25171414
La Terrasse
Kolkata
Festivals are about embracing traditional customs and staying true to this, La Terrasse will be offering a special brunch highlighting traditional Easter dishes. Enjoy the charming ambience and meticulously prepared dishes by the chef and his team. Don't miss the egg creations, meat roasts, and the sinful sweet treats.
The Oberoi Grand, Nehru Road, Kolkata. Tel: +91 33 22506108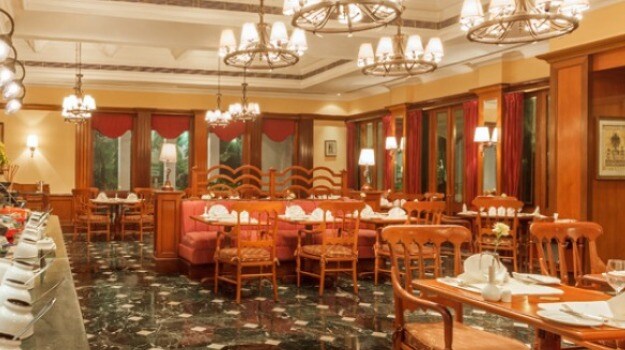 Seasonal Taste
Hyderabad
Come one! Come all! The Westin Hyderabad has many plans this Easter to please their diners. Keeping with the festive spirit, the Sunday brunch menu will include an exquisite range of dishes such as Honey Glazed Ham with apple sauce, Meat Loaf, Roasted Whole Chicken, etc. Those who like variety, you could choose from the pasta and pizza stations, and the Indian and Chinese sections. But leave ample space for desserts. You definitely don't want to miss on these – Easter cheesecake, chocolate babka, hot cross buns, raspberry white chocolate cake, cinnamon and honey crème brulee, and marbled lemon tart, among others.
The brunch is priced at INR 2,175 (excluding taxes). Tel: +91 40 67676888