Where to Buy Organic?
Pratiksha Rao , NDTV | Updated: August 06, 2012 12:16 IST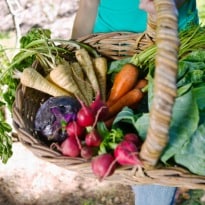 Organic eating and cooking isn't just a fad, it's a way of living. From organic spinach to corn fed chicken to home grown herbs to cheese made from milk of grass fed cows, you can now find all that you need to lead a green healthy life.

Fabindia and Khadi stores have been selling organic honey, preserves, spices and pickles for many years. The upmarket chain, Nature's Basket, too offers selected organic produce, breads etc.

But for those of you looking to go completely green and flushing away all those chemical toxins from your system, here are some places in Delhi where you can find produce and food that is grown and prepared organically with love.

Listings for other cities to follow soon.

The French Farmer
The French Farmer, Roger Langour, rears organic meat range including free range chicken, Japanese quail, Guinea fowl, turket, Muscovy duck and pork. You can also order organic lettuce, carrots, basil, red raddish, fennel, broccoli and other seasonal vegetables and herbs. All meat lovers must try his organic meat, meat reared with much green love!

Contact Roger Langbour at 981-016-6196 or 011 2635-9701 after 7 p.m.
Or Suresh Sharma at 981-031-4186

Kanu's Delivery Service
Delhi based foodie and organic farmer, Kanu Somany, grows an endless number of delicious greens. From arugula to parsel to fennel to rocket, Kanu's Delivery service will bring all the ingredients you need to make your summer salads right to your doorstep.
She can be reached at kanu_somany@yahoo.com for the product list or to place an order.

Dubden Green
Dubden Green stocks a wide range of grains, pulses, spices, pickles, tea, coffee and honey etc., all certified organic products. On Fridays, they also make freshly baked organic bread against orders. They home deliver fresh organic vegetables and fruits weekly to their members.

4-A, Shahpur Jat, Near Electric Sub Station, New Delhi
Tel: 9810131343/9810302466
CLOSED on Sundays
www.organicbounty.com

Ahana Organic
Find organic ghee made from milk of organic grass fed cows, Dijon Mustard, home made pickles, fresh herbs, spices, pulses, grains and rice (both brown and white), all at the one stop shop Ahana Organic in Hauz Khas Village.

24 Hauz Khas Village, New Delhi
www.ahanaorganic.com

Ehsaas Organic
Ehsaas Organic is a Haryana based farm which supplies organic produce straight to your doorstep. As a member, you can get 8kg of vegetables delivered to your home for a fixed price of only Rs. 450.

They deliver in Delhi NCR.

www.ehsaasorganic.com
Tel: 91-11-2955 5202/9192123 10200
Email: rashmi@ehsaasorganic.com; ehsaasorganic@gmail.com

The Altitude Store
Find everything from meat to veggies to herbs to preserves to cosmetics to linens that is certified organic. They have two stores in Delhi and you can also order online.

16, Shanti Niketan Market, New Delhi
Phone: 91-11-4270 5858

110, Mehar Chand Market, Lodhi Road, Delhi
Phone: 91-11-4905 0405/98117 55222
www.thealtitudestore.com

I Say Organic
Buy affordable organic veggies and fruits online. Currently serving only South Delhi.

https://www.isayorganic.com/
Tel: 011 4108 7447

Navdanya
Find organic food products at their Hauz Khas Village and organic produce at their outlet in Dilli Haat.

Dilli Haat
Shop No. 18
Opp. INA Market, New Delhi
Phone : 91-11- 24121548

Navdanya Outlet
E 52, Hauz Khas, Market
New Delhi 16
Phone : 91-11- 40793565 / 26854069,

IRAI, Pusa Road
The Indian Agricultural Research Institute on PUSA Road sells fresh organic vegetables.
Pusa Road, New Delhi


Rajiv Gandhi Renewable Energy Park
Farmers come and sell directly at this park in Gurgaon, every Sunday morning. Head over to Roots Café after, for a hearty healthy organic breakfast!
Sector 29, Gurgaon