A day dedicated to tourists, National Tourism Day is celebrated on January 25, every year. The main aim behind marking this day is to raise the importance of tourism and restate its contribution to the country's growth and economic development. This is for all those wanderers and tourists out there who love to explore the world. Talking about India, being one of the oldest civilisations in the world, has always been a place of attraction for travellers. The vibrant culture of this place and its rich heritage have always attracted a lot of tourists. Now, those who travel a lot, know that the country has a strong connection with food. If you travel to places, you get to try out local cuisines that help you understand the history and culture of the place better. Do you agree?
Here Are 5 Wonderful Places For Food Lovers In India:
1) Kolkata
The capital of West Bengal, Kolkata is known for its delectable Bengali cuisine and mouth-watering street food. In fact, Kolkata made it to the list of best food destinations in the world. As per the food website Eater's list of the best 11 culinary destinations in the world, this is one Indian city every foodie must explore. Apart from being steeped in a rich cultural legacy, Kolkata is famous for food items like ghugni, puchka, jhalmuri, Kathi rolls among others. If you ever happen to visit this place, do try out mishit doi, kosha mangsho, alur torkari, lucchi, cholar dal, shukto, chomchom, sandesh and rasgullas, of course.
2) Delhi
We cannot skip the national capital while discussing the food scene in India! Right from flavourful kebabs found in the narrow lanes of Old Delhi and other drool-worthy non-vegetarian dishes, this is a one-stop destination for Mughlai cuisine. For the local people here, appetising chhole bhature or chhole kulche make for comfort food items. However, having said that, it's a paradise for chaat lovers! When in Delhi, you cannot miss out on aloo tikki chaat, aloo chaat, dahi papdi chaat, golgappa chaat and so much more. The special Daulat ki chaat, a creamy delight topped with dry fruits in Chandni Chowk is a must-try.
(Also Read: World Tourism Day: Popular Meals From Around The World You Must Try)
3) Mumbai
This is not just the city of dreams but also a perfect place to satiate your foodie side. Although you find all sorts of various cuisines here, there are some mouth-watering dishes specific to Mumbai that you cannot afford to skip. The city is most popular for street food items like vada pav, bhelpuri, pani puri, sav puri, and Bombay sandwich among others. Right from Bollywood celebrities to the local population, you would find everyone making the most of Mumbai's amazing street food.
4) Indore
Indoris are big-time foodies. The street food in this city carries a blend of cuisines from Gujarat, Rajasthan and Maharashtra. Be it their quintessential breakfast poha jalebi, famous savoury crunchy snacks (namkeen) or mawa bati, dal bafla and bhutte ki kees, there's just so much that you can try your hands on. Chhappan or even Sarafa bazaar for that matter are two of the most popular places to visit in the search of enticing food. Up for something unique? Try out flying dahi vada, khopra patties, hot dog, and garadu.


(Also Read: 9 Best Restaurants Across The World To Add To Your Bucket List)
5) Malabar
Now, let's discuss something from the Southern part of the country. Destination: The Malabar region on the southwestern coast of the Indian subcontinent. Do we have to mention that it is popular for its iconic cuisine? Because it's a coastal region, the food here is known for its unique flavours and usage of coconut. The several mouth-watering curries and other preparations are high in spices, thus distinct flavours. If you are a non-vegetarian food lover, this is going to be your go-to place for amazing food. Malabar biryani, Malabar parotta, fish surka masala, Malabar lamb curry among others are a must-try.
Here Are 5 Must-Visit Places For Foodies Abroad:
1) Kyoto, Japan
Who doesn't know about sushi or ramen? The well-known delicacies from Japan are popular worldwide these days. Generally, the food here is healthy and light. Nishiki Market, a lively market nicknamed "Kyoto's Kitchen" is popular. Mostly, whenever travellers visit Japan, they relish sushi, ramen, tempura, Okonomiyaki, Yakiniku, and Soba among other food items. The traditional cuisine of Japan is based on rice with miso soup and other dishes. It is to be noted that the emphasis is to be given to seasonal ingredients.
2) Tel Aviv, Israel
Israel's cuisine is an amalgamation of Middle Eastern and Mediterranean cuisines influenced by Asia, Africa and Europe. It's believed that Israeli food is one of the most popular across the globe and is very healthy. Tel Aviv is like a culinary capital that has some interesting street foods and fine dining restaurants. If the cuisine here appeals to your taste buds, do try hummus, sabich, falafel, bourekas and shawarma.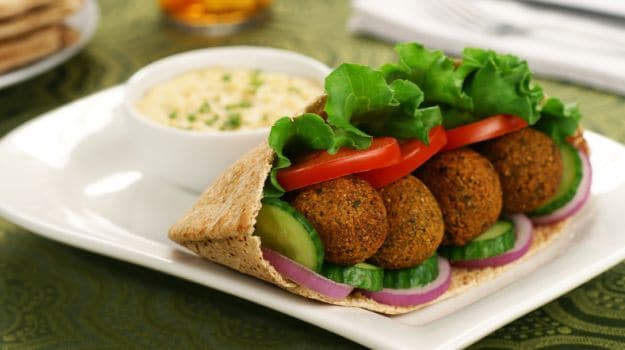 3) Edinburgh, UK
English British meals typically consist of fish and chips, bangers and mash, and bacon sandwich among other delights. And, oh, you shouldn't miss out on the cocktails! If you notice, British cuisine has a base of meat or fish - beef, lamb, pork, chicken and fish - served with potatoes and other vegetables. Exciting, right? Edinburgh is known as the best city for food lovers.
4) Rome, Italy
Just think of Italy and food happens to be one of the first things that come to your mind. The food items from this place have gotten extremely popular all over the world. Today, we might be sitting anywhere in the world and obsessing over pizza, spaghetti, pasta and many other dishes likewise. For dessert lovers, there's finger-licking delicious frozen dessert in the name of gelato is also well-known. Now, whenever you plan a trip to Italy, make sure you have a good appetite so that you can relish it all.


(Also Read: 10 Best Dishes From Different Cuisines That Shall Make You Travel The World)
5) Paris, France
Many French delicacies from this place have approval even from B-town celebrities. If you are up for some really exotic, gorgeous-looking delicacies like falafel pita, buckwheat crepes filled with ham, or even buttery flaky baked items, this is the place for you. Yes, Paris is the city of love, undeniably, but it's also a place where you find some really lip-smacking food items of all time.


So, where are you heading for a trip next? Do let us know in the comment section.