Monsoon often dictates our food mood. From craving hot deep-fried pakoras to something sweet and delicious, food cravings in this season range from savoury to sweet to spicy and tangy. Indulging her sweet tooth in this rainy season is none other than Union minister Smriti Irani. She posted a boomerang of a box full of tasty homemade choorma laddoos made by her sister-in-law for her. Choorma laddoos are an Indian delicacy made by deep-frying balls of wheat flour in ghee and then grinding them into a coarse powder called choorma. The choorma is then mixed with jaggery or sugar and rolled into balls called laddoos.


(Also Read: Smriti Irani Shares Traditional Naga Dish Recipe Made By 13-Year-Old Budding Chef)


This desi mithai is eaten during Ganesh Chaturthi and is a popular delicacy in the states of Gujarat, Rajasthan, and Maharashtra.
Instagram story by Smriti Irani
Smriti Irani is certainly a foodie. Earlier, the union minister had posted pictures of a scrumptious meal that she enjoyed with her family on her social media account. Guess who the chef was? It was none other than Smriti Irani's daughter, Zoish Irani. Like any parent would, Smriti Irani proudly showed off her daughter's culinary skills with pictures of the tasty spread that included a bowl of dim sums topped with chili oil, a vegetable pizza, and crispy potatoes covered in a sauce. Read more about it here.


Have Smriti Irani's sweet treat of choorma laddoos left you with an urge to roll some laddoos too? Well, we have a list of sumptuous ladoo recipes to satisfy your cravings.


One of the most popular Indian sweets, besan ke laddoo is a favourite in most households. Here is a simple recipe that is sugar-free and very tasty.
If you thought laddoos were only a dessert, think again. These dates and nuts laddoos are super nutritious and rich in protein. The best part about this recipe is that you can make it and store it in an air-tight container for months.


Also Read: Smriti Irani's Daughter Prepared These Delectable Dishes And It Will Make You Drool


3) Rava Laddoo


This healthy and delicious dish is made using semolina or rava. This quick and easy recipe also uses a blend of dry fruits that add a nice crispy crunch to the otherwise soft laddoos.


This mellow flavoured mithai is a treat for any and every occasion. Packed with the goodness of sweet coconut, this recipe also uses condensed milk and crunchy cashew nuts.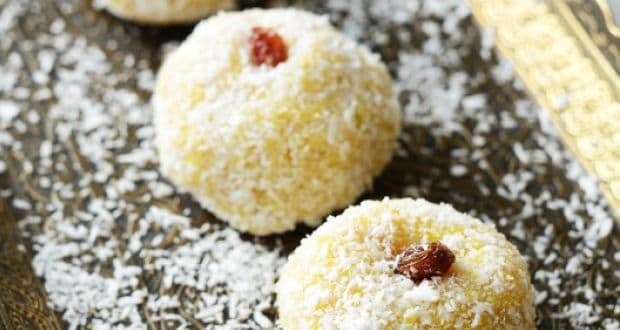 This very famous Indian dessert is also known as Motichoor ke laddoo. It's made using gram flour (besan) batter to which cashews, raisins, saffron and cardamom are added. It's sinfully delicious!


Indulge your sweet cravings with these yummy laddoos just like Smriti Irani.