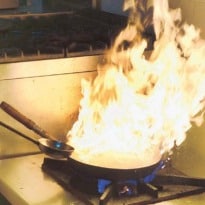 But we can help you douse the flames and create a delicacy out of a burnt dish. Phorum Dalal speaks to chefs for recipes and tips to conjure an entirely new dish from something you set fire to by mistake. Be it lentils, vegetables or meat if you burn it, rest assured there's a way out.

A few years ago, 42-year-old Jyoti Arora put a large chunk of chicken to cook on the stove a few hours before 15 guests were to arrive at her apartment in Amritsar. As she waited, Arora logged onto her computer to check her email and ended up playing a computer game her son had recently downloaded.

After a few games, she smelt something burning. "That's when I remembered I had left the chicken to cook. I rushed into the kitchen to find it filled with smoke," says Arora, who has since been a finalist on MasterChef India.

Chef Jyoti Arora, currently visiting chef at JW Marriott for the Punjabi Festival, says when a dish is burnt or overcooked, it can be simply turned into an entirely new dish. Pics/ Kiran Bhalerao

Unable to bear the thought of throwing away expensive meat, Arora added dollops of garlic, ginger and spices to the burnt chicken and made dumplings out of them. "That evening, as I served the dumplings to the guests, I was overwhelmed by requests for second and third servings. Ever since, whenever I host a dinner, my cousins want me to add the dumplings to the menu. They have no clue about the disaster that led to the recipe," laughs Arora. "If you spoil something, just turn it into something else," she says, as we catch up with her in Mumbai, where she is taking part in a Punjabi food festival at JW Marriott in Juhu.
A delicacy out of a burnt dish? Wouldn't most households in India give their left hand to know how it's done! Imagine a recipe book that helps you salvage a dish you have set on fire by mistake. Here's the good news: Arora is by no means the only one who has secret recipes that turn mistaken flames into works of art on the dinner table.

Deepak Dange who is the Executive Sous Chef at Sofitel, BKC has a few tips up his sleeve. "The idea is to balance out the charcoal-smoked flavour with a stronger ingredient. How do you suppose the Chinese came up with the recipe of Burnt Garlic Sauce?" laughs Dange. So if you have burnt cauliflower, he suggests you add cream cheese, olive oil, butter, salt, sugar and a vanilla pod to it. "This can be turned into a gravy. It also goes well with scallops," says Dange. Fish, on the other hand, has a tendency to burn only from one side. "Items such as fish, lamb or pork can be spooned out. There is the forked or scraped method of saving a burnt yet marinated pork. Add a bit of lettuce and herbs and they can be transformed into rolls and cutlets. Even burnt edges of lasagne can be utilised," he says. Dange suggests trying smoky soups using vegetable stock. So next time you smell something burning in the kitchen, smile and execute plan B(urnt).

Gobi Cutlets

Ingredients:
>> 250 gm gobi aloo ki sabzi (cauliflower and potatoes), slightly burnt
>> 60 gm breadcrumbs
>> 30 gm ginger paste
>> 15 gm coriander, finely chopped



Method:
>> Mash gobi and aloo ki sabzi
>> Mix it with half breadcrumbs
>> Add ginger paste and coriander
>> Knead into a smooth dough
>> Take a small portion from the dough and form into oval shaped cutlets. Repeat with the remaining dough
>> Dust crumbs on them and shallow fry in the pan till they turn golden brown
>> Serve hot with chutney


Burnt Chicken Dumpling

Ingredients:
>> 500 gm chicken, cooked and burnt
>> 1 medium-sized potato (boiled and mashed)
>> 50 gm breadcrumbs
>> 1 medium-sized onion, chopped
>> 1 medium-sized capsicum
>> 15 gm tomato ketchup
>> 30 gm tomato puree
>> Salt to taste
>> Red chilli powder to taste


Jali Hui Dal Ka Parantha

Ingredients:
>> 250 gm wheat flour
>> 150 gm urad dal, cooked but burnt
>> 10 gm coriander, finely chopped
>> 5 gm carom seeds
>> 45 gm onion, finely chopped
>> 1 green chilli, finely chopped
>> Salt to taste
>> Red chilli powder to taste



Method:
>> Mix all the things together to make a firm dough
>> Now take a big ball of the dough and roll into a 2-cm thick roti
>> Spread a little ghee on it and halfway through the centre, starting from one corner, roll into a cone shape
>> Press from both the sides, so that a ball is formed again
>> Now roll again into a roti and shallow fry on hot tawa till it turns golden using little ghee
>> Serve with achaar