Monsoons not only bring respite from the sweltering heat, but also give us the perfect weather to enjoy some sinful food. It's an ideal weather to dig into some
hot-off-the-barbecue grilled items
. The smoky flavor and charred texture can easily get you addicted. Celebrity Chef Sadaf Hussain, Contestant of MasterChef India 2016, tells us that we must thank Babur for his fear of choking which probably lead to the creation of tikkas. He was so afraid of choking on the big pieces of chicken that he ordered his Punjabi cooks to make small bite-sized boneless chunks using a tandoor which resulted in a delicacy called Joleh (Persian word for Tikka). The original tikka recipe has evolved over the years with different marinade ingredients and new flavours. Be it the famous
Chicken Tikka
and the Mutton Boti or vegetarian options like the
Paneer Tikka
and Tandoori Gobhi, there's a lot of choose from and experiment with. But, in order to get them right, precision is important which means that you need to use the right technique and be watchful of the grilling time. Some common problems associated with grilling are when ingredient is left undercooked or turns dry or has a burnt skin due to overcooking. Let us take you through some fantastic hacks that will make sure you get the best flavours and texture each time.
Grilling on Charcoal Versus Grilling in an Oven
Grilling basically requires dry heat applied to the surface of the food. It involves direct heat to cook food quick. Grills were initially used to cook and tenderize meat quickly. Nowadays, almost all Indian households have small sized grill pans or ovens that can be used to make the perfect Indian tikkas. If you have a charcoal grill pan at home, it must be kept on a heat-proof surface somewhere in the open like on the rooftop or the Verandah. Always store the charcoal in a dry place, as you don't want it to be exposed to moisture. Remember, that coal takes about 45 minutes to burn and get ready to cook food. So, place your ingredients only after the coal is hot. You can also easily grill in an oven, of course you wouldn't get the same smoky flavor and aroma as tikkas grilled on a charcoal, but it is still convenient to do so if you are pressed for time. The oven has options to cook with direct and intense heat. Preheat the oven to the highest temperature and then switch to grill setting. This will allow the oven to maintain a temperature that is as hot and searing as on the charcoal.(Also read: A Beginner's Guide on How to Barbeque at Home)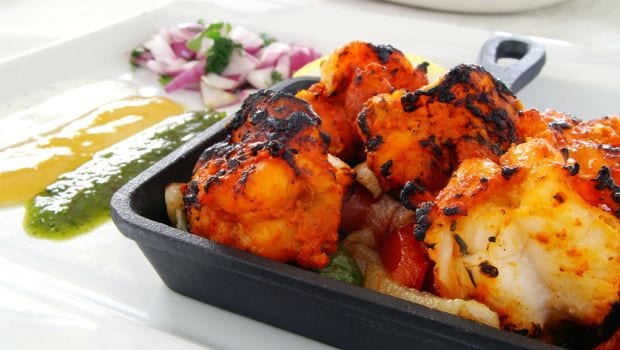 Grilling Tips
Here are some grilling tips that will help you make delicious tikkas at home as suggested by Chef Sadaf Hussain.
Ensure that the marination is thick enough. It should cover the meat, paneer, mushroom or any vegetable that you are using for grilling completely. This cover will help make the ingredients tender and more flavoursome. If you are grilling chicken tikka, ensure that it is marinated well for about 3 to 4 hours.
2. In case, you are grilling paneer and soft foods, make sure they are firm enough. You don't want them to be soft as they may fall apart on the grill. To give the softer foods like paneer some support, add two to three teaspoons of gram flour or besan (also depending on the quantity) to its marinade. This will help the marinade bind into the ingredient making it firm and flavourful.
3. To make tikkas soft and succulent, you will need to rest the ingredients in the marinade mixture properly. You must use hung curd instead of runny and thin curd. Hung curd will stick to the food well and allow the food soak in all the flavours and spices.
4. Since the food is exposed to direct heat, it tends to become dry and can turn out to be tasteless. Add butter to the food as it grills. It would not only help the ingredient to stay moist but also add flavour.
5. One thing that lifts the flavour of the tikka is the charcoal smoke which is not possible in an oven. So, if you do not have a grill at home, take a burning coal in a large bowl and place the cooked tikkas around it. Pour some desi ghee on the top of the coal and cover the bowl with a plate for about two-three minutes. Tikkas will be able to capture the smoke from the coal and the flavour from the ghee which will give you the same smoky taste that you would want from a grilled dish.
6. If you are grilling chicken or lamb tikkas, make sure you slit them while marinating so that the flavour of the spices seeps into the meat.
7. The right temperature to grill your tikkas is 165-175 degree Fahrenheit (73- 80 degree Celsius). Beyond this, it may cook too quickly leaving the tikkas uncooked from within. Time may vary with the kind of ingredients you use.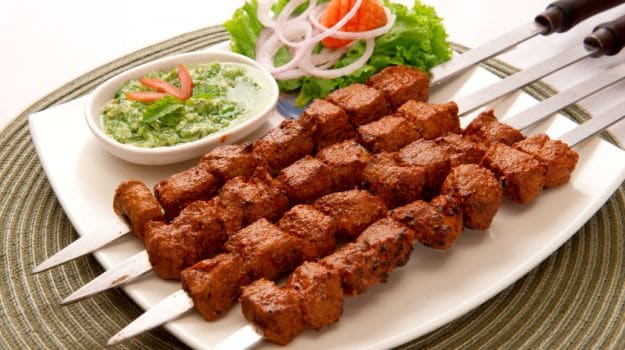 Here are some more tips that you must keep in mind as suggested by Chef Uday Rawat, Head Chef at Sana-Di-Ge in New Delhi.
1. Do not use too many acidic ingredients while marinating like vinegar or lemon juice as it takes away the moisture and makes the food dry.
2. Once you have placed the tikkas on the skewers or the grilling pan, do not move them again and again. It takes about 10 minutes to cook on one side.
3. Keep your grill ready at least an hour before you start grilling. The moisture in the air will make coals damp and they wouldn't burn easily instantly.
4. Never apply sauces like the barbeque sauce on the tikkas while they are cooking because they contain sugar which tends to burn easily.
With these great tips, you're ready to have your own barbecue party and impress everyone with your grilling skills.