Story Progress
Back to home
Barley and Red Rice Salad Recipe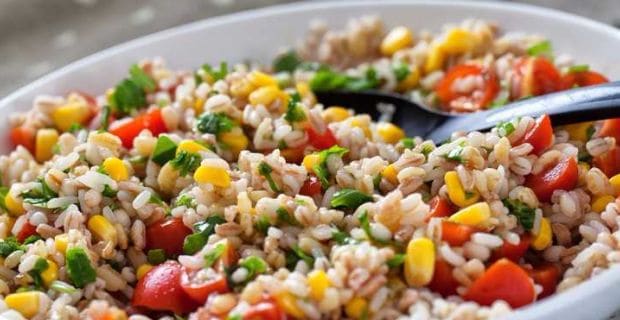 How to make Barley and Red Rice Salad
About Barley and Red Rice Salad Recipe: Made of barley, red rice, corn, pomegranate seeds, kidney beans, apricot, cluster beans, chives and doused with freshly made dressing.

Ingredients of Barley and Red Rice Salad
1/2 Cup cooked barley
1/2 cup cooked red rice
1/2 cup corn
1/2 cup pomegranate seeds
1/2 cup red kidney beans cooked
1 apricot, chopped
50 gms cluster beans, blanched
Few stalks of chives
Few leaves of basil
For dressing:
2 tbsp olive oil
1/2 orange (juiced)
1 Lemon (juiced)
Cracked black pepper to season
Salt to season
Thyme leaves
1.
Chop all ingredients and put in a bowl.
2.
In another bowl add orange juice, lime juice, a little salt, pepper and olive oil.
4.
Add some thyme and pour over the salad.
5.
Garnish with a leaf of basil.