Story Progress
Back to home
Beans for Tortillas/Tacos Recipe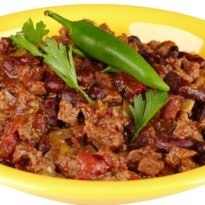 A sumptuous and easy to make filling for tacos or tortillas.

Ingredients of Beans for Tortillas/Tacos
2 Tbsp oil
1 cup onion - chopped
2/3 cup red kidney beans - cooked
1 tsp coriander powder
1 tsp chilli powder salt
1 tsp cumin powder
1 tsp dried oregano
1.
Heat the oil and add the onions and brown lightly.
2.
Add the beans, coriander, chilli powder, salt, cumin and oregano and stir-fry.
3.
Add about 1 cup water and cook till beans are very tender.
4.
Take them off the heat and mash with a fork.