Story Progress
Back to home
Chicken with Chillies & Cashews Recipe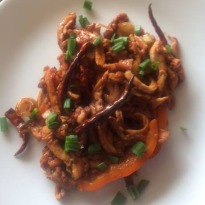 Chicken chunks fried crisp along with fiery red chillies, crunchy cashews, oriental sauces, spring onions and a pinch of sugar.

Ingredients of Chicken with Chillies & Cashews
2 Tbsp oil
6 whole small dried red chillies
200 gm boneless chicken flattened and sliced very thin and long
1 Tbsp finely chopped garlic
1 Tbsp oyster sauce
1 Tbsp fish sauce
1/2 tsp sugar or stevia
1 tsp roasted chilli paste
3 Tbsp chicken stock
50 gm roasted unsalted cashew nuts
2 spring onions cut in 2.5 cm pieces
1 red capsicum sliced-optional
Spring onion green to garnish
1.
Heat 1 Tbsp oil in a wok. Stir fry chillies till cooked but not burnt. Remove and keep aside.
2.
Stir fry garlic in the remaining oil until golden.
3.
Add chicken slices, oyster and fish sauces, sugar and roasted chilli paste. Stir fry until chicken is cooked.
4.
Lower the heat. Add stock and cook 2-3 minutes stirring.
5.
Add cashews, nuts, spring onion white, red chillies and capsicum when the chicken is thoroughly cooked. Stir well.
6.
Garnish with green spring onion and serve hot.