Story Progress
Back to home
Chocolate Rum Cake Recipe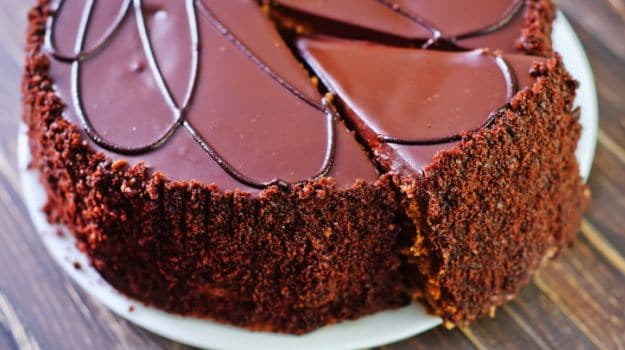 How to make Chocolate Rum Cake
A low fat chocolate cake with tofu, maple syrup and coffee. Slathered with a generous coat of chocolate rum frosting.
Total Cook Time

1 hr 20 mins

Ingredients of Chocolate Rum Cake
1 cup pureed firm silken tofu, regular or low-fat
1 cup maple syrup
3/4 cup brewed strong coffee or espresso
2 Tbsp dark rum
1 tsp vanilla extract
1 1/4 cup flour
1 cup unsweetened cocoa
1 tsp baking powder
1 tsp baking soda
1/4 tsp cinnamon powder
Chocolate rum frosting:
1 cup low fat chocolate spread
1 tsp rum
1 tsp vanilla essence
1/4 cup milk
1.
Blend tofu, coffee, maple syrup, rum, vanilla extract till a smooth paste is formed.
2.
In a bowl, take flour, unsweetened cocoa powder, baking powder, baking soda, cinnamon powder. Mix well till the mix is of the same color.
3.
Add tofu paste into the dry mix and mix well till the batter is smooth and lump free.
4.
Pour in a greased and floured baking dish and bake at 150 degrees for 40 minutes.
5.
Once the cake is done, check by inserting a fork through the cake. If the fork comes out clean, the cake is done.
6.
For icing, take chocolate spread rum, vanilla essence in a bowl and melt in a double boiler so that no lumps are formed. Once the mix is smooth then add milk. Let it cool.
7.
Pour over the cake and serve.